Students visit Ghana for trip of a lifetime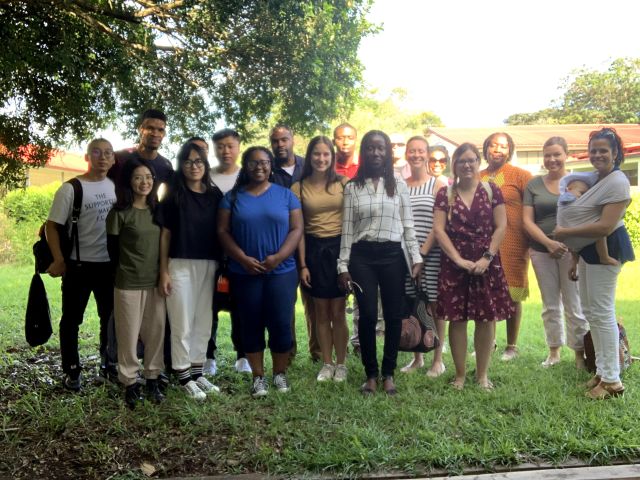 This past semester, thirteen students shared an experience of lifetime during a faculty led trip to Ghana. The trip was supervised by Kelly Krawczyk and Bridgett King, both faculty in the Department of Political Science. The travel group consisted of six PhD students who were enrolled in the joint PhD program in Public Administration and Public Policy, and seven students in the Master of Public Administration program, all within the Department of Political Science and all whom were taking the Public Administration, Civil Society, and Democracy class.
The students used their time in Ghana as a case study to explore the public administration and governance systems within the country, as well as the role of the third sector (non-profit and non-governmental sector). Students were given the opportunity to dive deeper into what they were learning throughout the semester through site visits at nonprofits, NGOS, universities, think tanks, and other interesting cultural locations abroad. 
West Africa, specifically Ghana, was chosen as their destination primarily by Krawczyk. When beginning her PhD work, Krawczyk was already working in the third sector and had the opportunity of visiting various locations in Western Africa. Over time, she has been able to grow relationships and learn more about the third sector within Africa. Today, she has worked in Ghana, as well as Liberia, for over a decade which allowed for smoother travel, not to mention she was able to assist the students in truly understanding the culture they were visiting.  
"Students can learn so much in class through course materials and primary sources, texts, and books, but nothing can replace the first-hand experience that global travel provides," Krawczyk said.
The trip was thoroughly planned out, allowing students to have two meetings a day with different organizations within the third sector. A few organizations where they spent time varied from an NGO called Lifeline Project, which provided holistic services for girls who had been trafficked and/or homeless, to another called BASICS (Brothers and Sisters in Christ Serving) International, which provides afterschool meals, social activities, and homework assistance in a poor urban community within Accra, which is the capital of Ghana. In addition, these students were able to visit various tourist locations including Cape Coast, where they toured Elmina Castle, a former slave fort, and Kakum National Park, where they went hiking and took a canopy walk through the rainforest.
Interestingly, the travel experience of each student varied greatly. According to Krawczyk, some students had not done much travelling internationally before, whereas some had traveled internationally but had never been to the continent of Africa. Krawczyk said others were very well travelled and even included a pair of students who were born and raised on the continent. However, no one in the group had actually visited the country of Ghana before. 
"I am always fascinated by watching the students who are visiting the continent of Africa for the first time. Watching as they discover quite honestly how different things are because that becomes apparent. But I think what students also discover is there are actually similarities as well. And so, it's interesting to compare and contrast, and that was part of the intent of the course," Krawczyk said.  
Two of the students shared their experiences. Brian Ezeonu, a PhD student, said that this experience helped him to better understand what was being taught in the class. 
"This was an incredible opportunity to interview individuals in the field and to verify the current state of the third sector in Ghana," Ezeonu said. 
During the trip, each student was able to not just read about a new culture but also truly experience it. 
Another student, Shaniqua Williams, also a PhD student, describes how valuable the experience was for her. "It was beneficial to actually see the challenges that must be faced in Ghana, and how the public sector and civil societies are working to overcome those challenges in real time. Overall, going abroad is an incredible way to fully experience other cultures and to understand the topics that are discussed in the classroom," Williams said. 
According to King, the Public Administration, Civil Society, and Democracy class will again be offered for Master of Public Administration (MPA) and PhD in Public Policy and Administration students in the College of Liberal Arts in Fall 2021. The country of focus will be South Africa. In the course, special attention will be paid to social movements as a mechanism for expanding democracy, in both the context of the United States and South Africa.
Related Articles
---