Liberal Arts alumnus receives Lifetime Achievement Award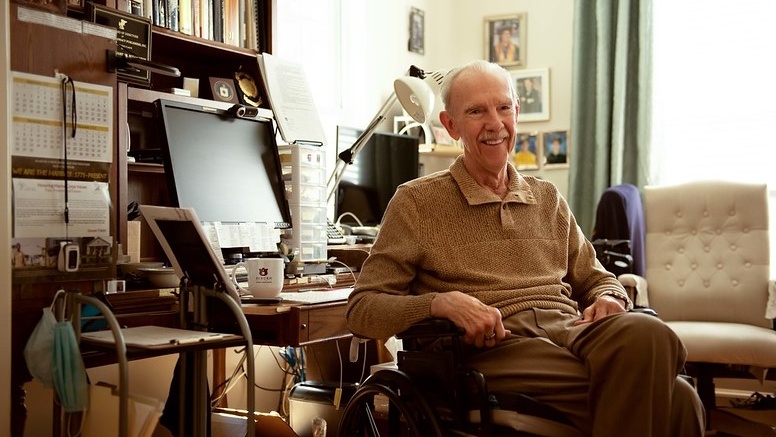 College of Liberal Arts alumnus Jim Bullington '62 is one of five Auburn University graduates selected to receive the highest honor given by the Auburn Alumni Association at Auburn's 2022 Lifetime Achievement Awards dinner and ceremony on Feb. 26. The association also will honor its Young Alumni Achievement Award winner.
Along with Bullington, Lifetime Achievement Award recipients include Maj. James "Jim" M. Hoskins '81, William "Bill" McNair '68 and Anita Gentle Newcomb '76.
Diplomat James "Jim" R. Bullington '62 
Retired diplomat, former Ambassador to Burundi
Born in Chattanooga, Tennessee, Bullington was a first-generation college student when he enrolled at Alabama Polytechnic Institute, now Auburn University, in 1957 at the age of 16. In 1962, he earned his Bachelor of Arts in science and literature and went on to earn a master's in public administration from Harvard University in 1969. During his senior year at Auburn, Bullington passed the highly competitive U.S. Foreign Service examination and began his diplomatic career immediately following graduation. His first assignment was in 1965 to wartime Vietnam, where he served as vice consul in Hue, staff aide to Ambassador Henry Cabot Lodge in Saigon and assistant province representative with the joint civil-military counter-insurgency program in Quang Tri. In 1968, Bullington and his Vietnamese fiancée, Tuy-Cam, were trapped for nine days behind enemy lines in Hue during the Tet Offensive, before being rescued by United States Marines. Over his 34-year career, Bullington served in eight countries, in Southeast Asia and sub-Saharan Africa. For 27 of those years, he was a career Foreign Service Officer with the United States Department of State and was dean of the State Department's highest-level training program. He was appointed Ambassador to Burundi by President Ronald Reagan and later served as the director of the Peace Corps in Niger. Bullington was recalled to diplomatic duty in 2012 to lead a State Department effort to help end a 30-year insurgency in Senegal. While at Auburn, Bullington was the editor of The Auburn Plainsman and in 1961 challenged school segregation through editorials and news stories, often resulting in backlash from community members and the local Ku Klux Klan. His role to take pro-civil rights stances was a key factor in launching his career in the foreign services. While a student at Auburn, he was a member of Omicron Delta Kappa, Sigma Pi Fraternity and Spades. He is currently a member of the Foy Society and a life member of the Auburn Alumni Association. Bullington and his wife have two daughters.
Major James "Jim" M. Hoskins '81 
Chairman and CEO, retired, Scitor Corporation
Hoskins earned his Bachelor of Science in electrical engineering in 1981 and embarked on a career in the United States Air Force as an intelligence officer, ultimately achieving the rank of major while serving as a leader in the United States intelligence community. His government and military experience included key assignments at the Air Force Cryptologic Depot, the National Security Agency, the National Reconnaissance Office and the Central Intelligence Agency. In recognition of his contributions to the defense and intelligence community, he received the Distinguished Intelligence Service Medal from the director of Central Intelligence, the Bronze Medallion from the director of the National Security Agency and two Defense Superior Service Medals from the secretary of defense.
In 1994, Hoskins retired from the Air Force and joined Scitor Corporation, one of the nation's leading providers of engineering services to the intelligence community. He advanced in the company to become president, then CEO and chairman of the Scitor board of directors. His vision, leadership and experience helped Scitor grow from an annual revenue of $16 million to more than $600 million, employing more than 1,700 employees. Hoskins is a founding member of Auburn Research and Development Institute, a nonprofit organization dedicated to furthering scientific and engineering research in the state and enhancing economic development in the region. Hoskins is a former member of the Auburn University Foundation Board, the Auburn University Real Estate Foundation, the Auburn Research and Technology Foundation, the BTIA Campaign Executive Committee, the BTIA Engineering Campaign Committee and the Samuel Ginn College of Engineering Council and Engineering Research Advisory Council. He is currently a member of the Alabama Engineering Hall of Fame, the 1856 Society, Petrie Society, Shug Jordan Society, Keystone Society, Ginn Society, Foy Society, the Athletics Strategic Advisory Committee and a life member of the Auburn Alumni Association. He and his wife, Bertha '80, have a son, Alexander, who is a 2010 Auburn graduate.  
William "Bill" R. McNair '68 
Retired Vice President of Network Operations, Bellsouth
McNair earned his bachelor's degree in electrical engineering in 1968 and went on to earn an MBA from Auburn University Montgomery in 1977 and a master's degree in management through the Massachusetts Institute of Technology Sloan Fellows program in 1986. McNair's 33-year career in the telecommunications industry began as an engineer with South Central Bell in 1968. He held positions in the company's engineering, operations, human resources and marketing organizations before retiring from BellSouth as vice president of network operations. McNair played a critical role in obtaining BellSouth's funding of Auburn's Minority Engineering program, which was designed to increase the recruitment and retention of minority engineering students. McNair and his wife, Lana, established the McNair Auburn Creed Scholarships, the McNair Ever Auburn Scholarship, the McNair Distinguished Professorship in the Samuel Ginn College of Engineering and the McNair Endowed Graduate Fellowship in the Auburn University at Montgomery College of Business. The couple's contributions have supported the construction of the Shelby Center for Engineering Technology, supported Auburn's underrepresented students and have been instrumental in establishing the new Office for Academic Advising suite in the Brown-Kopel Engineering Student Achievement Center. McNair has served on the Auburn University Foundation Board, the BTIA Campaign Executive Committee, the BTIA Engineering Campaign Committee, the Samuel Ginn College of Engineering Alumni Council and the Strategic Leadership Team for engineering. For his professional achievements and commitment to engineering education, McNair was inducted into the State of Alabama Engineering Hall of Fame in 2010. He has also received the Samuel Ginn College of Engineering Distinguished Auburn Engineer award, the Department of Electrical Engineering Outstanding Alumni award and was recognized as one of AUM's Top 50 Graduates at its 50th anniversary celebration in 2017. McNair and his wife are members of the 1856 Society, Petrie Society, AUM 1967 Society, the Shug Jordan Society, Ginn Society, Keystone Society, Foy Society and life members of the Auburn Alumni Association. The couple has two children, Kelly and Scott '92, and six grandchildren.
Independent board director, Luther Burbank Corporation
Newcomb graduated from Auburn in 1976, earning a degree in accountancy, with honors, from the Raymond J. Harbert College of Business. She earned her MBA with a concentration in finance from the University of Houston in 1987. Newcomb served for 20 years as president of A.G. Newcomb & Co., a strategic consulting firm that provided customized strategic and financial solutions for community and regional banks across the United States. She currently serves on the board of directors for Luther Burbank Corporation/Luther Burbank Corp. in Santa Rosa, California, where she is chair of the audit and risk committee. From 2010-2015, Newcomb served on the Board of the Federal Reserve Bank of Richmond-Baltimore. In her more than three decades in banking, Newcomb developed a national reputation as an expert on regional and community bank business models and trends. She has worked on a wide range of financial and strategic initiatives for institutions of all sizes and charters. She is a frequent keynote speaker and presenter at national and state bank conferences, board retreats and symposiums. Early in her career, Newcomb served as president, CEO and board member of ACB Business Partners, the for-profit subsidiary of America's Community Bankers, a national banking trade association. She spent 10 years in investment banking and strategic consulting with three national firms and served as was vice president of strategic planning and senior mergers and acquisitions at Security Pacific Corporation in Los Angeles, then the fourth-largest bank in the country. Newcomb has served Auburn in various volunteer leadership roles and in 2013 was honored as the School of Accountancy Alumna of the Year. For 15 years, Newcomb served on and chaired the Harbert College of Business Advisory Council and served on the Women's Leadership Advisory Board in the College of Liberal Arts. She is currently a member of the Samford Society, the Petrie Society, the Foy Society and is a life member of the Auburn Alumni Association. She has a daughter, Rachel, a 2010 Auburn graduate.
The Young Alumni Award recipient is Dr. Erin McCreary '15.
Dr. Erin Kristin McCreary '15 
Clinical assistant professor, University of Pittsburgh School of Medicine
Director of Stewardship Innovation, UPMC and Infectious Disease Connect
McCreary attended Auburn from 2008-2015, earning a Bachelor of Science in biomedical sciences and a Doctor of Pharmacy  degree in 2015 from the Harrison School of Pharmacy. While a student, she served as class president. Following graduation, she completed two years of residency training at University of Wisconsin Health. In 2018, she joined the University of Pittsburgh Medical Center, or UPMC, team as an infectious diseases and antimicrobial stewardship pharmacist at Presbyterian Hospital. McCreary transitioned into a system-level role at the start of the COVID-19 pandemic in March 2020. She also joined Infectious Disease Connect to establish and grow tele-medicine services and was later promoted to director of stewardship innovation. She served as the chair of the UPMC System COVID-19 Therapeutics Committee, responsible for all COVID-19-related therapeutic guidelines and information technology support across a 40-hospital academic learning health system. McCreary established a robust monoclonal antibody infusion system (50-plus infusion sites) and serves as a lead investigator for REMAP-COVID and OPTIMISE-C19, two large, adaptive, embedded platform trials evaluating key treatments for patients with COVID-19. In her short time at UPMC, McCreary has led several key initiatives with far-reaching clinical and economic impact. McCreary serves on the executive board of the Society of Infectious Diseases Pharmacists and has held numerous leadership roles in several national medical organizations. She has published more than 30 peer-reviewed manuscripts, developed multiple treatment guidelines and delivered professional presentations at the state, national and international level.  She is a member of the Auburn Pharmacy Alumni Affiliate, Alpha Xi Delta Sorority, Phi Kappa Phi, Rho Chi, Kappa Psi and the Cater Society.  
About the Auburn Alumni Association:
The Auburn Alumni Association is a member-based nonprofit organization funded by membership contributions, individual donations and corporate sponsorships. The mission of the Auburn Alumni Association is to foster and strengthen the relationship between Auburn University and its alumni and friends; to preserve and promote the university's traditions, purposes, growth and alumni; and to keep alive the spirit of affection and reverence for our alma mater. For more information on the Lifetime Achievement Awards, contact Jessica King, director of alumni communications and marketing, at 334-844-2960 or jessicaking@auburn.edu.
Tags: Alumni Political Science
Related Articles
---