News

|

Articles

|

Campus involvement has made all the difference to Elaine Shankute, a senior in psychology
Campus involvement has made all the difference to Elaine Shankute, a senior in psychology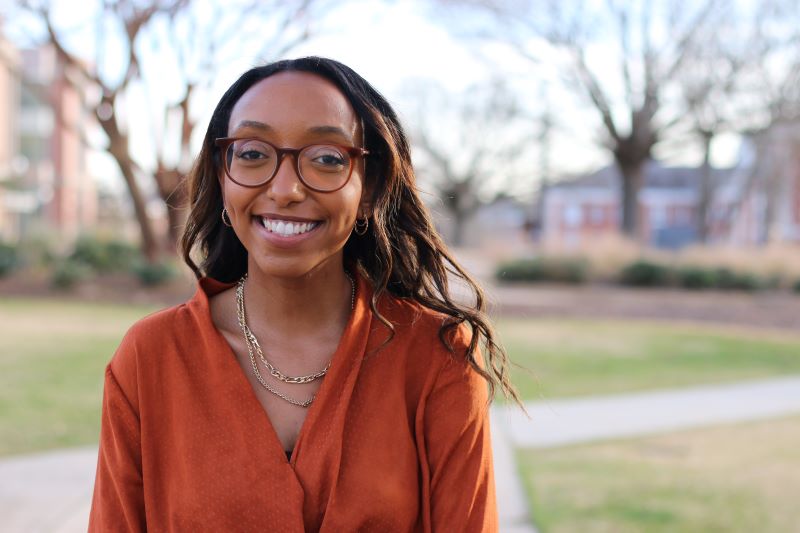 Originally from Marietta, Ga., Elaine Shankute has taken advantage of every opportunity since beginning her studies at Auburn in 2018. Shankute currently serves as both a head counselor for Camp War Eagle and as a Student Recruiter. In this interview, Shankute speaks with Elizabeth Phillips about the impact that becoming part of the Auburn Family has had on her life and the importance of involvement to her college experience.

What made you decide to attend Auburn University?
Auburn was my first college tour ever. I was a sophomore in high school and decided to stop in for a visit while on my way home from spring break. I did not expect to love it as much I did. This forced me to re-evaluate my college plans completely. Long story short, nowhere else compared to the way I felt when I was here, and I couldn't deny how called I felt to this place.

Why did you choose to major in psychology?
I feel most fulfilled, and most like myself, when I'm listening to and learning about other people. My dream is to go into counseling, where I can pursue that professionally. Studying psychology has changed the way I care for people; the tools and strategies that I have learned in the classroom have made me a more effective listener and friend in my daily life. Not only will my degree continue to serve me in my future profession, but I can carry this knowledge with me into all areas of life.

What three words would you use to describe your Auburn experience so far, and why?
Fortunate is the first word that comes to mind, and I have said this before. I've always been grateful to be here from the moment I set foot on campus, and I never could have expected such a fruitful four years. There is no shortage of opportunity awaiting each of our students here and I'm glad that I never took that for granted.

My second word would be unexpected. No amount of movies or tv will prepare you for your unique college experience. I would encourage everyone coming into college to do so with an open mind and give Auburn a chance to be something special.

Lastly, my Auburn experience has been influential. I'll say it again--- I am so grateful for what Auburn has given me over the years. As a first-generation student, I attribute a lot of my success to the students before me--- people like my Camp War Eagle Counselor, my RAs, and my campus tour guide. I saw firsthand how meaningful certain roles can be, especially to our incoming students and their families. Every Auburn student has a story worth telling, and it's important to me that I use my experience to help others feel welcome, and to do whatever I can to help build a better Auburn.

What organizations or outside involvement has added to your experience as a student the most?
Student Recruiters has been a massive contributor to my Auburn experience. I'm going into my third year as a member and it's crazy to think about how much I have grown since I first heard my name called out. Those people raised me to become the Auburn woman I am today, and I am still in awe at the fruit that bore from the foundation they laid for me.

Can you tell us a little about your experience as a Camp War Eagle Counselor? What motivated you to take on this role?
I currently serve as one of six Head Counselors and together we lead and oversee the entire Camp War Eagle experience. This year has been special for countless reasons; it's simultaneously the most challenging and most fulfilling role I've ever had. When I served as a Camp Counselor last summer, orientation was fully online. Though very different, both experiences were motivated by my desire to serve and engage with incoming students and families. My Camp War Eagle counselor continues to make a lasting impact on me, and I see my job as an opportunity to pay that forward.

What is your favorite memory or tradition at Auburn?
My favorite Auburn tradition is saying "War Eagle." Of course, it's handy for cheering on our Tigers, but what I love most is that we have made it mean so much more. It's the versatile, every-day way to believe in Auburn and love it.

Do you have any exciting plans for this summer or the upcoming year?
My next few weeks will be dedicated to wrapping up our Camp War Eagle sessions, and I'll spend the month of July back at home with my family. It's starting to hit me that this is my last true summer of undergrad, so I'm doing my best to make it count.

What advice do you have for students thinking about becoming a student employee at Auburn?
If you're interested in working for the university, I highly recommend it! Since my freshman year, I've worked with the Office of Academic Support, Undergraduate Admissions, Athletics, Housing, and now First Year Experience--- each of which have contributed uniquely to my love of Auburn. Find an office or resource that aligns with one of your interests and reach out to them! Campus employment is a great way to develop yourself outside of the classroom and connect personally with our faculty and staff.


Related Articles
---