News

|

Articles

|

Young Alumni Spotlight: Katie Batcho, '21, Spanish and Animal Sciences pursuing doctorate
Young Alumni Spotlight: Katie Batcho, '21, Spanish and Animal Sciences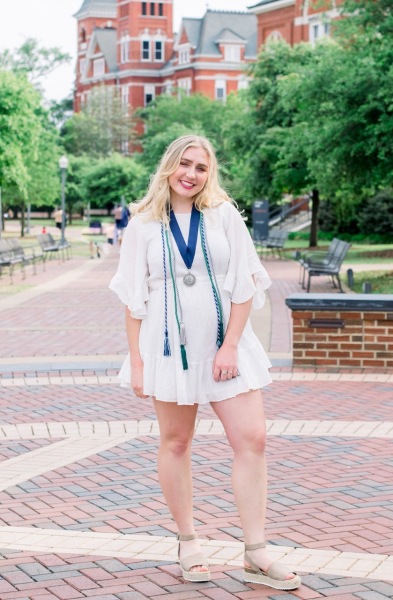 Recent Auburn graduate Katie Batcho is currently pursuing a Doctorate of Veterinary Medicine at Long Island University in New York. While at Auburn, Batcho majored in both Spanish and Animal Sciences and took advantage of every opportunity that came her way. Student writer Elizabeth Phillips speaks with Batcho about her out of classroom experiences and how they led her to where she is today.

What brought you to Auburn?
Actually Auburn was the only school I applied to! I grew up as a military brat moving around the country and I am extremely close to my family. I graduated from high school in northern Florida and followed in the footsteps of my older sister, who was also a student here. Auburn also has a fantastic Animal Sciences program that I just couldn't pass up. I was looking for a smaller program with a good faculty-to-student ratio and advisor support. That's exactly what I got at Auburn!

What sparked your interest in both Spanish and Animal Sciences?
I've been taking Spanish classes since I was in kindergarten, and it's something I have always been drawn to. I have always loved language and literature. It created some self-conflict because I wasn't sure how to combine that with my goal of a science-based career. I came to Auburn knowing I wanted to round out my education with some Spanish classes, but I wasn't sure what that would look like for me. I was a Spanish minor until my junior year when I declared a double major.

My mission trip in 2017 to Costa Rica with Vida Volunteer is what really showed me that I could combine Spanish with vet medicine. We helped perform low-cost spay and neuter surgeries on so many animals and many of the pet owners I encountered did not know any English. I was able to speak in Spanish to clients about their pets, explain the treatments we were doing, and ease their concerns. I was very grateful to be able to practice my Spanish there while learning about medicine and surgical protocol.

Is there a particular goal you had in mind to combine these two areas?
Shelter medicine and wildlife conservation are what I am passionate about and how I want to use my degree. Many Spanish-speaking countries in Latin America have severe lack of veterinarians and big problems with stray and neglected animals in need of medical care. Once I become a veterinarian, I'd like to work in Latin America to serve these populations. The end goal is to work for a zoo or conservation agency so that I can care for exotic species. Ideally, I'd like to live in an area with a Spanish-speaking population so that I can use my language skills.

Can you tell us about your out-of-class experiences while at Auburn? How did working as a student researcher at an animal hospital prepare you for your post-grad plans?
I was very lucky to have the experiences that I had out of the classroom during my four years. I am very grateful because I had many opportunities to excel that so many college students or college-aged people do not. My most memorable out-of-class experiences were studying abroad in Spain and my veterinary mission trip to Costa Rica, as well as my internship, research, and various jobs.

My research experience was under Dr. Katharine Horzmann at Auburn's College of Veterinary Medicine – we studied the developmental effects of chemical toxicity on zebrafish. I also held multiple roles at the Vaughan Large Animal Teaching Hospital, such as a student surgery technician. For two years I also worked at a local veterinary clinic as a veterinary assistant, which I adored and miss very dearly.

This experiential learning was valuable to me because it filled in gaps in my coursework and allowed me to apply what I learned to settings outside of the classroom. As wonderful and rich an education at Auburn is, hands-on learning was what rounded out my education and prepared me for graduate school and the professional world.

Were you involved in any on-campus organizations during your time as a student?
Yes! I was a member of the Honors College, Pre-Veterinary Medical Association, and Outdoor Adventure Club. I was also involved in my Panhellenic sorority, serving as an officer for my last two years.

What made you decide to pursue a Doctorate of Veterinary Medicine at Long Island University?
Being a vet has been the ultimate dream for me since I was old enough to think about what I want to do with my life, but it has not been an easy journey to get here. I applied to several veterinary schools, knowing that I was going to go wherever I was accepted. I was accepted to several schools in Arizona, Canada, and London, UK, as well as Long Island. LIU is a newer vet school, and I was very excited to become a part of a growing program. They also place a heavy emphasis on experiential learning here, and hands-on clinical experience is what I value most. It definitely all fell into place!

How did Auburn prepare you for this next phase of your academic career?
The support I had of the faculty at both the College of Liberal Arts and the College of Agriculture were just unmatched, and I cannot say enough good things about them. Professors like Dr. McCallister and Dr. Kerns, and my advisor Codi Plaster were instrumental in my success as a student.

Do you have any advice for current undergraduate students studying either a foreign language or animal sciences?
I wish someone would have told me my first year at Auburn that it is normal and okay to question where you are. Question everything! Explore what is out there. If you feel like your major or career path doesn't feel quite right, schedule a meeting with your advisor or the career center. Or even if you know you are where you are meant to be, it never hurts to do research about what is out there that you might not know about.

My biggest advice would be that there is so much more to an Auburn experience than just the classroom. Make connections with people older and smarter than you. Email your advisor and schedule a meeting just to vent about a hard class and ask for resources. Go to your professor's office hours, trust me! Apply for the job you don't think you'll get and write them a thank you note after your interview. Go to study partners and SI. You will get through the hard stuff, and it will be what you remember most because it made you grow.
Lastly, what do you value most about your Auburn experience?
This is an easy one – the people. Everyone I crossed paths with, even for the shortest amount of time, had a hand in shaping my college experience. For that I will always be so grateful. I made the kindest friends, had the best advisor, amazing colleagues and bosses, and professors and mentors who truly cared about my success. Creating relationships with these people is what I will always value the most about Auburn.


Tags: Students World Languages Literatures and Cultures Alumni
Related Articles
---