Zana Christjohn selected as student marshal for Auburn University's spring 2023 commencement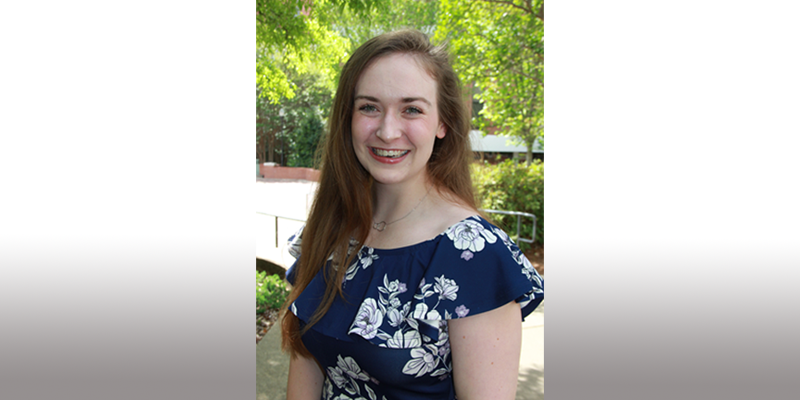 English literature and history student Zana Renee Christjohn has been selected to lead the College of Liberal Arts' class of 2023 in this spring's commencement ceremonies May 5-8.
Christjohn, a native of Wedowee, Alabama, is the daughter of Matt and Zan Christjohn. She is a graduate of Faith Christian School in Anniston, Alabama, where she first became interested in literature and history at the college level through dual-enrollment classes. After touring Auburn, she decided to pursue her interests and enroll.
"During that tour, I was trying to decide between a degree in STEM and one in the humanities," Christjohn said. "Though I enjoyed math and science, I ultimately decided on the College of Liberal Arts because of the quality of programs I witnessed during my tour. I saw the level of support CLA provides its students and felt confident that I would be successful in the future while sticking with my true passions."
Throughout her time at Auburn, Christjohn was a Tiger Tutor with Student-Athlete Support Services. In addition, she served as a peer instructor, peer academic coach and Week of Service counselor. Christjohn also participated in the Honors Congress.
"I am so grateful for the past four years at Auburn University, as I have grown personally and professionally tremendously during this time," said Christjohn. "I have thoroughly enjoyed all of the amazing things I have experienced at Auburn; I certainly never ran out of things to go do or see. Auburn also brought me in contact with some of the most interesting people I have met so far, and I am blessed to have made lifelong friendships here."
Christjohn was impacted by College of Liberal Arts faculty, who encouraged and motivated her to pursue her goals.
"The faculty in the English and history departments have been the best aspect of these programs at Auburn," said Christjohn. "The level of care and interest my professors took in my academic and professional goals encouraged me to push myself to reach for the best. The professional relationships I made with several faculty members over the past couple of years have been wonderful, as I feel like I have made genuine connections that will last after graduation. I could not brag enough about the wonderful faculty and staff within CLA and especially within my departments."
Through her research during Juliane Braun and Benjamin Fagan's courses, Christjohn realized that she wanted to focus on nineteenth-century American literature at the graduate level.
Christjohn also participated in the 2023 Student Research Symposium, where she presented, "The secret history of women in Leonora Sansay's 'The Horrors of St. Domingo.'" She explored ideologies that surrounded women for centuries, reflected in the literature and media of the past through Leonora Sansay's "Horrors of St. Domingo." Christjohn examines Sansay's depiction of her female characters in her work, especially her characterization of Clara, locating the underlying presence of the Cult.
"As of right now, I am interested in how women writers explored the intersection of race and gender throughout this period," said Christjohn. "I hope to expose new generations of students to a broader understanding of the American literary canon, especially the rich literary history of Black women authors."
After graduation, Christjohn will attend the University of Virginia to pursue her master's degree in English, with a concentration in teaching literature and writing. Her goal is to work as a professor at an R1 university, researching 19th-century American literature.
"The College of Liberal Arts provides diverse educational and involvement opportunities to help our students succeed," said Dean Jason Hicks. "Zana Christjohn exemplifies how one can tailor these opportunities to prepare for the future. We are happy she has been chosen to lead our graduating class as our students step into their own futures."
Throughout her Auburn experience, Christjohn also had to overcome adversity and learn critical problem-solving skills. Christjohn managed several responsibilities, including two degrees, a minor and an honors distinction, while adapting to the pandemic and maintaining her physical and mental well-being.
"Though there have been numerous good times during my college career, my experience has not been smooth sailing," said Christjohn. "However, I would not change those struggles for anything. My experiences at Auburn have made me into a true Auburn woman, proud of both my own work and also my university."
Commencement ceremonies will begin Friday, May 5, in Neville Arena. Additional information, including updates regarding inclement weather, is available on the commencement website. Information will also be posted on the Facebook and Instagram accounts.
All ceremonies will be livestreamed, with recordings available on the commencement website following the weekend festivities. Graduates and their families are encouraged to check the website regularly for updated information.
Related Articles
---