Two Liberal Arts students named Goldwater Scholars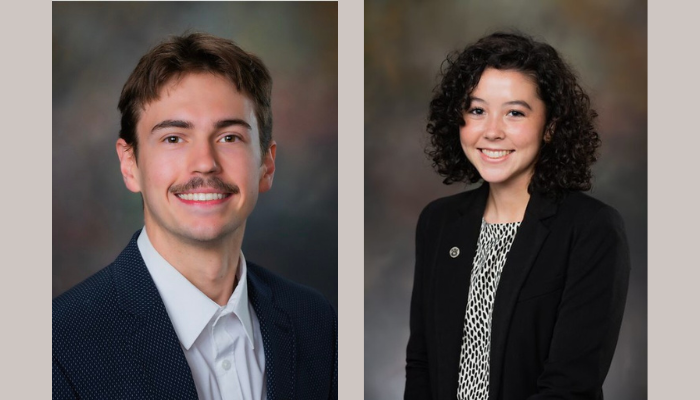 College of Liberal Arts students Cameron "Cam" Tice and Maggie Nelson are now Barry M. Goldwater Scholars, an honor recently announced and bestowed on only 413 students nationwide. The scholarship is widely considered the most prestigious award in the United States for undergraduates in science, technology, engineering and mathematics.
Tice, a junior in the Honors College from Auburn, is majoring in biomedical sciences and minoring in psychology in the College of Sciences and Mathematics and the College of Liberal Arts, respectively. His research is titled, "Understanding the Physical and Mental Health Outcomes of Court-Involved Youth."
Through his research, Tice studies the assessment, treatment and post-rehabilitation health outcomes of court-involved adolescents. During his time at Auburn, Tice has been specifically interested in understanding the impact of substance use and parental family structure on adolescents. Tice works with Kelli Thompson in the Department of Psychology.
"I am just incredibly thankful for those who've helped guide me to where I am today," said Tice. "Beyond my professors at Auburn, who have poured their time and energy into my studies, I would like to thank my parents for their love, Katie for all of her edits and Drew Bagwell for being a good biology teacher."
Nelson, a senior in the Honors College from Birmingham, Alabama, is majoring in aerospace engineering and minoring in materials engineering, philosophy and sustainability studies within the Samuel Ginn College of Engineering and the College of Liberal Arts, respectively. Her research is titled, "Effects of Recycling on Polystyrene Shape Memory Polymers for In-Situ Resource Utilization." Through her research, Nelson is aiming to establish sustainable material infrastructures for future aerospace developments. Nelson works with Russell W. Mailen in the Department of Aerospace Engineering, and she collaborates with Maria Soledad Peresin and Diego Gomez-Maldonado, both in the College of Forestry, Wildlife and Environment.
"I am honored and humbled to have been chosen as one of this year's Goldwater Scholarship recipients," said Nelson. "I am truly thankful that I am able to do what I love through research and have been immensely supported by my community at Auburn and now Goldwater. I became involved in research my sophomore year of college and was immediately absorbed by the passion of those working around me like Dr. Russell Mailen and Dr. Soledad Peresin. It is through them that I have been able to learn how to become a better researcher. Their support and encouragement to explore my interests in research, from recycled shape memory polymers to responsive coatings for artificial photosynthesis, have been invaluable for my growth as a student, researcher and person."
Auburn University had a total of three recipients this year. Ayden Kemp, a senior in the Honors College, majoring in aerospace engineering and biosystems engineering with a bioprocess option in the Samuel Ginn College of Engineering, was also named a Goldwater Scholar. His research is titled, "Co-Pyrolysis of Biomass and Waste Plastics for the Production of Biofuels." Kemp works with Sushil Adhikari, a professor within biosystems engineering.
The Barry M. Goldwater Scholarship Program was established to provide scholarships to outstanding students who intend to pursue careers in mathematics, the natural sciences and engineering. Each scholarship covers eligible expenses up to a maximum of $7,500 annually for undergraduate tuition, fees, books and housing. In awarding scholarships, the foundation of trustees considers the nominee's field of study and career objectives along with the extent to which that individual has the commitment and potential to make a significant contribution to the field of science or engineering.
The National Prestigious Scholarship office at Auburn University, located in the Honors College, works closely with students to identify and pursue prestigious scholarships and other national and international awards through information sessions and one-on-one support during the application process.
Tags: Philosophy Psychological Sciences Academic Sustainability Students
Related Articles
---