CLA raises more than $137,600 on Tiger Giving Day 2022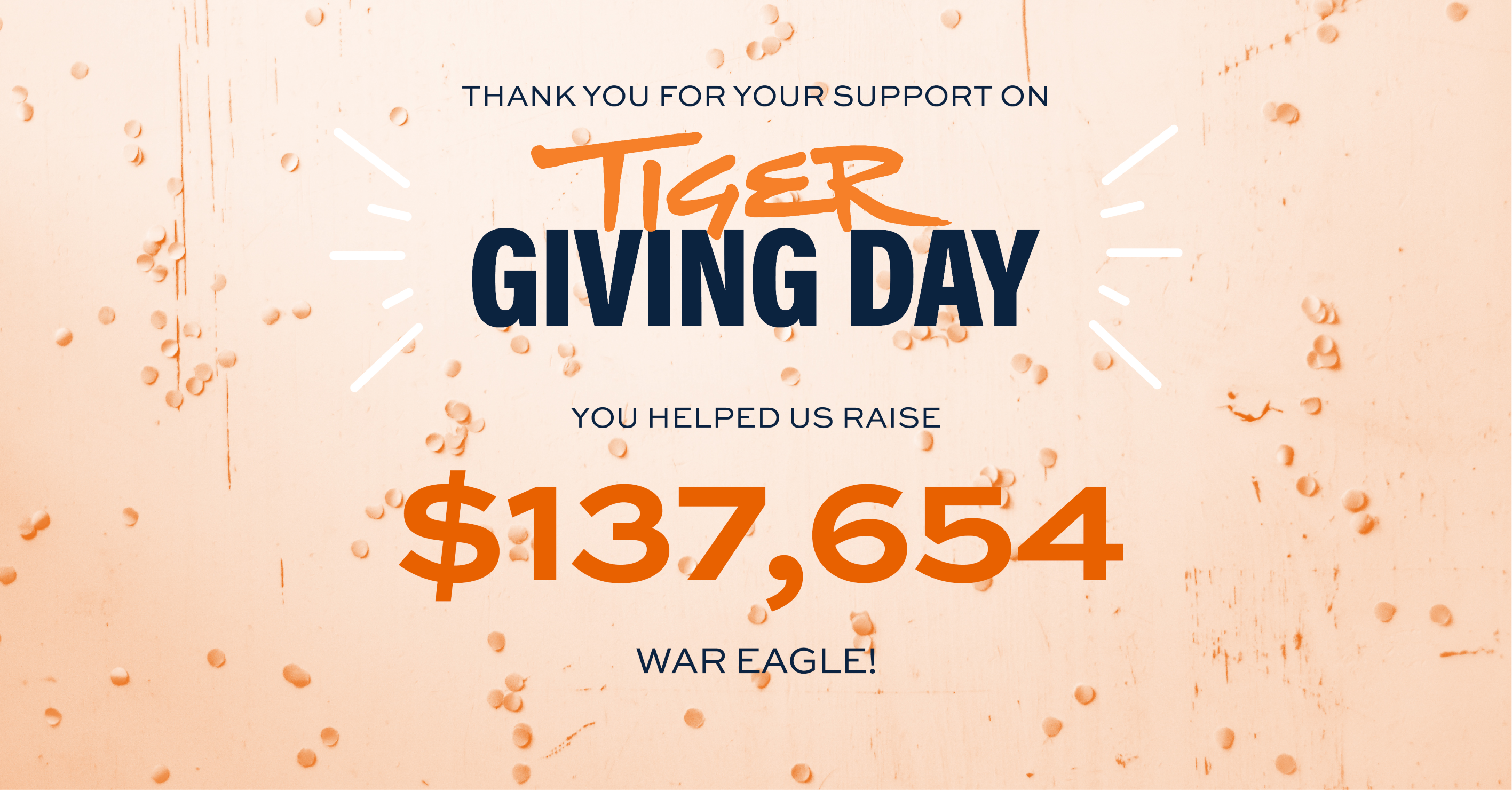 This Tiger Giving Day, your support helped the College of Liberal Arts meet or exceed six of our project goals! Thank you to everyone who supported the following projects:
Restore a Classic Airplane
The Department of Aviation will use Tiger Giving Day funds to restore a 1945 Ercoupe to its former glory and refurbish the airplane to be the spirit of Auburn Aviation.
The Ercoupe was manufactured in the 1930s to be the "Model T" of the skies. Of the 5,000 originally manufactured, the one in Auburn's fleet is one of only two thousand left.
Auburn Aviation will restore the aircraft so that it meets current airspace requirements, strip old paint, refinish the aircraft in aluminum, restripe the body to match Auburn's other planes and reupholster the seats.
The project, once finished, will be used in recruiting and outreach events, including those with Auburn University's Youth Outreach Programs, Alabama Works, the Boys and Girls Clubs of America, Girls in Aviation Day International and shows such as Oshkosh and Sun'n'Fun.
With this refurbished aircraft, Auburn Aviation will inspire the next generation of aviators with the Spirit of Auburn Aviation.
Keep BraveHearts on the Move
The BraveHeart Center for Place and Purpose, or BCPP, will purchase an extended golf cart to expand its services and provide transportation for young adults with disabilities and student staff who serve as community inclusion ambassadors.
BCPP is a health and wellness, inclusion-focused day program for young adults with moderate to severe disabilities. Participants serve as community inclusion ambassadors in the East Alabama area alongside with Auburn University student staff, who serve as community support coaches.
BCPP is an outreach component of the Auburn University Social Work Program, in partnership with First Presbyterian Church of Auburn. Each semester, Auburn students in internships, practicums, and volunteer roles learn and practice valuable skills while supporting CIAs in activities that enhance quality of life for the students and Auburn community.
The BraveHeart cart will allow Auburn students to assist BCPP's young adults in accessing opportunities to support work experiences, continued engagement for BCPP Community Charity Drives and participation in campus events.
Support Clinical Services for Children with Autism
Thanks to Tiger Giving Day support, the Auburn University Psychological Services Center and Center for Autism Research, Treatment, and Training will alleviate the financial burden some families face when seeking services for their children with autism.
Many families are referred to the Auburn University training clinics for evaluations and support, yet many are unable to pay for services, even at a reduced fee. The financial assistance established through Tiger Giving Day will help AUPSC and CARTT meet the needs of children and their families both in-person and via telehealth.
AUPSC and CARTT will continue to support student training in evidence-based practice, the provision of exceptional and evidence-based services, for children with autism, and the purchase of materials necessary for training, testing, behavioral interventions, and the conduct of community outreach, including informational workshops for caregivers of children with autism.
Bring the Model United Nations to Campus
The Auburn Model United Nations team, housed in the Department of Political Science, will host its first ever high school model United Nations competition on Auburn's campus in April.
Tiger Giving Day contributions will go toward covering travel expenses for visiting high schools from our local community and those from nearby metro areas to compete at Auburn. The one-day conference will bring high school teams to campus to compete and experience Auburn.
With continued support, the Department of Political Science hopes to establish the high school Model UN Conference as an annual event.
Bring Hearing Healthcare to the Black Belt
Thanks to Tiger Giving Day support, the Auburn University Speech and Hearing Clinic now has funding to establish a mobile hearing clinic.
This mobile clinic will bring education, assessment and treatment to people of all ages who might otherwise be unable to easily access it, especially in the Black Belt region of Alabama. Additionally, this project will also provide important teaching and training opportunities for Doctor of Audiology students, giving them hands-on clinical experiences in a real-world setting.
Through this project, hearing health will be accessible to those in underserved counties and will improve residents' social, educational and financial wellbeing.
Introduce Students to Neuroscience
Tiger Giving Day support for Auburn University Brain Camp, or AUBC, will go even further due to a matching gift by Medical Properties Trust. Support for AUBC will be used to replace iPads for campers.
AUBC is a fun, interactive camp for rising juniors and seniors in high school. AUBC offers the rare opportunity to gain hands-on experience in neuroscience with an unprecedented opportunity for campers to map their own brain using state-of-the-art functional magnetic resonance imaging.
Led by the Auburn University MRI Research Center and researchers in the Department of Psychological Sciences and Electrical and Computer Engineering, Brain Camp allows students to gain exposure to neuroscience and sets them up for success in STEM-related disciplines.
Make Music with Sonic Nation
Sonic Nation, the commercial music ensemble associated with the new Commercial Music degree in the Department of Music, will use Tiger Giving Day funds to purchase instruments and equipment. Through Tiger Giving Day, Sonic Nation is closing in on its goal to purchase its own full inventory.
Currently, the group has no drums, keyboards or amplifiers of its own, and lacks the necessary road cases to pack equipment for travel. The group borrows its instruments and equipment from other music department ensembles and shares a mixing console with the Composition and Technology area. This creates scheduling problems and undue wear and tear on the host ensemble's equipment.
Sonic Nation presents several concerts per year for the community and local organizations and plans annual, regional touring experiences for students to promote Auburn University and its commercial music program. The group has recently completed a recording project of original songs, with a commercial release planned for early 2022.
To give to Sonic Nation, contact Development Coordinator Allyson Dozier at 334-844-1403 or dozieae@auburn.edu.
Tags: Aviation Sociology Anthropology and Social Work Psychological Sciences Political Science Speech Language and Hearing Sciences Music
Related Articles
---