Auburn students partner with REACH to support individuals with memory loss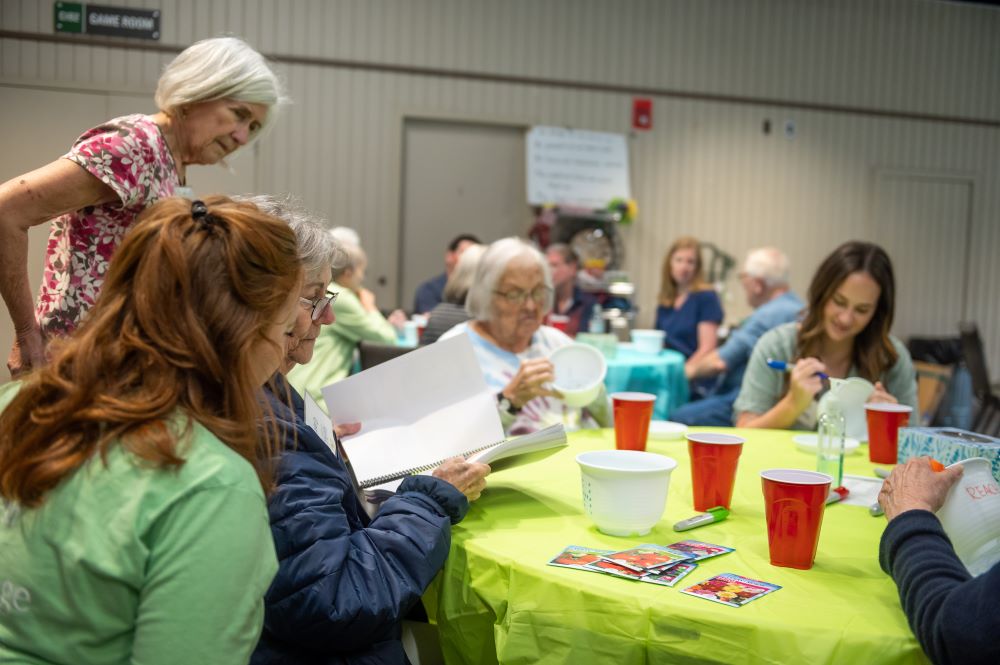 Graduate students in the College of Liberal Arts at Auburn University completed their clinical practicum experience this spring by leading engaging, social activities for members of the Auburn community who live with memory loss.
The Refresh, Encourage, Activities, Care, Hope, or REACH, community respite program provides engagement and socialization for individuals living with dementia, Alzheimer's disease or other forms of memory loss.
Each semester, four Auburn University speech-language pathology graduate students complete clinical practicum experience at REACH, during which students lead activities that stimulate cognitive and language abilities including music, art, fine-motor activities and exercise.
While students applied their knowledge to lead REACH activities, Director Sarah Jones communicated with care partners and visited prospective participants. Jones said students contribute to the community of hope at REACH by creating a safe and fun environment for participants.
"The participants and volunteers alike consistently report having the best time with students at REACH," Jones said. "Dementia is truly a cruel type of disease and those living with it hear the word 'no' in so many ways so very often. SLHS students are committed to saying 'yes' to our participants and letting them fully be themselves just as they are in the moment by emphasizing what they can do rather than what they cannot."
Speech-language pathologists, or SLPs, specialize in the prevention, assessment and treatment of speech, language, social communication, cognitive communication and swallowing disorders in children and adults. Many of the REACH participants experience expressive language difficulties in addition to memory loss, and evaluation and treatment for both falls within the SLP scope of practice.
Meri Blake Waldrop, a graduate student and teaching assistant in the Department of Speech, Language and Hearing Sciences, said participating in the REACH program was a source of practical learning, relationship building and joy.
"REACH's purpose and mission reiterated my original passion for the field of speech-language pathology- affirming the dignity and worth of every individual, regardless of communication or cognitive impairments he or she may have," Waldrop said. "This experience was by far one of my most treasured of graduate school and am expectant to see how this program continues to pave the way for advocacy in quality of life for individuals with dementia and their loved ones."
The Centers for Disease Control estimates that nearly six million people in the U.S. live with Alzheimer's disease and related dementias. The Department of Speech, Language and Hearing Sciences' partnership with REACH provides students with experience with adults like those they would evaluate and treat in medical settings.
Laura Willis, clinical professor and clinic coordinator for the speech-language pathology program, said the partnership with REACH expands the department's outreach activity, prepares students to serve and advocate for patients and supports REACH's need for volunteers.
"Students treat each individual with integrity, compassion, and respect and apply knowledge learned in the classroom to facilitate confidence and communication in the participants," Willis said. "REACH is a beautifully unique place that allows us to be present in the moment and appreciate the joy of communication in any form. We are grateful that REACH has welcomed us to their family and allows us to build relationships and serve the participants and their families."
REACH is currently open to new participants. For more information, contact Sarah Jones.
Tags: Speech Language and Hearing Sciences Students Community and Outreach
Related Articles
---