Why Should I Double Major?
According to a recent study by the American Council on the Teaching of Foreign Languages, nine out of 10 U.S. employers rely on employees with languages skills other than English. Majoring in a foreign language alongside your "career" major is a smart decision and will give you the language and cultural competency skills employers seek in their workforce today. 
While your language proficiency upon graduation will vary according to your motivation, effort and previous preparation in the target language, there is a significant difference between language learning outcomes between majors and minors.
Minors typically finish their degree with an intermediate level of proficiency. This means they've reached the level of language needed to be a cashier, sales clerk or receptionist. Majors, however, often graduate with an advanced level of proficiency, which means they have reached the level required to be a nurse, police officer, social worker or customer service representative.
The seven extra courses you'll take as a foreign language major will lead to a lifelong return on investment and will continue to reward you well beyond your college years.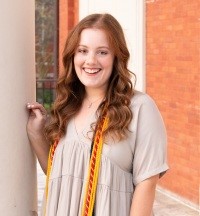 "Coming into college, I was an undecided pre-med with a passion for medicine, but also Spanish. These passions left me with no choice but to pursue both. I was intimidated by the course load at first, but my advisors and professors encouraged and supported me. I particularly appreciated how the program is smaller, giving the professors more time and space to get to know their students. I took the elective course Spanish for Health Professions while simultaneously volunteering in a free clinic, and it was during this time my two passions came together. The need for Spanish-speakers in the health care field is large and growing. After completing the double major, I feel I have gained both fluency and an improved cultural competency in respect to the Spanish-speaking communities I will serve one day. If you're questioning whether a double major is worth it, I promise it is something you will not regret!" – Kahlea Haladwala '21, Spanish and Biomedical Sciences