Auburn, Tuskegee to host artist Justin Randolph Thompson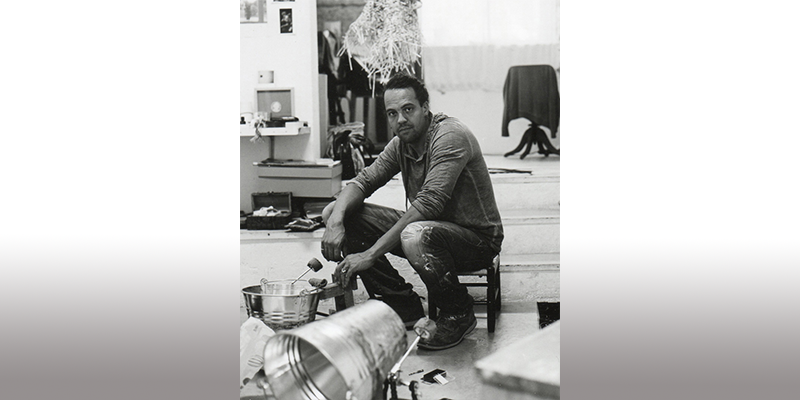 Auburn University, in partnership with Tuskegee University, will host artist Justin Randolph Thompson from March 15-22, 2023. The public is invited to attend two events: a lecture on Thursday, March 16 at 5 p.m. in Biggin Hall on Auburn's campus and a screening of Thompson's film "III Chapters for Louis Till" on Saturday, March 18 at 3:30 p.m. at the Tuskegee Airmen National Historic Site Theater in Tuskegee, Alabama.
Thompson is an artist, cultural facilitator and educator born in Peekskill, New York, in 1979. Based between Italy and the U.S. since 1999, Thompson is co-founder and director of Black History Month Florence, a multi-faceted exploration of Black histories and cultures in the context of Italy founded in 2016.
Thompson's visit will include a series of talks, workshops and film screenings in relation to his current project Surveying Gravity. Funded by Creative Capital, Surveying Gravity is dedicated to constructing historical narrations and forward-thinking networks honoring the life and legacy of Thompson's maternal grandfather, Randolph Bromery, whom Thompson credits for the inspiration of much of his work. Bromery was an American educator and geologist, and a former chancellor of the University of Massachusetts Amherst (1971–79). While chancellor, Bromery established the W.E.B. Du Bois Archives at the University of Massachusetts and was one of the initiators of the Five College Consortium. He was also president of the Geological Society of America and made numerous contributions as a geologist and academic. During World War II, he was a member of the Tuskegee Airmen, flying missions in Italy.
Bromery's training in Tuskegee defined his career in geophysics with his pilot training, preparing him for work in the geological survey. His engagement in social justice in relation to Black history, championing the legacy of W.E.B. Du Bois and advancing jazz as a musical genre in higher education are outlets that will be discussed in relation to Thompson's ongoing practice and as the backdrop to his social activism in Italy as the co-founder and director of Black History Month Florence and of the research center The Recovery Plan, which is dedicated to recovering the Black past and future.
Thompson is a recipient of a 2022 Creative Capital Award, a 2021 Italian Council Fellowship, a Louis Comfort Tiffany Foundation Artist Grant, a Franklin Furnace Fund Award, a Visual Artist Grant from the Fundacion Marcelino Botin and an Emerging Artist Fellowship from Socrates Sculpture Park, among others. His work and performances have been exhibited widely in institutions including the Whitney Museum of American Art, the Museo Reina Sofia and the American Academy of Rome, and are part of numerous collections including The Studio Museum in Harlem and the Museo MADRE in Naples. His life and work seek to deepen the discussions around socio-cultural stratification and the arrogance of permanence by employing fleeting temporary communities as monuments and fostering projects that connect academic discourse, social activism and DIY networking strategies in annual and biennial gathering, sharing and gestures of collectivity.
The lecture and film screening are two examples of the increasing collaboration between Auburn and Tuskegee. This past November, Auburn University and Tuskegee University signed a Memorandum of Understanding, or MOU, to expand partnerships between the universities and collaborate on community outreach. The MOU signifies a commitment to forge institutional resources and intellectual capacity to address racial and health disparities in communities across the state.
This learning and awareness opportunity partnership is co-sponsored by the College of Liberal Arts, Africana Studies Program, Department of Art and Art History, Department of World Languages, Literatures and Cultures, and the Tuskegee University Global Office.
For more information about Justin Randolph Thompson, go to his website.
For more information about Thompson's visit, contact Joan Harrell, Director of Inclusive Excellence in the College of Liberal Arts, at jrh0098@auburn.edu.
Tags: Diversity, Equity, and Inclusion Art and Art History World Languages Literatures and Cultures Arts and Culture
Related Articles
---