Summerfield leads Mediterranean Studies symposium in Dubrovnik, Croatia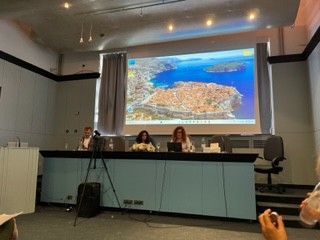 Dr. Giovanna Summerfield, Professor in Italian and French and director of the Mediterranean Studies certificate, led the third annual Mediterranean Studies symposium June 29–July 1 in Dubrovnik, Croatia. This year's focus was on interactions, encounters, influences, exchanges and reinventions that have taken place among different peoples throughout different historical eras, and across geographical, political and cultural boundaries within the Mediterranean region. 
Co-sponsored by the University of Zaghreb, participants included scholars from Italy (Scuola Normale Superiore, Tor Vergata, Rome and Roma Tre), Turkey (Koc University Istanbul), Switzerland (Geneva Graduate Institute, University of Geneva), Argentina (Universidad de Buenos Aires), Spain (CSIC Madrid), France (Paris Nanterre), England (University of Oxford, University of Cambridge), Australia (Monash University) and the U.S. (Stanford, University of California Berkeley, Montclair State, Indiana University, Wellesley Georgetown, Saint Louis University). 
Auburn University art professor Zdenko Krtic held an exhibit at the Lazareti Art Workshop and Gallery, which overlooks the Old Town center and was formerly a quarantine site for sailors and visitors.
The symposium is connected with a new international journal, I.S. Med. Interdisciplinary Studies on the Mediterranean, co-edited by Summerfield and Rosario Pollicino (University of South Carolina, Columbia). Its first volume was published by Mimesis International in June 2023, and the second issue is scheduled for December of this year. Selected papers from the 2021 symposium will also appear in the upcoming volume, Unframing and Reframing Mediterranean Spaces and Identities (Brill), co-edited by Drs. Summerfield and Pollicino.
Auburn University offers an undergraduate certificate in Mediterranean Studies. For more information, contact Giovanna Summerfield, summegi@auburn.edu.
Tags: International Initiatives World Languages Literatures and Cultures
Related Articles
---