Auburn students explore Tuscany through study abroad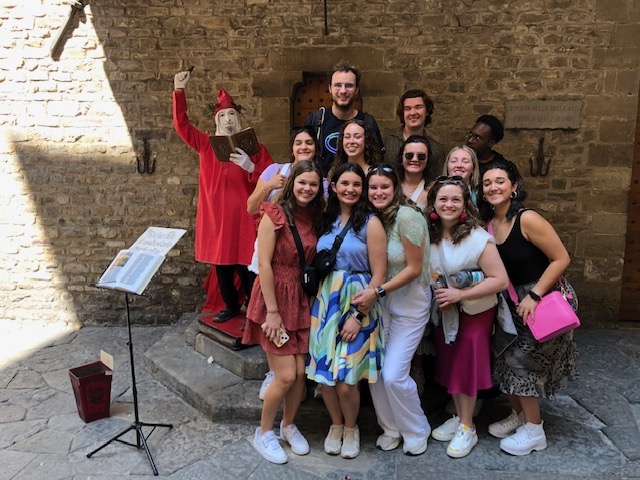 Twenty Auburn students spent their summer in Lucca, Tuscany, studying arts, culture and sustainability through a four-week Italian Studies abroad experience.
From May 21-June 18, students learned about Italian history, literature, culture and sustainability. Professor Giovanna Summerfield, who directs the summer program, taught a new course titled "Under the Tuscan Sun," named after Frances Mayes' bestselling book. Students explored writers and important figures of Tuscany, while documenting their own experiences, thoughts and dreams about life in Italy. Activities such as field trips, film screenings and cultural events enhanced their appreciation of Tuscan culture and the arts.
The group began with a cooking class with a local chef, bonding with fellow classmates and learning about local cuisine. They took several trips across Italy, including an eye-opening excursion to the village of Sant'Anna, where many civilian lives were lost during WWII. In Florence, students studied the literary works and lives of authors like Dante, Boccaccio, Collodi and Nobel Prize-winning poet Carducci, as well as attended music performances and activities focused on opera composer Giacomo Puccini, who was born in Lucca.
A highlight of the program was meeting Alberto Stefano Giovannetti, the mayor of Pietrasanta – a sister city of Montgomery, Alabama. Students also toured Pietrasanta's beautiful museums and attended the grand opening of an art exhibition by local students. Pietrasanta, renowned for its marble and arts, has been connected with Sylacauga, Alabama, known for its marble bedrock, for many years through artist exchanges, cultural seminars and special on-site visits of Auburn students and faculty, organized by Summerfield during her time as associate dean of educational affairs for the College of Liberal Arts from 2011-2021.
The Italian Studies summer program is hosted by Fondazione Campus Lucca and is offered annually to all Auburn students, especially those who are interested in pursuing a minor in Italian Studies, a major in International Studies or a Mediterranean Studies certificate. 
For more information about the Tuscany study abroad program, see the program page and application.
Tags: Arts and Culture International Initiatives World Languages Literatures and Cultures
Related Articles
---