News

|

Articles

|

Alumni Spotlight: Jamy Wheless, Award-winning Animation Director and Auburn Instructor
Alumni Spotlight: Jamy Wheless, '87, award-winning animation director and Auburn instructor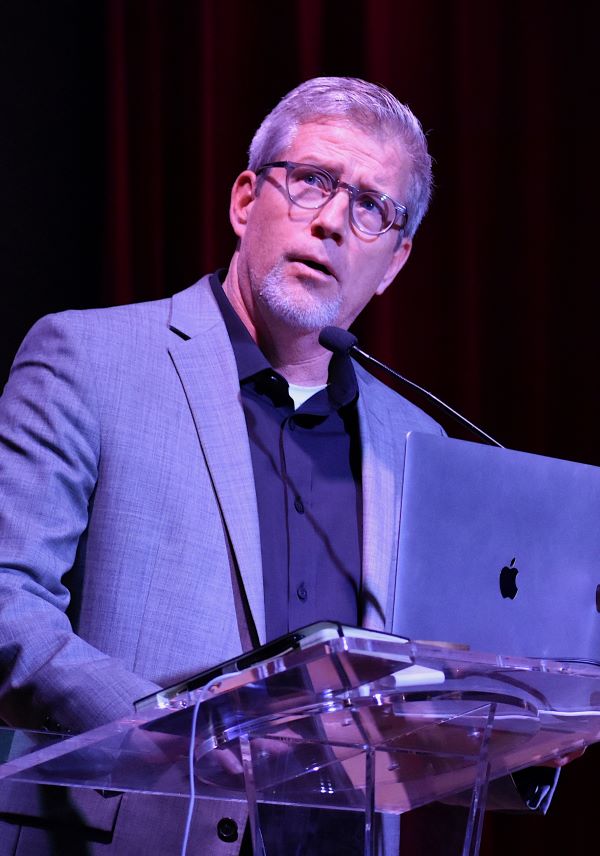 Jamy Wheless, originally from Chattanooga, Tennessee, fell in love with Auburn's campus during a visit and decided to pursue his love of art here. He graduated from Auburn with a bachelor's degree in illustration in 1987, but in just a few short years, his whole career trajectory would change. And it was all because of a movie.

"I went to see Jurassic Park in 1993. I was sitting in the theatre, looking up at that screen and that 3D animation and I said, 'That's what I want to do the rest of my life. I don't know what that is, but that's what I want to do,'" Wheless recalled.

With the release of "Jurassic Park," Wheless turned his traditional artistic talents towards computer animation. Wheless went to work teaching himself more and sharpening his digital skills. In 1995, he caught the eye of George Lucas' Industrial Light & Magic (ILM) when his first short film "Avery," premiered at Special Interest Group on Computer Graphics and Interactive Techniques (SIGGRAPH). In 1996, he was hired by ILM to work on commercials as a technical director and character animator. 
"I was really fortunate to be in the right place at the right time," Wheless said.
Wheless and his wife, Amy, whom he met at Auburn, packed up their things and moved to San Francisco. While working at Industrial Light & Magic (ILM), Wheless was responsible for the character development and performances of Yoda for the "Star Wars" prequels, as well as Davy Jones for the "Pirates of the Caribbean" films, among many others.

"Being at ILM, I was kind of a generalist doing everything from lighting to texturing to animating, but my real heart and passion was animation, bringing characters to life. Yoda really is my main character. I've worked on all three (prequel) films. Yoda just really resonated with me, his personality and really what I was just passionate about. And there were days where I worked directly with George Lucas to talk about the performance of Yoda, who he was and what he did."

Wheless also had the opportunity to work on "The Incredible Hulk," with director Ang Lee.

"He was another incredibly creative director. We would be talking about the psychology and the personality of who this creature was, and Ang taught me a lot about the simple design of less is more. I had so many opportunities at ILM working with some of the most incredibly talented people in the world, learned a ton. After 12 years at ILM, I decided it was time to branch out and endeavor on my dream of starting my own company and creating empowering stories." 

Wheless later became one of the co-founders of Lightstream Animation Studios and currently runs his new company, IGNITE Animation Studios. As CEO and Animation Director, he leads the team as they continue to bring captivating stories and inspiring characters to life for feature films, television, and augmented reality projects. He recently co-directed the Oscar nominated short film "The Pig on the Hill," and is currently producing and directing his latest short film "ANDY," scheduled to release in June 2021.
"The Pig on the Hill" is short animated film starring actor Pierce Brosnan as the narrator. The short recently won The Will Vinton Award for Best Animated Film at the McMinnville Film Festival. 
In 2018, Wheless began sharing his passion and talent for animation by teaching character animation in the Department of Art and Art History. He comes to Auburn a few times a year to meet the students in person, but the rest of the time, he's teaching from his home in Petaluma County, California.

"My real passion is performance and how you bring characters to life to where they interact and they have a thinking process and it resonates with you. So that's what I'm doing here at Auburn. I'm teaching two classes right now and we're looking to build a program."
Wheless approached Auburn a few years ago about teaching a 3D animation course with the idea of building an animation program. Wheless said the animation industry is currently booming and hungry for content.

"My specific course focuses on the art of character performance and storytelling in animation. As the program grows, I hope to connect more online industry professionals with on-site professors as a hybrid education for the student's overall exposure. This would bring immense value not only to Auburn University but to any future employer," Wheless said.
Last year, Wheless started the Auburn Animation Advisory Council, and the university hired another animation professor. 

"Our goal is to expand the curriculum and teach students the creative and technical skills needed in these exciting and merging industries of feature films, TV, commercials, video games, mobile games, medical innovation, virtual reality, and augmented reality." 
Related Articles
---