News

|

Articles

|

Auburn University's Department of Theatre & Dance welcomes four guest designers for its fall production of "Spring Awakening"
Auburn University's Department of Theatre & Dance welcomes four guest designers for its fall production of "Spring Awakening"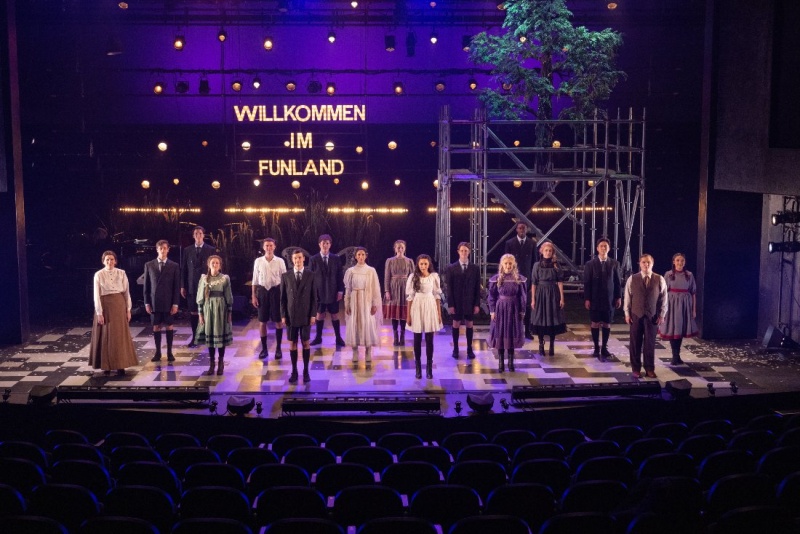 The 2021-2022 theatre and dance season, Glimmers in the Dark, marks the return to live theatre in the Telfair B. Peet Theatre after a year unlike any other for the performance world at large. This season offers performances that engage with this particular moment and encourage light and hope at the end of a difficult period. "Spring Awakening" is our first musical offering for the season.

The musical "Spring Awakening" first premiered on Broadway over a decade ago and went on to win a total of eight Tony Awards including Best Musical. Based on the 1891 Frank Wedekind's novel, this Sheik and Sater's coming-of-age rock musical tells the story of a group of teenagers in their journey towards adulthood and the quest to finding themselves. Their struggles with their sexual awakening and self-discovery make this vibrant story a moving play full of symbolism and great character arcs. This is a story of change that all can relate to.

"This play is all about that feeling of being alone, of not having connections," explained Andrew Schwartz, the director of "Spring Awakening." After an entire year of isolation, "the play brings up a lot of issues that are important to young people in terms of being heard," said the director. For Schwartz, his work in "Spring Awakening" has been as a facilitator, communicator, and collaborator, especially considering the fact the production team for the show includes three guest designers, Anthony Narciso, Afsoon Pajoufar, and Krista Smith; a guest intimacy director, Marybeth Gorman Craig; and a student, Bailey Hammett, in the role of costume designer.

Bringing in professional guests has been a rewarding experience for both cast and crew. Guest artists bring with them a variety of experiences and skill sets to share with our students. "Spring Awakening" particularly has provided a perfect opportunity for such experiential learning because of its unique combination of production elements – both onstage and off.

Marybeth Gorman Craig joins AU Theatre and Dance for this production as the department's first guest intimacy director. Craig is an Equity actor and director based in Columbia, South Carolina, where she is currently teaching at the University of South Carolina. "I was excited to bring my perspective as a working professional to the students at Auburn," said Craig, who as an experienced student and as a teacher acknowledges how beneficial outside perspectives can be for a student's learning.

Intimacy director is a new role at the Auburn University theatre and dance department. Many productions present subjects and situations that require work with actors to establish a safe environment in the rehearsal space and in performance. "Just like a fight choreographer works on the fights, she works on anything that involves any kind of touching," explained Schwartz about Craig's important work on "Spring Awakening." Making sure that the students feel safe and supported is crucial for everyone involved in this play.

In addition to Craig, "Spring Awakening" comes to life through the work of guest lighting designer, Krista Smith and scenic designer, Afsoon Pajoufar. In addition to their work on the production, both Smith and Pajoufar met with classes, engaged with students, sharing their knowledge, answering their questions, and talking about the industry.

"It's pretty crucial to help the students find their brave truth voices," said Pajoufar. Pajoufar, a previous guest set designer for Glass Menagerie, is a designer for theatre, contemporary opera, performance, and hybrid production based out of New York City. Her work on "Spring Awakening" allowed the students to engage in new and exciting processes, in part, because of the multiple elements required by the script to be present on stage. Her experience with "Spring Awakening" started a few years ago when Pajoufar read the German play, "Frühlings Erwachen," on which the musical is based: "As a person who constantly advocates to enable the voice of the younger generation, I was particularly fascinated by this group of youth who are struggling to be heard and understood." Her clever and fluid set design creates a powerful canvas for these young actors to engage their voices and tell this story.

A crucial collaborative decision, made by Schwartz, Pajoufar, and musical director Jamie Mablin, resulted in placing the band on stage. This decision had a big impact not only on Pajoufar's work as scenic designer, but also on sound designer Anthony Narciso's process. A cross-disciplinary work of the audio team, lighting, and scenic design, allowed the band both to be practically seen and heard but also to create a more intimate feel. As Narciso explains, "Spring Awakening" was a highly collaborative process and a great opportunity for the students at Auburn: "It gives them a chance to see a different set of design styles" as well as "a chance to show off their skills set to other people." Narciso currently works as an audio engineer in Orlando, Florida, where he works alongside a former Auburn University sound design student.

For lighting designer Krista Smith, "Spring Awakening" marks her first collaboration with AU Theatre and Dance. Smith, an interdisciplinary artist originally from California, created a stage where lighting is part of the architecture. Schwartz explained how the play requires creative design choices because of the fast-changing scenes: "We have to very quickly go to very different places…we don't have time to bring in scenery, so lighting is really the thing that takes us place to place." And Smith's work, in collaboration with Pajoufar's designs, make that possible. Her passion for creating striking, thought-provoking work is apparent in the "Spring Awakening" design, where lights instead of being hidden, have become a key part to the spectacle.

In every area of the design process, students have assisted these guests in their work. Along with our talented production staff, these students have worked hard to realize these designs, hanging lights, installing tiles, painting floors, and much more to create the world of the play. The guest designers brought to Auburn for "Spring Awakening" not only have contributed to an incredible environment for this production, but they have also provided everyone in the campus community the opportunity to learn, grow and create something to further develop their skills.

Don't miss the chance to immerse yourself in the work of these designers and the world of "Spring Awakening" they created.
Reserve your seats today! 
Related Articles
---