Auburn University to recognize 2022 Faculty Award winners on Nov. 17
Three College of Liberal Arts faculty recognized for teaching, research and outreach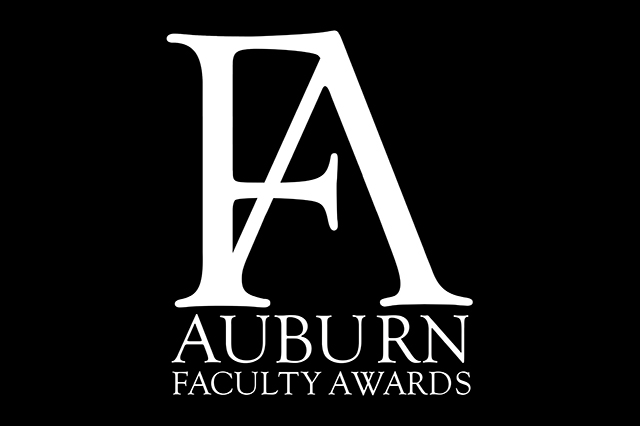 Auburn will recognize the 2022 recipients of the university's most prestigious faculty awards for teaching, research and outreach during its 16th annual Faculty Awards ceremony on Nov. 17.
"An important aspect of Auburn's campus community is ensuring our faculty feel valued and recognized for their work," said Interim Provost Vini Nathan. "This year's honorees reflect the level of impactful teaching, research and outreach that so aptly defines our university and drives our mission."
New alumni professors
With support from the Auburn Alumni Association, Alumni Professorships acknowledge five new tenured faculty members each year who give Auburn students support and guidance while advancing the university's reputation for future generations of alumni.
Evelyne Bornier, professor in the Department of World Languages, Literatures and Cultures, and Brigitta Brunner, professor and associate director of the School of Communication and Journalism, were named new alumni professors.
Alumni Professors are honored at the university's annual Endowed Faculty Recognition event in October.
Alumni Undergraduate Teaching Excellence Awards
The Alumni Undergraduate Teaching Excellence Awards recognize the outstanding teaching of undergraduates from nominations made by department heads, deans, alumni and students. A committee of retired faculty selected the recipients. 
Sara Blaine, assistant professor in the Department of Psychological Sciences, is one of Auburn's three Alumni Undergraduate Teaching Excellence Award winners.
A member of the Cognitive and Behavioral Sciences program in the Department of Psychological Sciences since 2019, Blaine's teaching and mentoring consistently demonstrate her passion and dedication to students inside and outside the classroom. A favorite instructor among students, Blaine has influenced many to change their major to neuroscience.
In addition to serving on multiple committees, developing outreach camps and maintaining a robust research program, Blaine continues to serve as a model to students, encouraging them to pursue STEM careers. In addition, by providing her students with service opportunities in the community, Blaine is teaching her students to live the Auburn Creed.
"Quality instruction is paramount in the College of Liberal Arts," said Dean Jason Hicks. "We are proud to see Drs. Bornier, Brunner and Blaine recognized for the work they do to educate future leaders and global citizens. All of our students, alumni, faculty and staff appreciate their dedication to student success."
More information about the awards, including a list of previous winners, is available on the Faculty Awards website.
Tags: World Languages Literatures and Cultures Communication and Journalism Psychological Sciences
Related Articles
---