Young Alumni Spotlight: Shelby Rusher, '20, engagement coordinator for Down Syndrome Association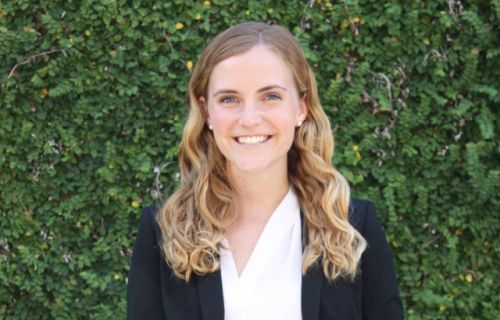 Everyone has their perspective of college life at Auburn, and we love when alums walk us through their time on campus. A native of Winston-Salem, North Carolina, Shelby Rusher, '20, talks with us about her motivation to go away for college and her appreciation for the College of Liberal Arts Career Services office. Being a student in the public relations program encouraged her to take risks and be bold in life. And her willingness to explore opportunities while at Auburn led her to a position with The Down Syndrome Association of Greater Winston-Salem as an engagement coordinator.
Your website is phenomenal. "A Letter to my Freshman Self" highlights much of what you experienced as a student. What made you decide to attend Auburn?
I was born in Atlanta, and I lived in Winston-Salem my entire life. I grew up not being an Auburn fan, but a few of my cousins spoke highly of the vet school. I always knew I wanted to go out of state. Most of the people from my high school stayed in North Carolina, and I really wanted to go somewhere to spread my wings, immerse myself in a completely new environment. I did the university tour and the College of Liberal Arts tour. I loved how the CLA program had small class sizes. It didn't feel fake or cliché. They really pushed the Auburn Family. Everyone was friendly, and being away from home I wanted what Auburn offered. The family dynamic was genuine.
How would you describe the culture at Auburn?
A lot more southern, especially everyone's accent. CLA was the right place for me because I still felt like people had a voice. It didn't feel one-sided. Auburn still needs to work on inclusion. I felt like I always tried to be inclusive, and I didn't think that was hard. I surrounded myself with people who were open-minded.
How was your major related to your current work?
I didn't know I wanted to go into non-profit. I started the job search early using LinkedIn and Handshake. I felt really prepared to lock down a position post-graduation. I had three promising interviews in the Southeast. I had an internship at Piedmont that helped me realize I wanted to work for an agency because the work is diverse. The firm and agency life is being hit hard from the pandemic. Unfortunately, companies are cutting their budgets. I was really struggling, but I was open to anything in public relations or marketing. I am the engagement coordinator and I wasn't sure how much PR and marketing would go into it. It's a lot of working with families and people affected by Down's syndrome, but I gave it a chance and now I'm doing PR and marketing, and gaining business skills. My day to day is always different, and I love it. I handle all our social media and our website so I was happy to have a Wordpress background. I'm working with members of the Down Syndrome Association and with sponsorships and donations. Another big part of my job is fundraising, especially during the first few weeks of my job.
What advice do you have for those looking to work in your field?
Be present, and go to events. I would see a CLA event and go make connections with people. Take every opportunity. It flew by for me. And people say that all the time. I will say that it really does. I wish I would have started earlier and made more connections. Get involved with organizations you really love. It looks more solid if you're involved with only two organizations, not ten. When I'm in an interview, I tell the employer when I'm involved, I give 110%, and I want to grow in my leadership.
Related Articles
---