News

|

Articles

|

Alumni Spotlight: Ashley Edwards, social worker and investigator at the Federal Defender Program for the Middle District of Alabama
Alumni Spotlight: Ashley Edwards, social worker and investigator at the Federal Defender Program for the Middle District of Alabama
Edwards found her calling as a social worker while at Auburn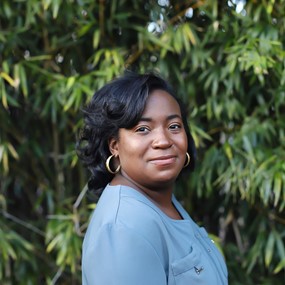 Ashley Edwards has two social work degrees from Auburn, '15, (BA) and '19, (MA) and was licensed by the state of Alabama as a Licensed Master Social Worker (LMSW) in 2020. Edwards has a long list of accomplishments, including being part of the Auburn University College of Liberal Arts inaugural 30 Under 30 class, and being selected by Auburn University social work faculty to receive the inaugural Social Work Alumni of the Year Award.

Edwards has called Montgomery home for the past six years and works as a social worker/investigator at the Federal Defender Program for the Middle District of Alabama. During her career, Edwards has worked as a justice fellow at the Equal Justice Initiative, providing trauma-informed services to individuals on death row and children sentenced to die in prison. She has also worked as a parent educator at the Gift of Life Foundation, providing evidence-based, in-home parent education to expectant families and parents of children ages birth to two years old. In her current role at the Federal Defender office, she assists attorneys and legal staff in providing client-centered representation to indigent defendants charged with federal offenses.

In our interview, Edwards talks about choosing her major, coming to Auburn from Georgia, and how Auburn successfully prepared her for a career in social work – even though it wasn't an easy path for her.


How did you decide to attend Auburn?
I applied to Auburn knowing very little about the university, as I grew up in Georgia with very little exposure to college football. At that time, I was eligible for a full ride scholarship from Auburn, which was a huge financial relief to my family. Before I committed officially to Auburn, I came with my parents to tour the campus. It sounds trite, but I fell in love immediately. I was convinced that it was where I needed to be ten minutes into the tour.

How did you choose social work as your major?
I was a late bloomer; I switched to social work my junior year at Auburn. In my sophomore year at Auburn, I volunteered with the Young Women Leaders Program (YWLP), a mentoring program out of the Women's Resource Center that paired local junior high students with Auburn students for a year of mentorship and leadership development classes. The mentorship I received from the faculty who ran the program and the joy I experienced in building relationships with the junior high students rocked my previously sheltered world. Dr. Danilea Werner, then a professor in the social work program, helped run YWLP. Everything she taught us about human development and community work felt like ideas I'd been struggling to put into words for so long – I knew I had to learn more about social work after my experience in YWLP. I asked to meet with AU social work faculty to learn more about the major, knowing I was pushing it with my graduation date looming over my head. I was stunned at how quickly the faculty made me feel seen, not just as a student getting credits to fulfill a requirement, but as a young adult trying to find self-worth and safety on a huge college campus. After that, it wasn't a question anymore – I switched into the major immediately. It's the best decision I made while at Auburn.

What was your Auburn experience like?
This is a difficult question for me. My experience at Auburn was very rough because early on, I experienced two back-to-back incidents of racial violence that really colored the rest of my time on campus. I felt both isolated and hyper visible. At the time there were not adequate support systems for helping students process identity-based harassment or violence. To be treated that way in my formative years made me disillusioned about what the college experience was supposed to be. I hope the university works meaningfully to prevent similar incidents from happening to other students. I must reconcile the traumatic experiences with the fact that some of my best friends today are people that I met at Auburn. I got a one-of-a-kind experience learning from brilliant faculty and staff in the personalized, familial setting of the AU social work program. (I loved the faculty so much I came back for the Master of Social Work program). I worked in the coolest on-campus job at the Miller Writing Center, and I audited an incredible poetry course for fun. I would not be who I am today without my Auburn experiences.

Do you feel your education at Auburn prepared you for your current line of work?
Absolutely. Beyond my personal love of the program, the curriculum is academically rigorous. Auburn consistently has high pass rates for the standardized social work licensure exams, and I felt prepared when I took both my bachelor and master level licensure exams. The practicum and full-time internship required in the program gave me a sense of what it would mean to be a social worker in the real world. In the program, I learned how to be flexible, responsive, and to approach the people I interact with a strengths-based mindset. Social work is largely baptism by fire, but the AU social work program equips students as much as possible to be confident and competent practitioners in a wide spectrum of workplace settings.

What do you like to do for fun?
When I have spare time, I am both a homebody and a street kid! I love to go to the neighborhood bars, local concerts, and I'll never pass on an opportunity to go out dancing in Montgomery or somewhere new. At home, I love to craft, fumble my way through new recipes, read, dance some more, and binge watch old seasons of "Survivor." And I try to fit at least one Auburn football game in every season!
Tags: Alumni Sociology Anthropology and Social Work Social Work
Related Articles
---