Julia Murphy, '18, wins an Emmy for her work on Daily Mail TV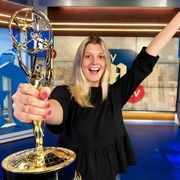 Meet Julia Murphy, a 2018 political science alumna who received an Emmy for her work on Daily Mail TV. The New York native was recruited to Auburn to be part of the equestrian program her freshman year and fell in love with the university, the campus, and the people. She got her start in television as part of Eagle Eye TV and is now an associate producer at Daily Mail TV. Learn about how she went from NY to AL, and back to NY to become part of an Emmy-award winning team in our interview below: 
Would you please tell us about yourself? 
My name is Julia Murphy, I'm 23 years old and I'm from New York. I graduated from Auburn in May 2018 with a bachelor's in political science (I know, not what you'd expect for the field I work in). My current job title is an associate producer at Daily Mail TV. 
How did you choose to attend Auburn, and how did you choose your major? 
I chose Auburn because it was one of the few schools in the country with a D1 equestrian program. I was actually recruited to Auburn and was on the NCAA team my freshman year. Aside from that, I fell in love with Auburn immediately and knew I wanted to spend the next four years there. Choosing my major was a little more difficult than choosing Auburn. I changed my major three times between freshman and sophomore year, and ultimately landed on political science. I chose poli sci because I thought I might want to be a political correspondent. Cue me joining Eagle Eye TV to get some experience with the television side of things. 
What classes/organizations do you feel best prepared you for your current career? 
Eagle Eye TV was the best thing that ever happened to me. The organization truly prepared me for my current career. I learned how to anchor, report, produce, direct, write news articles, use Adobe Photoshop and Premiere. These are all qualities that employers look for. 
What was your career path after graduation? 
After graduation, I spent the summer applying to all kinds of jobs in the TV industry. From national names like CBS, Fox News, and CNN, to entertainment shows like Entertainment Tonight and Daily Mail TV, to local stations all over the country. In my heart, I knew I wanted to land in the entertainment industry, and I wanted to start my career as a producer. In the TV industry, it's always good to have some producing under your belt, no matter what direction you want your career path to go in. 
What are your future plans? 
My future goal is to become an on-screen correspondent. I was an anchor and reporter at Eagle Eye TV, and I absolutely loved it. I have some experience behind the camera producing now, but my goal is to get back to on-screen talent, preferably in the entertainment industry! 
Is there anything you miss about Auburn?
I miss Auburn every single day. It's hard to pinpoint one specific thing that I miss, it's just the whole of Auburn that I love. The Auburn Family, downtown, football (sadly, college football isn't big in NY), the weather, the food, southern culture. Sometimes I think I should have been born in the South. One of the things I do miss the most is the pace of life and how kind people are Auburn. New York is a fast paced, high stress city, and I sometimes miss the slower pace of the South. 
What do you like most about working in NYC? 
I grew up and live on Long Island now, which is just outside of the city. So, NYC has kind of been like my backyard my whole life. Though, working in the city every day now is very different than just taking a trip there every once in a while. What I like the most about NYC is that everyone is on a mission. Aside from the tourists, almost everyone in NYC is a working professional. People are very serious about their careers, and it creates this go-getter atmosphere that I just soak up. There are so many hard-working people and so much ambition. It kind of drives you to be the best you can be every day. 
What is it like to win an Emmy? 
Winning an Emmy is absolutely surreal. I don't think any of us were really expecting it, because we're still a relatively new show, we're only in our second season. When I heard our name called, my jaw dropped. It was unbelievable. To see my team up on that stage to accept the Emmy for Outstanding Entertainment News Program was one of the proudest moments of my life. Watching our executive producer walk into the office with an Emmy Award in his hand the next morning was something out of a dream. I graduated just a bit over a year ago, and if you had told me then that I'd have an Emmy under my belt one year post-grad, I wouldn't have believed you. Shock aside, the Emmy was also well deserved, because the team at Daily Mail TV is the most-hard working group of people in the world. We all work our hearts out every day to put the best show possible on the air. 
What advice do you have for someone looking to follow in your footsteps? 
First of all, join Eagle Eye TV!!! I wouldn't be where I am today without it. I learned almost everything I know from Eagle Eye. And when you join, try out all the different positions. Produce a little, anchor a little, direct a little, do it all! My experience at Eagle Eye boosted me from an entry level position to an associate position, which sometimes takes people years to get to. Second, I cannot stress enough the importance of internships. There are so many internships in the TV industry, and every employer looks for internship experience on your resume. Also, in tight-knit fields like the TV industry, internships help you create a network of people who want to help you on your career path. Lastly, if you're looking to work in TV, be prepared for long hours and a heavy workload. That came as a surprise to me, and it took me a little while to get adjusted. But it is SO rewarding getting to see your work air on live TV every day. The long hours and hard work are always worth it. 
P.S.: I would like to give a shout-out to Eagle Eye TV for being named Most Exceptional Student Organization! I cannot think of a more deserving group of people. 
Tags: Alumni Political Science
Related Articles
---