'The legacy begins with me': Sherry Potts '23 earns political science degree at 70 years old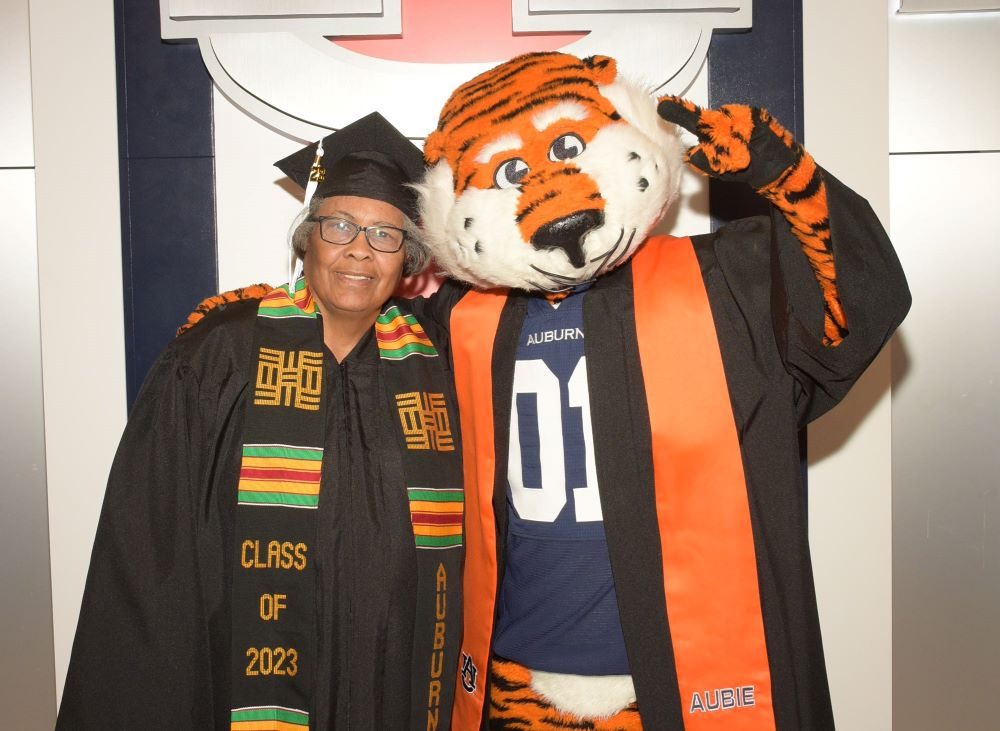 Sherry Potts, a Lanett, Alabama, native and first-generation Auburn graduate, knows it's never too late to finish your education.
"If you apply yourself, things are possible, and it does not matter what background you come from," Potts said. "If you use your God-given talents, you can achieve whatever goal you set for yourself. I set my goal at graduating from Auburn University. That's what I wanted to do, and even at 70 years old, I am super proud that I was able to accomplish that goal."
Potts, 70, is a great-grandmother and retired state employee who returned to Auburn after nearly 50 years to finish her political science degree. She took her first credits at Auburn in 1973, after she transferred from Southern Union State Community College, and left early to enter the working world.
For more than a decade, she worked as a driver's license examiner and test administrator at the Alabama Department of Human Resources and the Alabama Law Enforcement Agency. Her work took her across the state, to offices in Opelika, Lanett, Phenix City, Lafayette and more, before she retired in 2012.
Potts said she went back to school to motivate her 16-year-old granddaughter to pursue higher education. Potts' daughter, Ramona, has a bachelor's degree and multiple master's degrees, and Potts hopes her granddaughter will follow in their footsteps.
"If there's going to be a legacy, it needs to begin with me," Potts said. "My 16-year-old granddaughter has always said she doesn't want to go to college, and so I'm prayerful that she will be motivated by seeing me graduate. She'll get to see me go across the stage, and I hope that it'll motivate her to want to be a part of this journey."
Just before commencement weekend started, Potts surprised Assistant Director of Academic Advising April Foti, her advisor, with a bouquet of flowers and a certificate of appreciation for her support.
---
---
Potts said Foti worked with her to build a schedule, connected her with outstanding professors and guided her from her first day to the finish line.
"Without her, I don't think I could have completed the journey," Potts said. "She has just really been there for me, and I appreciate her so very much. Every child on this campus should have to come in contact with April. She's a motivator and she's so genuine, she's such a fantastic person. And if I come back for a master's, she'll have to be my advisor."
Foti said she was surprised by the gift, but she wasn't surprised Potts was thinking of others, even on her own special day. Foti said Potts exceeded her expectations in utilizing campus resources and in the impact she made on everyone she encountered.
"We set small goals along the way, and once she accomplished those, then we looked at graduation and how she could make the most out of her degree," Foti said. "Sherry is so determined. I've never met anybody that is so hard-working, and she has shaped the lives of a lot of students. I'm blessed to have been on this journey with her."
Since August 2021, Potts has worked to finish the requirements of her political science degree. In class, she quickly made friends with her classmates, even if their political views, backgrounds or ages were different, and praised her professors for their support as she adapted to new classroom technology.
Matthew Clary, a senior lecturer in the Department of Political Science who teaches courses in international relations and comparative politics, taught Potts in several classes. He said her contagious energy and passion inspired everyone around her.
"Sherry worked extremely hard to accomplish her dream of completing a bachelor's degree, and those of us that have gotten to know her are immensely lucky to have been a small part in her journey," Clary said. "What stands out to me the most was that Sherry stayed true to the caring individual that she is and with the infectious compassion she has for those around her. She has been extremely supportive and encouraging of her fellow students throughout her journey, and I know that there are many fellow Auburn students that will always remember working alongside Sherry."
Potts will graduate Saturday, May 6, with more than 680 College of Liberal Arts graduates. Family from across multiple states, including her daughter, granddaughter, nieces and nephews, will travel to Neville Arena to celebrate her academic achievement.
College of Liberal Arts Dean Jason Hicks, who will present Potts' degree to her during commencement, said Auburn is a brighter place because of her compassion and dedication.
"Sherry's accomplishment is a testament that people at any age can fulfill their dreams," Hicks said. "Her commitment to learning is an inspiration to others, and we are incredibly proud of her. We hope her story shows others that, regardless of background, you have a place in the College of Liberal Arts."
Through the weekend, the Potts family plans to celebrate an Auburn journey decades in the making. At the encouragement of her professors, Potts is considering a master's degree next. Until then, she hopes to inspire others to continue their education.
"Do not let your age be a barrier. If you're at a crossroad in your life and you can't decide what you want to do, take a step in some direction, because time passes, and it passes more swiftly than you think," Potts said. "I really came to campus thinking that as an old person, these kids would look at me like I was crazy. They have been so supportive. It has been just a golden experience."
Tags: Alumni Political Science
Related Articles
---