Office of Sustainability honors campus, community efforts with Spirit of Sustainability Awards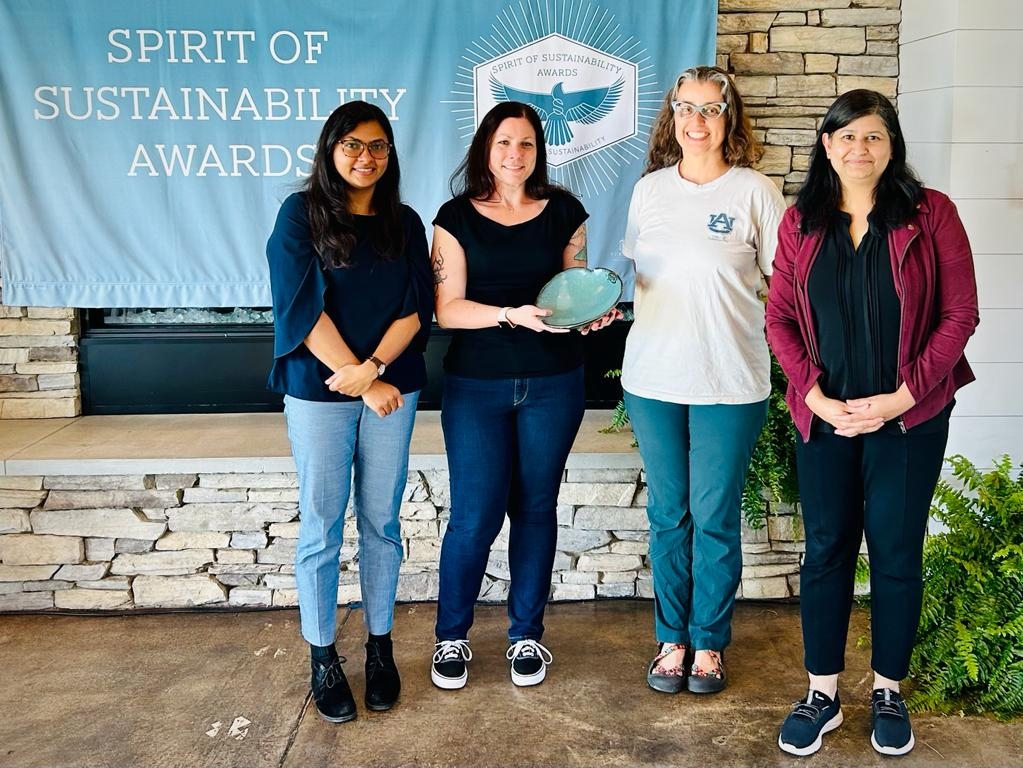 The Office of Sustainability hosted its annual Spirit of Sustainability Awards on April 19, honoring those from Auburn who have exhibited a commitment to excellence in sustainability on campus and in the community.
"This sustainability awards program was created to recognize Auburn students, staff, faculty and alumni who are doing their part to, in the words of poet Adrienne Rich, 'reconstitute the world,'" said Office of Sustainability Director Michael Kensler. 
This year's faculty award recipients were Gayle Parks Forehand Professor Beth Davis-Sramek in the Raymond J. Harbert College of Business, and Assistant Professor Ryan Thomson in the College of Agriculture.
Students honored were master's of science graduate Avery Agostinelli in the College of Liberal Arts, and doctoral graduate student Ifeoluwa Adebayo Odeniyi, College of Human Sciences.
Group initiatives also were recognized. The groups and their honored representative were:
Alabama City Year Program, Master of Community Planning faculty, College of Liberal Arts

Conservation Governance Lab, Assistant Professor Kelly Dunning, College of Forestry, Wildlife and Environment

The EAGLES Program, Director Betty Patten, College of Education

Kreher Preserve and Nature Center, manager Michael Buckman, College of Forestry, Wildlife and Environment

Office of Global Education, Director Kate Thornton, College of Human Sciences

Crop, Soil and Environmental Sciences Club, President Sophia Foliano, College of Agriculture 
"Many award recipients achieve remarkable outcomes that otherwise would go largely unnoticed. The Spirit of Sustainability Awards is one way to remedy that problem by telling their stories and celebrating their significant accomplishments, and it is wonderful to be able to do so," Kensler said.
Tags: Political Science
Related Articles
---