Meet Sarah Mouyal, Scenic Designer for Eurydice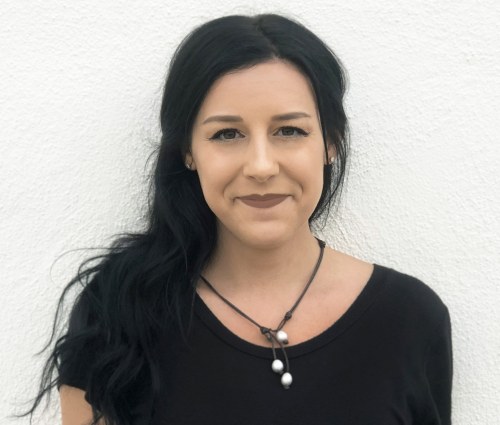 Sarah Mouyal returned to Auburn University to design yet another beautiful set for the production of Eurydice. In between adding some finishing touches to the set, Mouyal was able to sit down and talk about her scenic design experience thus far and her work on Eurydice. 
A Birmingham native, Mouyal received her Bachelor of Fine Arts in design/technology from Auburn University in 2015. After Auburn, she continued her education at San Diego State University and completed her Master of Fine Arts in scenic and production design in 2018. Since then, Mouyal has enjoyed working on multiple projects at once and currently works as the art department assistant on the last season of ABC's Modern Family at Fox Studios. Mouyal has experience in both film and theatre and says she can transition seamlessly between the two since they share a similar process. We were lucky to welcome her back to Auburn for this challenging piece. 
With this show specifically, Mouyal told us the design process was a challenge because the script gives limited scenic direction and could be almost anything.
"I went through a lot of evolutions for this design. The underworld is simply described as having strange watery noises, rust and dripping, and a raining elevator, that's all. The script also says there is no set change between the above world and the underworld, yet we stay in the underworld for the majority of the play, " Mouyal explained. "The most challenging part was finding a way to have a set that could convey a normal and timeless above world, and then easily transition into an underworld that is both poetic and terrifying. I decided the best way to do this was to 'break' the set and have the tops of the walls fly out to reveal a jagged angle. I wanted the underworld to feel like the ruins of a Roman bath house."
Since the play has no specific time period, Mouyal incorporated classical details like columns, arches, sconces, and stones. "Overall, the set feels minimal and sparse, so I spent a lot of time figuring out which accents, like the sconces, would fit into this weird world," she explained. "The real key player in this design was the paint treatment. The rust, water damage, and drips really brought the element of scary to the world, so we poured paint over everything. While there is no crying allowed in the underworld, it almost feels like the set itself is crying."
Mouyal left theatre students with some advice: "Take as many classes as you can in different disciplines because undergrad is the time to take advantage of what you have here to figure out what you want to do. Get very involved."
When asked about finding a balance between work and personal life, Mouyal joked that "being around creative people and telling stories through sets sort of is my personal life." Mouyal said if you dedicate yourself to your craft, Auburn's program can give anyone a bright career and future, because it happened for her.
Tags: Theatre and Dance
Related Articles
---