Jason Hicks reflects on first year as dean of the College of Liberal Arts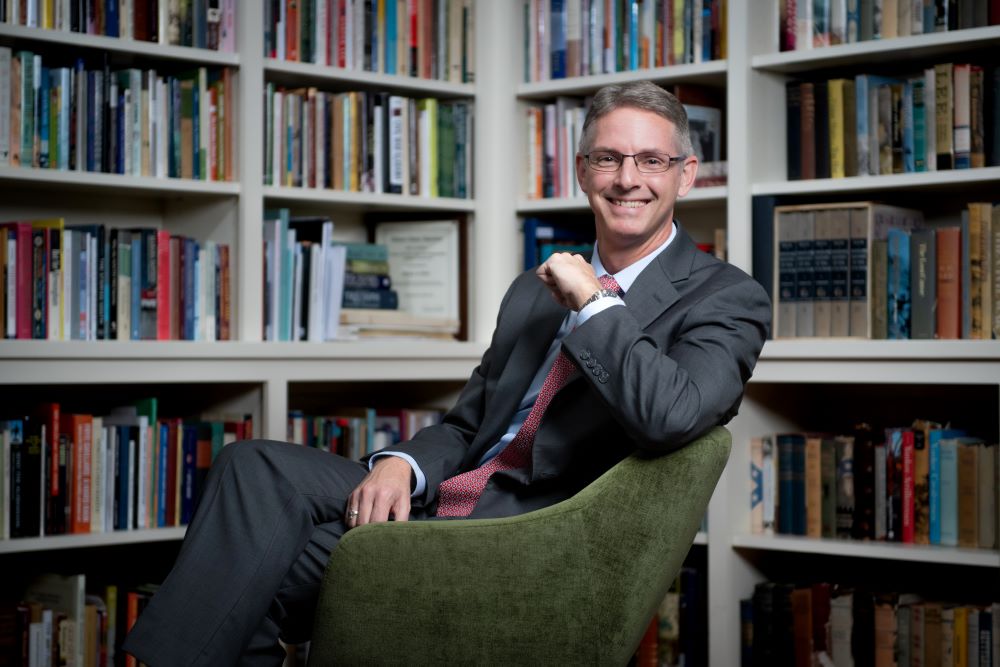 On July 1, 2022, Jason Hicks became the dean of the College of Liberal Arts at Auburn University. As his first year on the Plains ends, he reflects on his strategic goals and Auburn experience.
Upon stepping into the role, Hicks outlined four strategic priorities to guide the college forward. These included maintaining a welcoming and inclusive environment, elevating the college's research enterprise, professional development for faculty and staff, and strengthening student success.
A welcoming, engaging and inclusive environment is vital to the success of students, faculty and staff. Throughout his first year as dean, Hicks emphasized the importance of maintaining such an environment through an understanding and appreciation of others.
"Our approach to what you might call inclusion is different than what might happen in other colleges or departments because the College of Liberal Arts is so big and diverse and spread out all over campus," said Hicks. "The notion of understanding the world around us and understanding that different disciplines like humanities and arts and social sciences approach the world in different ways is important to our college. Then the inclusivity comes in, especially when we think about what kinds of experiences we are creating for our students in those various disciplines."
Hicks has also worked closely with the College of Liberal Arts Inclusive Excellence Cabinet to expand opportunities for engagement and enhance the sense of inclusivity in the college.
"Our Inclusive Excellence Cabinet has been amazing in that space for us, really thinking about how we provide college-level operations and administration and also embedded within it a sense of inclusivity," said Hicks. "We're trying to be mindful about others' lived experiences, their backgrounds and their cultures."
To elevate the college's research and creative scholarship enterprise, Hicks prioritized securing resources for faculty and students.
"We always have been and will continue to be innovative and supportive of research and creative scholarship. Research and creative output are part of why we have faculty and students here in the first place, to learn those activities," said Hicks. "We're funding research efforts in the college directly in the form of small grants to faculty, targeted releases from teaching obligations, and providing avenues for undergraduates to get involved in research, too."
Hicks emphasized the positive impact creative scholarship has had on his experience at Auburn.
"I've been to many of our different fine arts performances and departmental events this year," said Hicks. "Those things let you understand what kind of expertise and creativity we have among our faculty. And they're imparting that to our students at the same time."
Hicks also prioritized expanding professional development opportunities for faculty and staff members to ensure that the College of Liberal Arts continues to be a renowned and well-known institution.
"We need to make sure we're keeping pace with what it means to be the best educators, the best researchers and the best at integrating students into our research and creative efforts. That also means we require professional development to learn the best techniques, the best tactics and the most innovative, scientifically supported techniques for instruction," said Hicks. "Professional development is also important because we don't want people to feel like there's no room for growth and that things are stagnant for them. We want to make sure they flourish, thrive and have access to get better at what they do."
The College of Liberal Arts is one of the largest and most diverse colleges at Auburn, with nearly twenty different schools, departments and programs. Because of the college's size, it can be difficult for students to feel a connection to the Dean's Office. For Hicks, it's critical that students can connect with the college's decision-makers.
"Students want connection. There are many opportunities to get connected with a program or a department, but as a college, that's a little more difficult. We want to create the space for students to connect, whether it's at the college level or to help support department-level connection," said Hicks. "I'm working with the Student Government to create a framework for how we actually create these opportunities. We are working on launching department forums where students and department leaders can connect in a more casual environment. We have also invested in a tailgate experience we're going to host this fall to give students, faculty, staff and alumni an open community to walk into."
In addition to connecting with students, Hicks has worked with alumni across the country to enhance the connection between students, faculty and staff with alumni.
"Auburn's passionate alumni base is real. It is strong. I cannot tell you the number of times I've met people at events and introduced myself, then they say, 'Oh, I was a CLA alum. I was in this or that.' It's amazing, the network is incredible," said Hicks. "We have an alumni advisory board in the college that helps us with advising, helps the dean's office really think about what makes the College of Liberal Arts special and how they can have more engagement with students and with our faculty. We're working very diligently to create that same kind of opportunity for our alumni because those alumni experiences are extremely important."
As Hicks completes his first year at Auburn, he reflects on how his view of Auburn has changed and how the Auburn Family embraced him.
"Even going back to my interview for this position, I could tell the devotion, the passion people on the search committee had when they were talking with me, trying to help me understand what makes Auburn special," said Hicks. "I've learned to appreciate that even more having been here. It's in the support I have from my peers and my fellow deans. From the support we get from our upper administration, the president and the provost, from the passion and devotion I see in our students and their interest in what they're doing on campus. That experience is real. It's hard to define in many ways, but I think it comes down to things like the Auburn Creed and the Auburn Family as being ways of centering oneself right within the university."
Learn more about Dr. Jason Hicks, dean of the Auburn University College of Liberal Arts.
Read the College of Liberal Arts' strategic plan.
Tags: Office of the Dean Aviation Art and Art History Communication and Journalism Speech Language and Hearing Sciences Economics English World Languages Literatures and Cultures Music Philosophy Political Science Psychological Sciences Sociology Anthropology and Social Work Theatre and Dance Social Work
Related Articles
---