Student Spotlight: Hannah Blanchek and the art of show business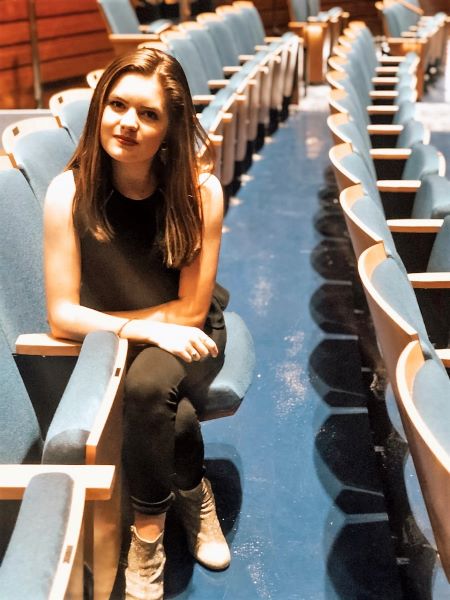 Auburn University's Jay and Susie Gogue Performing Arts Center aims to "propel Auburn and the Auburn community to a new level of prestige by providing high-quality performance venues in support of musical, theatrical, and dance performances as well as guest speakers and other events." However, in order to make this endeavor a reality, Auburn has relied on those who are willing to step up and lead the way. Hannah Blanchek, a fourth-year student in the midst of earning a Bachelor of Fine Arts in Theatre Management, has done just that as she played an integral role in the beginning stages of the Gogue Performing Arts Center's success.  
Blanchek, a student in Auburn's Department of Theatre, began working at the Gogue while it was still under construction in May of 2019. She worked alongside Taylor Dyleski, director of production, to assist in overseeing final equipment sourcing, delivery, and installation in the brand-new performing arts center. At the same time, Blanchek played a key role in the coordination of the four-day opening festival of the performing arts center that occurred in August 2019. After doing such an incredible job, Dyleski asked Blanchek if she would be interested in taking over as the Artist Hospitality Coordinator for the festival. Upon acceptance of the position, she worked with directors as well as professors in Auburn's College of Liberal Arts to create a personalized Artist Hospitality Internship in order to dive into the field a little bit more before the opening season rolled around in September. 
Blanchek carried this position into the fall semester of her senior year and remained on board at the Gogue as an Artist Hospitality Intern under the leadership of Amy Miller, director of programming. Among many other responsibilities, she was in charge of making the traveling artists feel like they were at home when they arrived in Auburn. After an artist was booked to perform at the Gogue, Blanchek read-through artist riders, a packet of information concerning an artist's preferences including everything from lighting schemes onstage to catering options in the dressing room. Additionally, she was in charge of coordinating all back of house arrangements including catered meals, dressing room stock, itineraries, appropriate signage for artists, and space for artists to be able to relax and enjoy themselves before and after performances. Looking back, Blanchek says one of her favorite parts about the internship was being able to be part of the team that set the precedent for how artist hospitality at the Gogue should be done, although having the opportunity to work in the inaugural season of a successful performing arts center was enough of a reward on its own. 
When she's not at the Gogue, Blanchek can be found at the Telfair Peet Theatre on Auburn's campus where she does everything from wardrobe crews to coordinating props, but she primarily focuses on stage and production management. Currently, Blanchek is the stage manager for the upcoming musical, "Bring It On," which opens Feb. 13 and runs through Feb. 23. Blanchek's role as a stage manager is very similar to that of her student internship. She coordinates multiple schedules at once and documents meetings and rehearsals, all while advocating and encouraging the entire cast.
According to Blanchek, one of the most rewarding things to do as a stage manager is "call a show from the booth." This means that any time lights, sound, or set pieces move or change, it is her responsibility to give the final say. When asked what her favorite part is about being stage manager, she said, "I love getting to sit up in the booth behind the audience and be the final piece that puts all the hard work the actors and production team have put in together. It's amazing to see a show really come to life in front of the audience's eyes." 
Once "Bring It On" closes, Blanchek will be venturing to Philadelphia in March with Auburn University Professor Sarah Chandler to work on the production of "The White Lama." There, she will serve as an artist liaison and assistant stage manager to the producers. Blanchek says she is especially excited to work on a production where she will be able to take everything she has learned from working at the Gogue and the Peet Theatre and apply it to a professional show.
Blanchek will graduate in May with a Bachelor of Fine Arts in theatre and production management. Post-graduation, she plans to take a job that will involve overall production management for large-scale theatre, production, or events, even though a job in one of these fields will require that she facilitate the art rather than create it.  
Blanchek has a promising future in show business and says that by working at the Gogue, she has quickly learned that although her true passion lies in facilitating the art, theatre management is an art form of its own. 
Written by Ally Shumpert | student writer for the College of Liberal Arts at Auburn University 
Related Articles
---