News

|

Articles

|

Come hear another tale of grit and grace with Auburn University Theatre and Dance's production of "Spring Awakening"
Come hear another tale of grit and grace with Auburn University Theatre and Dance's production of "Spring Awakening"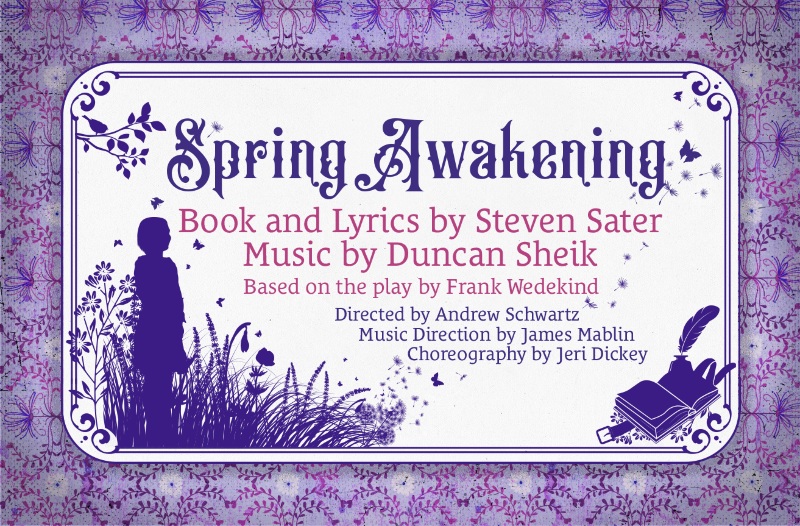 Auburn University Theatre and Dance continues its 2021-22 season with Sater & Sheik's Tony Award winning musical "Spring Awakening," on Nov. 11, at 7:30 p.m. on the Telfair Peet Theatre Mainstage. The show is directed by Andrew Schwartz.

In a world where adults set the rules, silence dissent, and control the story, a group of young people struggle to articulate their feelings and chart their own course. Winner of eight Tony Awards including best musical, Sater & Sheik's "Spring Awakening" harnesses the power of pop/rock music to give voice to the angst and anxieties along with the hopes and desires of coming of age and entering adulthood.

Marking the third performance back live in the Telfair B. Peet Theatre, "Spring Awakening" offers audiences the chance to engage with one of the most significant and vibrant contributions to American musical theatre of the past twenty years. Although based on a German play that premiered over 125 years ago, this musical tells a decidedly modern tale. As these young characters wrestle with their adolescent angst and push against the confines and constraints placed on them, they harness the power of music to reveal truths and tell their stories. "Spring Awakening" was one of the most produced musicals in colleges and universities over the last year and a half speaking to its particular ability to have us find hope even in the darkest and most difficult of times.

The artistic team for Spring Awakening includes director Andrew Schwartz, music director Jamie Mablin, choreographer Jeri Dickey, student costume designer Bailey Hammett, vocal director Dr. Elizabeth Benson, and an incredible gathering of guest designers including scenic designer Afsoon Pajoufar, lighting designer Krista Smith, intimacy director Marybeth Gorman Craig, and sound designer Anthony Narciso. The cast includes Jenna Viana, Ella Taylor, Ashleigh Avallone, Ashley Digiovanni, Nikki Ahlf, Maddie Maradik, Olivia Beland, Holden Mathison, Jake Brockman, Jonny Dickey, Jordan Denson, Pierce Rossman, Tapley Cronier, Juan Lee, Nick Dijulio, Mary Keyton, and Johnathan Davis.
Run time is approximately two hours with an intermission.

"Spring Awakening" contains mature subject matter and strong language that may not be appropriate for all audiences.

In accordance with Auburn University's current policies regarding Covid-19, all audience members will be required to wear face coverings when inside the theatre.

Buy Tickets
Tickets are available now! Reserve early to get your desired seats. Auburn faculty/staff and students receive special promotions to all performances at the Telfair Peet Theatre; all you have to do is login at theatretickets.auburn.edu to unlock your benefits. We also have season subscriptions still available for the remainder our 2021/2022 season. Four shows for only $45!
For more information, go to Department of Theatre and Dance's Ticketing Page.

Talkback Wednesday
To engage in discussion around the performance or learn more about the production, make plans to attend "Talkback Wednesday" on Wednesday, Nov. 17 after the show for a conversation with the director and company members.

Showtimes:
● Thursday, Nov. 11th 7:30 p.m.
● Friday, Nov. 12th 7:30 p.m.
● Sunday, Nov. 14th 2:30 p.m. Matinee
● Tuesday, Nov. 16th 7:30 p.m.
● Wednesday, Nov. 17th 7:30 p.m. *
● Thursday, Nov. 18th 7:30 p.m.
● Friday, Nov. 19th 7:30 p.m.

*Talkback Wednesday

Ticket Prices:
• General: $16
• Senior Citizen: $12
• Faculty and Staff: $12
• AU student with ID: Free
• Non-Auburn University Student: $12
Find more information online at https://theatretickets.auburn.edu

Box Office Hours:
• Monday–Friday: 8:00 a.m.–4:45 p.m.
• On Saturday evening performances: 6 p.m.–8 p.m.
• For matinee performances: 1 p.m.–3 p.m.

Or call the box office: 334-844-4154


"Spring Awakening" is presented through special arrangement with Music Theatre International (MTI). All authorized performance materials are also supplied by MTI. www.mtishows.com

Media Contact: Magali Zaslabsky mzz0037@auburn.edu
Related Articles
---