Manga artist Kofi Bazzell-Smith visits Auburn to support skill building, cultural awareness through art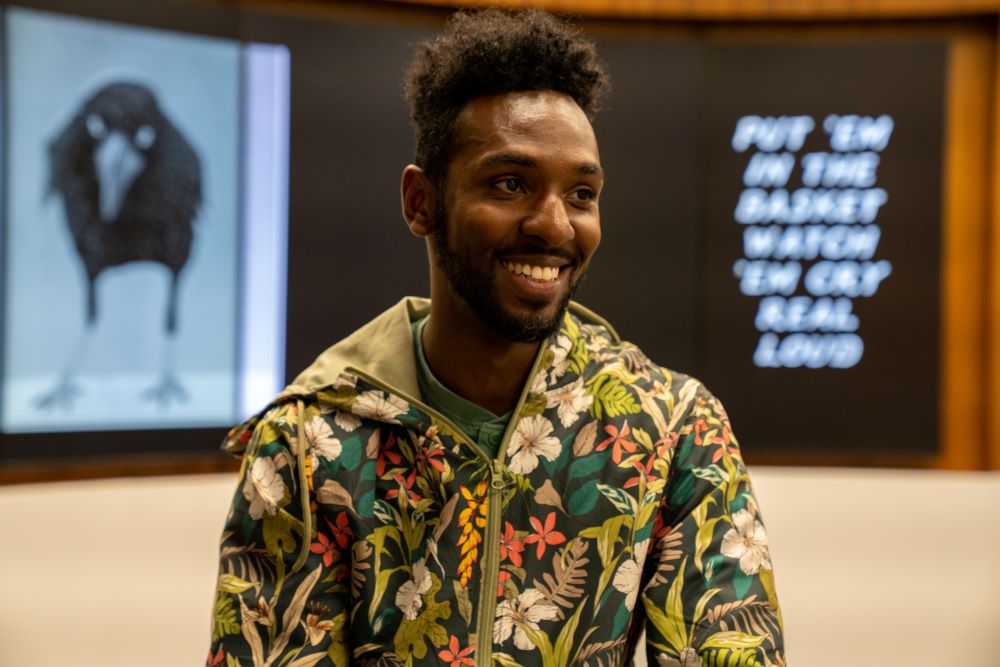 International scholar and manga artist Kofi Bazzell-Smith visited Auburn University art students this spring to blend culture and educational development through manga production workshops.
Manga is a technically unique, culturally significant illustrated art form originating from East Asia that has steadily gained popularity in the U.S. As a new media graduate student at the University of Illinois Urbana-Champaign, a Mellon Foundation Interseminars Initiative Fellow and US-Japan Bridging Scholar, Bazzell-Smith travels the country to teach manga production and hopes to become the nation's first studio manga professor.
"One of the main points of international engagement in Japan is through popular culture, anime, manga and video games. And I think popular culture is a good entryway to get ourselves interested in another place, so when we get there, we realize we're all the same," Bazzell-Smith said. "You can't take a course on studio manga anywhere in the country right now. To truly learn something, it's important to actually engage with it, and you learn more about manga when you make it."
Bazzell-Smith taught himself how to draw manga while pursuing a career as a professional boxer. In his late 20s, he quit his job and flew to Japan for a month to learn from manga instructors. During his time abroad, Bazzell-Smith saw several connections between Japanese and American culture through the lens of art and language.
Bazzell-Smith said hip hop, jazz and blues are popular in Japan, and Black Americans lead manga production in the U.S. As other cultural connections through humor and film became evident, Bazzell-Smith saw an opportunity to build bridges through pop culture.
"There's always been this interesting connection in our popular cultures between East Asia and Black people, specifically in America," Bazzell-Smith said. "I see us engaging with each other's popular cultures, but I don't really see us engaging with each other on a personal level. So, I thought maybe I can build those connections and build those bridges that I think should be there."
While Bazzell-Smith reflected on that opportunity, he decided to take art education more seriously for himself and others. Through his educational development efforts, he hopes to spread a sense of global community as he teaches manga production.
He said Auburn art students quickly connected with manga production and showed advanced skills in the workshops.
"Anybody can draw, and anybody can tell stories. I treat manga not so much as a genre, but as a form, so I talk about it structurally and how they can create any story that they want with the foundations that I give them," Bazzell-Smith said. "Auburn has been great. I do these manga workshops at a lot of different places, and I'm not used to working with students who can draw this well, or they understand the concepts that I'm explaining really quickly, so we actually get to move to more advanced stages of the workshops."
For two weeks, Bazzell-Smith visited drawing, painting, animation, digital art and other studio courses to work alongside students and instruct them on the art of making manga. His lessons included creating page compositions, weaving narrative with structure, plot making for projects, an introduction to Japanese aesthetics and more. On April 17, Bazzell-Smith hosted a manga workshop and digital exhibition of his work at the Ralph Draughon Brown Library.
Sarah Odens, assistant professor and coordinator of exhibitions and lectures for the Department of Art & Art History, said while many art students are specifically interested in anime and manga, Bazzell-Smith's lessons about culture, narrative and artmaking connected with everyone.
"Kofi Bazzell-Smith brought many dynamic learning opportunities to the Department of Art & Art History. His study of manga in the context of world art history and his exploration of visual storytelling made him a great fit for this residency," Odens said. "Kofi's creative work also demonstrates the value of researching the thing you love and want to make art about—his intensive research to understand the history and culture of Japanese manga has led to his exciting work bridging Black and Japanese cultures through language and art."
Bazzell-Smith's visit was supported by the Departmental Award for Excellence in Education. Find more information about the Department of Art & Art History in the College of Liberal Arts.
Related Articles
---