Faculty Spotlight: Katherine Arpen, Department of Art and Art History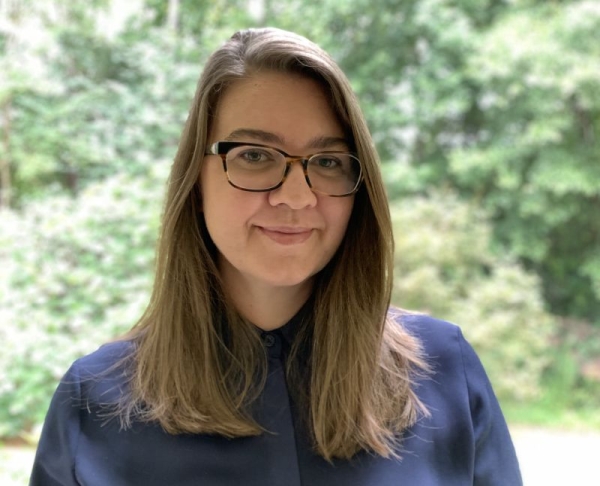 Katherine Arpen is a lecturer within the Department of Art and Art History who joined Auburn's faculty in 2015. Before coming to Auburn, Arpen obtained a bachelor's degree in art history from the University of Florida, and a master's and PhD in art history from the University of North Carolina (Chapel Hill). She has conducted research in a variety of unique topics surrounding the representation of bodies in 18th-century Europe. During her interview with student writer Elizabeth Phillips, Arpen talks about her research interests, her teaching experience, and one of her favorite museum experiences.

What brought you to Auburn University?
I first came to Auburn in August 2015, shortly after I finished my PhD in art history at UNC-Chapel Hill. I was excited to work in a department with strong student-faculty connections similar to what you'd find at a much smaller institution, but with all the benefits of a larger university as well. So, while I'm able to get to know my students—often having them in multiple classes—we're also able to take advantage of cultural and academic opportunities like the Jule Collins Smith Museum, the Biggin Art Gallery, the library's Special Collections, and the department's program of visiting artists and scholars.

What do you teach?
While my initial position at Auburn was temporary, changes in the Department of Art and Art History's curriculum led to a new lecturer position for the core courses in art history. I began this position in August 2019 and have especially loved working with non-art majors in the core courses. For some students, it's not immediately clear why they're required to take core courses in art, so I like the challenge of helping students see all the ways art can connect to their own academic or personal interests. Whether it's developing skills to better recognize and process the visual information we take in on a daily basis, or considering how art intersects with historical, social, and political developments, art history courses offer a lot for all students. In addition to the core courses, I also teach upper-level courses in 18th-century European art, 19th-century European art, and Asian art.

What interested you about 18th-century Europe, and specifically about representations of the body?
While my position at Auburn is focused on teaching, I still continue my research on 18th-century European art and participate in academic conferences annually. Within the history of European art, the 18th century has often been dismissed as less "serious" or less "significant" than the periods that come before and after it. Thankfully, over the past few decades, more and more art historical scholarship is demonstrating the complexities of the period, especially regarding issues of gender, race, class, colonialism, and cultural exchange.

My doctoral dissertation examined the 18th-century French interest in bathing from the perspective of the arts, focusing on paintings, sculptures, and prints that have been traditionally overlooked or under evaluated on account of their links to pleasure and the female body. Overwhelmingly, the bathers depicted in 18th-century French art are nude women, so it would be easy to assume this interest was just a matter of the male gaze—straight male artists and collectors putting the female body on display for their pleasure. But this answer seemed too simple and didn't account for the great pleasure I took in the images as a female viewer (or the women who owned bathing scenes in the 18th century). So, I wanted to consider other possibilities and see how else we might evaluate this artistic interest in bathing.


What did you discover about the role that bathing plays in this society? What were your major findings in this research?
The increase in representations of contemporary bathers (as opposed to traditional bathing scenes drawn from classical mythology or the Bible) coincided with an increase in more regular bathing practices in France, at least within elite society. For nearly two centuries, bathing had been seen as a potentially harmful activity that could open the body to disease, but as understandings of health and hygiene developed, people began to wash more frequently. Images of contemporary bathers would have therefore helped to promote and normalize bathing within French society. Beyond this connection to the social history of bathing, I also explored the ways in which representations of bathing allowed 18th-century artists and viewers to engage with other emerging ideas, including the role of sensory pleasure in the experience of art, and issues of female sexuality and intimacy.

More recently, I've returned to the subject of bathing but extended the focus to representations of the hammam, the warm baths popular across the Ottoman Empire. Concentrating on illustrations from French books on the Ottoman Empire, I'm considering the ways in which the hammam is presented in positive terms as a vital center for public health. So rather than viewing the Turkish bath as a site of exotic or erotic pleasure (as is often the case in 19th-century European art), it's presented as an ideal model for Western Europe to follow as cities like Paris begin to develop public bathing facilities.


How has your work in museums impacted your research and teaching?
Before coming to Auburn, I had the opportunity to work in museums in a curatorial capacity (assisting with the development of exhibitions) and in the education department (teaching university classes within the galleries). When you're working in a museum, there isn't always the same degree of specialization or focus you might have in your academic scholarship. Instead of just focusing on 18th-century Europe, I've been able to research such a range of art, everything from wooden statues of Christian saints from Puerto Rico, to modern American art from the 1950s, to painted illustrations of Hindu epics. Given the broad range of material I cover in core courses, this diversity of regions, periods, and types of objects has definitely proven useful. Working with the general public in museums has also helped me think about my teaching in the classroom. Like many museum visitors, most core students have a limited background in the arts, so it's all about finding a way to connect them with something new. In these cases, I try to find ways to use the artwork to stimulate self-reflection or present new points of view through geographical, historical, or cultural differences.

One of my favorite museum experiences was working on Lines of Attack: Conflicts in Caricature, an exhibition at the Nasher Museum of Art in Durham, NC. The exhibition juxtaposed 19th-century prints critiquing the French King Louis-Philippe and late 20th-century political cartoons assessing Bill Clinton's and George W. Bush's presidencies. While some of the French prints are often displayed in museums and included in art history courses, that's rarely the case with political cartoons from contemporary newspapers. Inspired by this early experience (many years ago now), I've broadened the types of images I cover in my classes. One of my core courses on American culture, for example, looks at traditional "fine art" forms like oil paintings and marble sculptures, but we also look at postcards from the Suffrage movement, early 20th-century political cartoons addressing immigration, and propaganda posters from World War II. For one of my favorite assignments, students compare an artwork from class to something from popular culture—like an album cover or a video game—to further break down the divisions between art and more mainstream images. In the end, if we see it, it can have an impact on us, so I think it's important to consider a wide range of visual material.



Related Articles
---