Auburn School of Aviation's Hearn, Moorman honored with Iron Eagle Award for performing successful emergency landing earlier this summer
University's president, interim provost, pilots' parents among ceremony attendees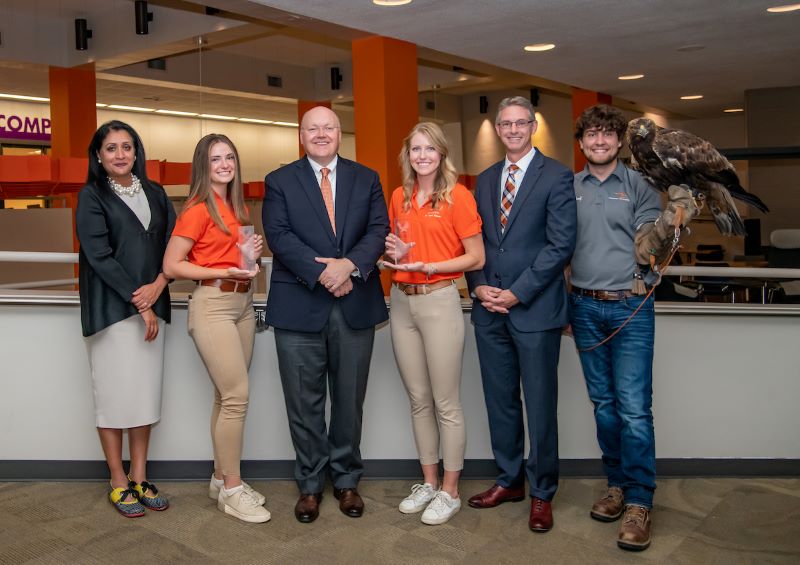 Maggie Hearn and Elizabeth Moorman will never forget June 16.
That was the day their training, experience and hope as Auburn University School of Aviation pilots were put to the ultimate test with a challenge all aviators hope they never face. With Hearn at the controls and Moorman in the co-pilot seat, their single-engine Skyhawk experienced complete engine failure 5,000 feet above Tallahassee, Florida. The two Tigers were forced to think quickly and keep their cool as they worked to find a place to land without a functioning engine.
The pilots—who had been on their way to the start of the 2022 Air Race Classic competition in Lakeland, Florida—found an open field to utilize and performed the impromptu landing without incident. Both aviators and the plane were no worse for wear when the aircraft came to a stop in the grassy field in what was Auburn Aviation's first non-runway landing in 30 years.
The successful outcome served as an example of how powerful experience and proper training can be when a pilot is under duress.
"It was definitely a roller-coaster ride," Hearn, a professional flight major, said of the incident. "At the end of the day, we did what probably any other pilot would have done, but it just happened to be us. When everything started happening, the uncertainty was the scariest part, and it was a relief when we saw the field and landed. When we landed, we were just so excited to be in one piece and alive."
On Tuesday, Hearn—who will graduate this December—and Moorman—a 2021 professional flight graduate—were honored for their courage and resilience at a special ceremony at Foy Hall Auditorium on campus that was attended by Auburn President Christopher B. Roberts, Interim Provost Vini Nathan, College of Liberal Arts Dean Jason Hicks, Delta Propel representatives Kelvin Mason and Candace Cortez and the pilots' parents. Hearn and Moorman were presented the first-ever Iron Eagle Award for their courage, while three of their fellow War Eagle Women pilots—Ashley Baldwin, Meg Cooper and Elaina McKenna—received "Wingman" awards for returning to the Tallahassee airport to comfort and support their teammates.
"We didn't know about this award until a few days ago, so it's definitely surprising," said Moorman, who has been working as an Auburn School of Aviation certified flight instructor the past year. "There's definitely a lot of training involved, and you definitely prepare for those types of situations, but there's not really a practice training scenario that really compares to how it actually is. There were a lot of factors that made it work out like it did, and I think we were really good working together and figuring out what we each needed to do."
School of Aviation Director James Witte began the evening's remarks by bestowing praise on the two talented aviators.
"Their skill and professionalism in a truly harrowing situation serves as a model for all who fly," Witte said. "Emergency procedures are taught throughout the Auburn School of Aviation program, and students are prepared for all types of emergencies that we hope will never happen. Should they occur, we hope and pray that recalling the actions of Maggie Hearn and Elizabeth Moorman will contribute to another safe chapter in Auburn Aviation."
Roberts also was effusive with admiration for the Auburn pilots and their exhibition of a "spirit that is not afraid" that is part of the Auburn Creed.
"I don't know that I could be prouder of Elizabeth and Maggie," Roberts said. "They clearly leveraged what they learned in their program and embodied the Auburn Creed—including the spirit that is not afraid. I'm also really proud of the program in general for preparing two young ladies who, under duress, could handle such a situation with such maturity and then to be so humble about it afterward."
The ceremony concluded a busy first day of class for the 2022 fall semester on the Plains and preceded the aviation program's annual safety meeting. It was a celebration of the aviators' achievements and an opportunity for Roberts to reach out to the thriving aviation program's current students.
"We work hard every day to provide exceptional student experiences that allow our students to succeed while they're here on campus and, more importantly, thrive throughout their lives," Roberts said. "We want to make sure the work we undertake is improving people's lives, driving the economy and advancing society, and this program certainly meets the mark."
A harrowing experience
It has been two months since the incident, but Hearn and Moorman remember it like it was yesterday.
Shortly after taking off from Tallahassee International Airport after a refueling stop, Hearn and Moorman noticed a drop in oil pressure. They immediately contacted air traffic control and turned back toward the airport before their journey got bumpy and scary as the engine failed and the propeller stopped rotating.
"A similar situation happened to me before, but it ended up being just an annunciator [warning panel] error, and so I really thought it was going to be an annunciator error," Hearn said. "It was really when the airplane was shaking a bunch where I was like, 'OK, this is actually an engine failure.' I definitely was scared, but the training kicked in after that.
"Once the plane started shaking, I started thinking about what the next steps were. The scary part was not knowing exactly what was going to happen before the engine actually failed. After that, it was all training and teamwork."
Moorman disengaged the automatic pilot and then spotted a rare open field in the area as Hearn guided the plane toward it.
"Based off what our altitude was, how far the airport was and what our glide ratio was, we would have been about five miles short of the airport," Moorman said. "The altitude really helped us too, because if we'd have been 2,000 feet lower, I'm not sure if we would have made the field or not. There aren't that many fields around Tallahassee, but there just happened to be that one field I saw."
Moorman notified air traffic control about their plans, and the airport mobilized a helicopter to visually track their progress and a field team to meet up with the plane once it landed.
"If you've ever been to Tallahassee, it's literally all trees and swamps," Hearn said. "Elizabeth was sitting on my right, and I just remember her saying, 'Field!' We ran the engine start checklist, and the engine didn't start. By the time we'd finished running that checklist, we realized we probably were going to make the landing spot.
"After we landed, we were so thrilled. We calmed down once we realized we were going to make the field, and once we landed, I just hugged Elizabeth and said, 'Oh my gosh, we just did that!' Our adrenaline was very high, and I was so proud of us. I'm very grateful for the teamwork we had and that she was in the plane with me."
The pilots came through in the clutch and worked together to avert disaster.
"When it happens at first, you just have to figure out what's going on," said Moorman, whose parents traveled from Chicago for the ceremony. "After that, it was really about trying to get on the ground. A lot of things were able to line up for us, which was really good."
Hearn credits her experience and training, along with Moorman's quick thinking and teamwork, for the successful outcome.
"I think we relied on the training a lot," Hearn said. "If this had happened two years ago when I was a brand new private pilot before I came to Auburn, it might not have ended the same way. So, I would definitely say Auburn's training and program had an immense impact, just in the attitude I needed to have to even get through the situation and the knowledge of the systems and the airplane in general played a big part. We had to use all of our background knowledge to figure out what was going to happen and then the checklists and procedures kicked in."
After they landed, both pilots made phone calls to their parents.
"I landed, called my mom and said, 'Mom, I just landed in a field!'" Hearn said. "She was like, 'You're joking, right?' I said, 'No, I'm literally in the middle of a field.' She said, 'Was it on purpose?' I was like, 'No, we had engine failure.'
"She was speechless, and she didn't believe me at first. She thought I was playing a joke on her."
That Thursday in June was an emotional day for the pilots' parents. Hearn's parents, Heidi and Coy, beamed with pride after making the trip to Auburn from Crosby, Texas, for the celebration on Tuesday.
"Her voice and her words didn't go together, because she sounded calm and almost excited," Maggie's mother, Heidi Hearn, said of their phone call on that fateful day. "When she said they'd just landed in a field, I was like, 'Don't play. This is not funny!' she was like, 'No, I'm serious.' It was a lot to process, for sure."
The airport had notified their teammates about the engine trouble, and both of the other Auburn planes—which already had reached the clouds and were farther from the airport than Hearn and Moorman—immediately decided to return to Tallahassee and rally around their fellow Tigers. Uncertainty and fear crept into all Auburn's cockpits that day as the other aviators waited to learn about the outcome of the emergency landing.
Once they were all reunited at the airport hangar, the tears and emotions flowed.
"When we realized it was an emergency for real, I think we were all sobbing in our planes," said Cooper, who was ahead of Hearn and Moorman on the route to Lakeland when the failure occurred. "It was hard—and the only thing we could hear and updates we got was from air traffic control talking to us—but the relief we all felt as soon as the helicopter reported they were outside the plane and were completely fine was like nothing we'll probably ever experience again."
The Hearn-Moorman tandem decided almost immediately to continue on to the Air Race Classic, where they used another plane to finish second in the nation among collegiate teams.
"We were like, 'We didn't do all this work to just not be able to do this [competition],' so I think that made it better because we'd already gone through all that together," Hearn said. "It allowed us to work with each other even better, because we know how we are in an emergency. Flying's pretty easy until something happens, but we were almost better off after that happened.
"I was expecting [the next takeoff after the incident] to be weird, but it felt natural. As a pilot, I think any time you get into an airplane, it feels natural."
Onward and upward
Hearn and Moorman have both put the fateful day behind them and are using the experience to help propel them into their professional careers. Moorman is thriving as a flight instructor in Auburn, while Hearn plans to do the same after graduation.
"Since this happened, I think I'm such a better pilot," Hearn said. "Every single time I fly, I'm looking for a field. You're supposed to do that anyway, but it is very much in the forefront of my mind now. Because you never know, something could happen any second. I think it made us better."
Moorman said the experience has helped her as an instructor.
"It's better, because you can definitely use real examples to explain things," Moorman said. "Teaching is just way more realistic if you can give examples, because that helps the information stick more with the students."
Auburn's School of Aviation is riding a wave of momentum from numerous successes in recent years that include partnerships with Delta Air Lines, United Airlines, collaborations with other aviation programs and increased public exposure. A program that numbered just 84 students in 2014 has grown to nearly 700 this semester, growth that resulted in the program's upgrade from a department to a school within the College of Liberal Arts.
New students are fully aware of Hearn's and Moorman's exploits, and the program's instructors and leaders have been energized by the successful outcome.
"What these ladies did is nothing short of miraculous," said Air Race Classic Coach Rebecca "Coyote" Baughman, a former U.S. Air Force A-10 fighter pilot. "These scenarios are very complicated and very intense, and for them to maintain their composure, land the aircraft and walk away from it is absolutely amazing.
"They are the finest representation of the School of Aviation."
Tags: Aviation
Related Articles
---