Alumni Spotlight: Jared Hodge, Delta Airlines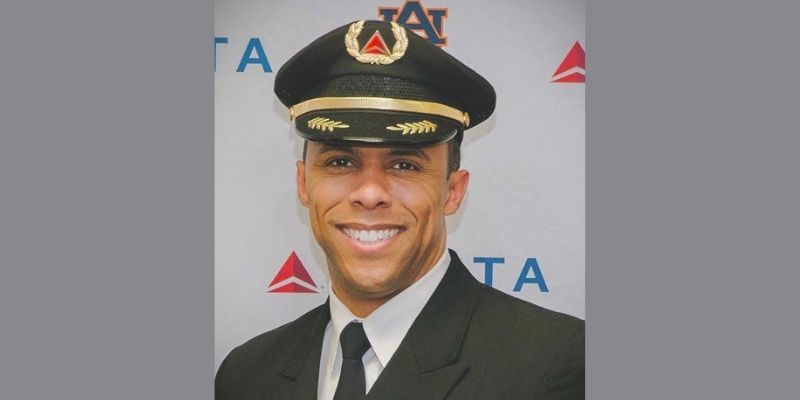 Jared Hodge graduated from Auburn University in 2003 with a Bachelor of Science degree in professional flight. Early in his collegiate career, Hodge developed a passion for flight education and helping others succeed in their aviation training. He devoted time to proudly bleeding orange and blue as both a member of the War Eagle Flying Team, as well as a decathlete on the Auburn Track & Field team. In his senior year, Hodge served as president of the War Eagle Flying Team. After he completed his flight training at Auburn, he secured an internship at Atlantic Southeast Airlines (ASA) in Atlanta, Georgia, in his junior year. During that internship, Hodge worked for the vice president of flight operations and the chief pilot office.
After graduation, Hodge took his passion for teaching to Pensacola, where he taught military pilots basic and advanced flying fundamentals as a civilian instructor. He then flew for a fractional leasing company, operating various Cessna Citation jets throughout the United States, Mexico and Canada. In 2005, he accepted a pilot position with ASA and flew the CRJ-200, 700 and 900 aircraft as a first officer and captain. 
In 2010, Hodge accepted a pilot position with Delta Air Lines and began his Delta career as a first officer flying the McDonald Douglas MD-88. He has served in various roles at Delta over the last 10 years, including flight operations duty manager in Delta's Operations Command Center, pilot brand ambassador, and recruiter for the pilot recruitment team. 
Currently at Delta, Hodge is a captain on the Airbus A319, A320 and A321, and he is a pilot instructor on the fleet. He also qualifies as an aircrew program designee, where he is authorized by the Federal Aviation Administration (FAA) to conduct examinations, perform tests and issue approvals and A320 certificates on behalf of the FAA. As a training instructor, he works with his department to develop innovative teaching methods and new technology to improve the success of other Delta pilots.
Hodge gives credit to his Auburn degree, "I would not be in the position I am in now if it were not for the resources provided by Auburn University. Auburn taught me more than how to fly. Auburn taught me how to be a servant leader at work and in my community."
Related Articles
---