Aviation faculty awarded Delta Air Lines professorships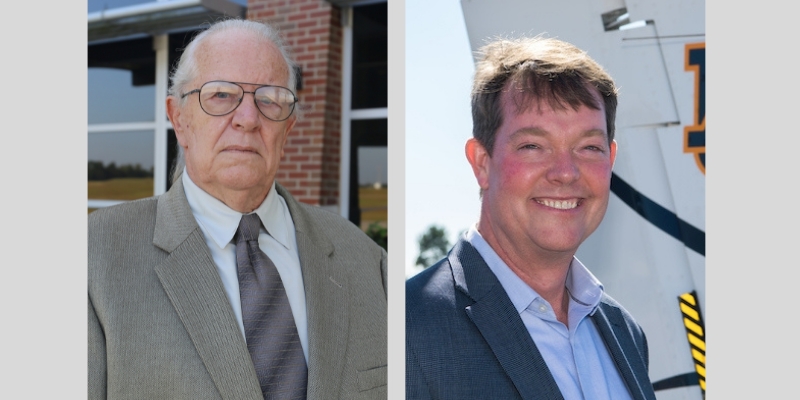 Two Department of Aviation faculty members have been awarded the Delta Air Lines Endowed Professorship. Department chair and professor James Witte and assistant professor James Birdsong are the first recipients of the professorship established by Delta to support outstanding faculty dedicated to high quality aviation instruction, research and service.  
"This prestigious recognition of Dr. Witte and Dr. Birdsong highlights their sustained dedication to educating the next generation of aviation professionals," said Ana Franco-Watkins, interim dean of the College of Liberal Arts. "We are grateful for Delta's generous support of our aviation program and its faculty and students." 
James Witte joined the Department of Aviation in 2020 as chair and professor of aviation management. He is a career Army officer and pilot with over 60-years of experience in military and civilian rotor-wing and fixed-wing aircraft. He has an academic background in workforce development and evaluation, individual learning styles, and learning assessment. Witte spent extensive time in industrial training, developing programs of instruction ranging from sexual harassment, loss control management, supervisor's safety development, methods and techniques of training for safety instructors, and Office of Safety and Health Administration (OSHA) compliance training. He holds a bachelor's degree from the University of Nebraska, a master's degree from the College of William and Mary, and a doctoral degree from the University of South Florida.
James Birdsong serves as the aviation program coordinator where he is responsible for all facets of the university's aviation program. In addition to his administrative role, he teaches junior and senior-level aviation economics and global aviation courses. Birdsong is Auburn's principal investigator for the FAA's Technical Training and Human Performance Center of Excellence and is a member of the center's executive leadership committee. Prior to joining Auburn University, he served in the United States Air Force for 20 years as a command C-130 pilot, headquarters staff officer, academic instructor and squadron operations officer. He has held various positions in finance, operations, safety, systems acquisition and strategic planning, and has extensive international aviation experience. He holds degrees from the United States Air Force Academy, Embry-Riddle Aeronautical University and Auburn University.
"Delta is pleased to partner with Auburn's Aviation program to support professors who embody integrity and excellence in flight education," said Tad Hutcheson, Senior Vice President, The Delta Air Lines Foundation.
Witte and Birdsong will hold their professorships for four years.
Related Articles
---