Faculty members team up to help high school students develop C.L.E.A.R. thinking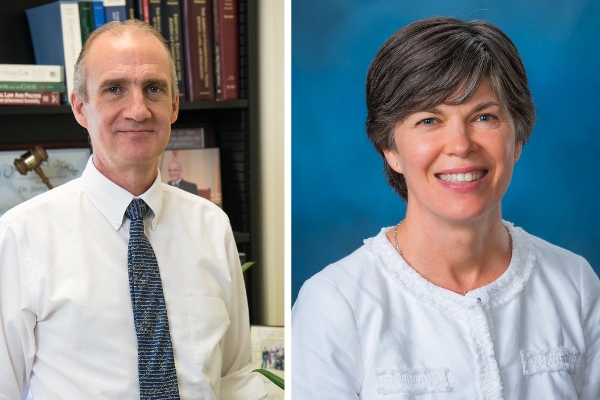 Auburn faculty members Jada Kohlmeier and Steven Brown have been awarded more than $2 million in funding from the U.S. Department of Education to conduct virtual professional development with secondary social studies teachers from across the nation.
Kohlmeier and Brown are calling their project "Developing C.L.E.A.R. Thinking," based on their goal of helping students to develop Civic, Legal, Ethical and Analogous Reasoning. Over the next three years, they will prepare teachers to help their students become better-informed citizens and to think critically about public policy, law and politics.
Brown is the Morris Savage Endowed Chair and program director for the College of Liberal Arts' Law and Justice program. Kohlmeier, who specializes in secondary social studies education, is the Humana Foundation-Germany-Sherman Endowed Distinguished Professor in the College of Education. They have worked together on several projects, including a similar but shorter professional development project funded by the National Endowment for the Humanities in 2020.
"When we did the NEH project a couple of years ago, it was a two-week institute for high school teachers around the country," Kohlmeier said. "They get a lot out of that, but it doesn't create transformational change within a teacher. I'm super excited to see what will happen when we work with the same set of teachers for three years."
To help facilitate the program, Kohlmeier and Brown have built a team of 14 teacher educators that includes current doctoral students, recent Auburn Master of Education and doctoral graduates and Assistant Professor Jesús Tirado from the College of Education.
"We don't have to start from scratch," Brown said. "The teacher educators are already aware of what the vision is."
They will recruit 40 teachers from underserved school districts and divide them into 10 lesson study groups based on their disciplines, which can range from U.S. and world history to geography, government and economics. Each group will choose one constitutional civil right or liberty to study and will narrow their topic down to make it applicable to their students' lives.
"They'll choose one of these broad ethical questions they want to focus on," Kohlmeier said. "They might choose the huge broad question of what restrictions on free speech might be justified, but then they might get specific and ask whether parents should be able to sue social media companies."
Steven Brown is the Morris Savage Endowed Chair and program director for the College of Liberal Arts' Law and Justice program.
After they learn the content from Brown, Kohlmeier and her team will model pedagogical strategies and guide the teachers in creating lessons that include age-appropriate instruction and discussion-based activities. Throughout the course of the program, the teachers will learn about Disciplined Civic Inquiry, an innovative approach to teaching that helps students analyze different arguments and perspectives on legal and political issues before coming to a conclusion.
Once they have developed lesson plans, the teachers will present the materials in their classrooms and record the ensuing discussions to allow their colleagues to observe student engagement and comprehension. They will be able to review the recordings and revise the lesson plans, and the polished lessons will eventually be available online for any teacher who wants to incorporate citizenship education into the classroom.
Kohlmeier and Brown are hoping the teachers can take the knowledge they gain through the program to become instructional leaders in their own districts.
"We're going to target high-need districts across the country," Kohlmeier said. "A lot of teachers in rural or under-resourced areas, especially outside of the STEM fields, would love to have discipline-specific professional development."
As for Kohlmeier and Brown, this project will yield dozens of recordings, far too many for one or two people to analyze alone. However, their team of teacher educators includes college instructors who don't have much time for research, as well as current doctoral students. Brown and Kohlmeier will share their wealth of data with these colleagues who can use it in their own scholarly research pursuits.
"The exciting thing about this for Dr. Brown and me is the chance to mentor and allow dozens of other researchers to publish out of this enormous data set," Kohlmeier said. "It's going to give us mounds of data. It's quite exciting."
When it comes to creating educated citizens, Kohlmeier and Brown make a good team, thanks to her experience working with social studies teachers and his expertise in constitutional law. But they say the most important component of this study is the teachers themselves.
"The teachers bring a deep understanding of the context, the specific cultural interests and the learning challenges of their classrooms," Kohlmeier said. "This project is about their classrooms and their learning goals and how we can help them achieve those goals."
Brown is hoping this work can make a real difference in how citizenship is taught in the U.S. in the future.
"As a political scientist, I want people to be informed," he said. "Teachers play such a critical role, and if they can start making a difference at the high school level, it's going to produce better-informed citizens. This is a tiny drop in the bucket to try to improve citizenship education now and in the future."
Tags: Faculty Political Science
Related Articles
---