News

|

Articles

|

Alumni Spotlight: Trina Gordon, '75, President and CEO of Boyden World Corporation
Alumni Spotlight: Trina Gordon, '75, President and CEO of Boyden World Corporation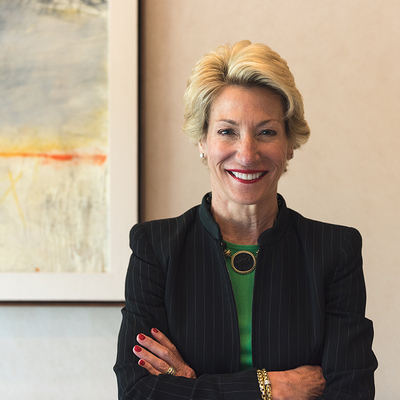 Trina Gordon graduated with a degree in political science from Auburn University in 1975. She came to The Loveliest Village on the Plains to become an equine veterinarian, but her love of horses wasn't enough to get her through the more nitty-gritty details of becoming a vet  – so she switched majors.  
"I just didn't have the constitution for it," Gordon said. 
As the president and CEO of Boyden World Corporation for the past 30 years, it's clear that she chose the right path. 
At Boyden, Gordon is a recognized global leader in talent advisory and leadership solutions. She is highly regarded for her commitment to client service and adhering to the highest levels of professional quality and integrity. Guiding the global organization, she works closely with Boyden's board, practices and partners to execute the firm's strategy, growth and client performance standards in alignment with long-term objectives.

Recently, the global Association of Executive Search and Leadership Consultants (AESC) honored Gordon with its Lifetime Achievement Award. Bestowed since 1982, the AESC Lifetime Achievement Award is the capstone award for the executive search and leadership consulting profession, honoring significant, career-long achievement while recognizing the highest standards of work. Considered icons in the profession, recipients have a long and distinguished career and outstanding reputations. 

A member of Boyden's Board of Directors and the Global Consumer & Retail, Board Services and Human Resources Practices, Gordon brings extensive experience in executive search and leadership consulting for global and emerging public corporations, privately held and private equity-owned businesses. She has been named to BusinessWeek's "Top 50 World's Most Influential Headhunters" and "The Career Makers: America's Top 100 Executive Recruiters" (Harper business publication). She is a frequent contributor on executive search and corporate governance: featured in Nightly Business Report and a range of business media including FORTUNE, Bloomberg BusinessWeek, The Huffington Post and The Wall Street Journal.

Gordon currently serves as a board member, Friends of Prentice of the Prentice Women's Hospital of Northwestern Memorial Hospital and is a member of the Executive Committee of Northwestern Memorial Foundation's Board of Directors. She is a member of the Chicago Zoological Society and The Chicago Network, and formally served on the advisory Council for the College of Liberal Arts at Auburn University. 

Learn more about Gordon's Auburn experience and what her advice is for job seekers in our interview below. 
Tags: Alumni Political Science
Related Articles
---