News

|

Articles

|

Auburn University expands creative arts culture, gives students experience through publications
Auburn University expands creative arts culture, gives students experience through publications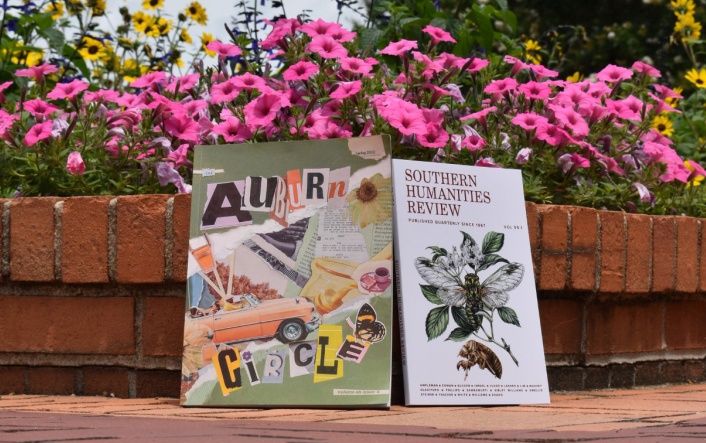 Through Auburn University's professional and student-run literary and arts publications, creativity is flowing freely on the Plains.
Within the Haley Center, Southern Humanities Review, or SHR, has been a leader in the expansion of literary culture since its first publication in 1967. Housed in Auburn's Department of English, SHR is a literary quarterly that publishes fiction, poetry and essays.
For Caitlin Rae Taylor, editor of SHR, the publication offers a way for emerging writers to make a name for themselves. More than 99 percent of the work that SHR publishes is gathered through its submission queue, unlike many peer literary magazines that often solicit half the works they publish from established writers.
"We have a deep commitment to publishing emerging writers and always want to make sure we're giving those writers as many opportunities as possible," said Taylor, a communications editor in the Department of English. "It can be extremely difficult to establish yourself as a new writer, and the editors at Southern Humanities Review want to help those new writers."
The Auburn publication also seeks to bring a global flavor to the literary culture of the South by publishing writers and poets from around the world, exposing readers to varying styles of prose.
"We've published many Southern writers, American writers, writers from Pakistan, Nigeria, the U.K., Iran, India and more," Taylor said. "I like to think we provide a platform where Southern writers can engage with the international literary community. We disseminate issues to libraries all across Alabama, and I hope that readers will be exposed to literature they might not have picked up on their own."
The mission of Auburn's College of Liberal Arts is to cultivate thinkers, creators, innovators and global leaders, and it is accomplishing that mission through SHR. Students in Auburn's creative writing master's program are required to serve as assistant editors of SHR as part of their program assistantship.
Apart from the required assistantships for graduate students, SHR also offers valuable learning experiences for undergraduate students in the form of internships and one full-fledged, paid graduate assistantship.
"The graduate assistant serves as managing editor for the magazine and is engaged in an in-depth, guided apprenticeship through the world of literary magazine publishing," Taylor said. "They touch almost every aspect of the publishing process, so that when they graduate, they have many of the skills necessary to enter the publishing industry full-time."
Taylor believes the experience of working as SHR's editor is one unlike any other. She has been able to engage with established and prolific writers, help new writers gain exposure and teach students about the publishing industry.
"For me, SHR is not just a magazine," Taylor said. "It's a work of art, and I get to help create, while also helping new writers and students interested in working in publishing find their footing in an industry that's innerworkings are often hidden from the public."
On the student side of creativity is The Auburn Circle, a student-led literary and arts magazine within Student Media, a part of Student Involvement, that publishes every semester. Works featured in the magazines are all student-created and offer a glimpse into the creative minds of artists, poets, writers, animators, architects, fashion designers and musicians across campus.
Students are able to pick up copies of the publication for free each semester when the new issue is released. Main magazine editions are issued in the spring and fall semesters, and the summer semester issues focus on a particular group, topic or social issue. The summer 2022 "minizine" will focus on global perspectives and the importance of a multilingual and cultural society by highlighting first and second-generation immigrants as well as international students.
Editor-in-Chief and journalism student Katherine Carroll believes that publications such as The Circle serve an important role in providing students a platform to display their creativity as well as build a portfolio.
"Sometimes, it can be hard to find the motivation to put time into creative pursuits while you are balancing all the other responsibilities that come with college, but I would like to think that the Circle by giving students a platform to share their creativity encourages them to put time into their art," Carroll said. "Beyond just the submitting aspect, being on staff looks good on a resume as staff members get hands-on experience in the editorial and arts industry that could help equip them with skills they can use in a future work environment."
Carroll also underscored how publications such as the Circle contribute to the overall artistic culture of the communities it seeks to represent.
"Art is so important to a community because it can be used to highlight often-ignored perspectives, as a form of protest, to build connections and so much more," Carroll said.  
Through experiential learning opportunities—the process of acquiring knowledge through hands-on experiences­—such as The Auburn Circle or SHR, students gain competency, insight and practical knowledge in skills that are highly sought after in their chosen field.
"The Auburn Circle gives students from a variety of majors including English and graphic design, among others, the opportunity to gain real-world experience in all aspects of creating, publishing and distributing an award-winning publication," said Billy Ferris, assistant director for Student Media. "The Auburn Circle, winners of the Associated Collegiate Press' Pacemaker award for top literary and arts magazine for the past two years, seeks to give students both the practical application learning experience they need to prepare for careers in a variety of fields, as well as to amplify the voice of student artists throughout campus."
Related Articles
---