Citizen artist: Abdul-Khaliq Murtadha teaches transformative power of theatrical arts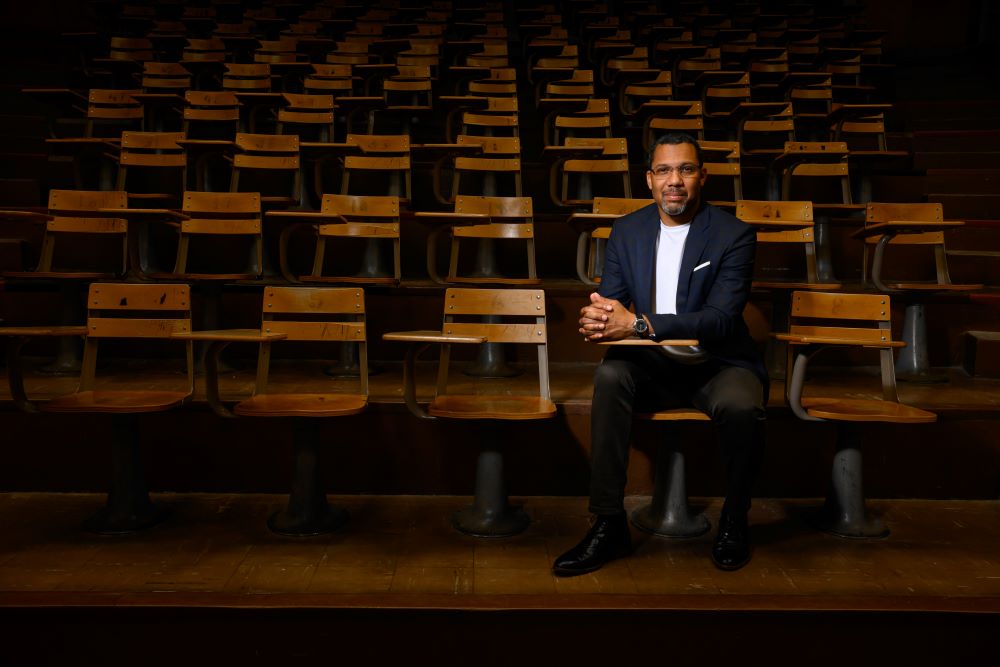 If Assistant Professor of Theatre Abdul-Khaliq Murtadha teaches you anything, it will be that your story matters, theatre is a discipline and art has the power to transform the community.
Murtadha, who is also a professional actor, director and producer, combines industry experience and a service mindset to his acting courses in Auburn University's Department of Theatre & Dance.
"Developing the citizen artist is key for us," Murtadha said. "The department is consistently looking for ways to connect to the community, connect to the students and the students' stories, to connect the students to the community so they can realize where they live and the opportunities that are around them."
Murtadha comes from a family of educators. As a working actor in college, Murtadha first taught elementary schoolers to recite poetry, then substituted for graduate students in teaching acting classes, and has instructed for stage and screen across the country.
At Auburn, Murtadha teaches in the Bachelor of Fine Arts studio, instructing students in voice, movement and acting for the camera. Throughout his teaching career, service to others guided his teaching philosophy.
"In the Black community, the goal of being in a place where you can continuously give back is a reality," Murtadha said. "It's an honor to be able to give back to students, give back to children, give back to families that might be in need."
Murtadha's acting credits include appearances on "NCIS-LA, "All My Children," Numb3rs," "The Unit" and more. He recently appeared on a three-episode run of "Days of Our Lives," streaming on Peacock, in which he played a U.S. marshal hunting down a main character to return them to prison.
He brings that industry experience into the classroom by educating students about how to embody a character, how to work across different mediums like television and film and how to navigate the entertainment industry.
"There's never a guarantee that you are going to get any role, so the best thing for you to do is to come and put your best foot forward, do the work, and do your best work every chance that you get," Murtadha. "That's one of the things that I consistently talk to the students about. If you don't like this, get out of it. As long as you love it, that's what's going to give you the longevity."
To Murtadha, "doing the work" includes taking advantage of technology to create and share stories. He tells his students to leverage platforms like YouTube or TikTok to share the stories they want to tell for the love of the work, and an audience will follow.
For aspiring actors, "making it" is a competitive process. Murtadha encourages his students to hone their craft consistently so that when their break comes, they're ready.
"Make the work yourself. Learn every bit of the craft that you can," Murtadha said. "The important thing is for them to develop the discipline. If you're ready, even if the opportunity doesn't come, then what you're doing is you're finding and you're building on a skillset that is impacting your community. Making it is a certain percentage of preparation and a certain percentage of happenstance. It can be very fortuitous if you are ready."
In addition to teaching, Murtadha is the co-artistic Director of the Mosaic Theatre Company (MTC), an outreach project in which students research, write, direct and perform original works showcasing stories from the community.
With more than 50 productions in its repertoire, MTC focuses on community stories that foster dialogue and support inclusivity. Stories have included "The Integration of Tuskegee High School: Lee v. Macon County" and "Lee County Remembrance Project."
As co-artistic director, Murtadha guides the student ensemble as they identify stories and design performances while honing their skills across theatre responsibilities.
"Whereas most theatre is introduced in order for the community to watch and then take the conversation and have it amongst themselves, Mosaic likes to have the conversation in the room," Murtadha said. "We devise and try different tactics in order to promote conversations about equity, diversity and inclusion amongst our community members and ourselves, and holding ourselves to the standard of inclusive excellence that we would hope everyone in the community wants to exude – which helps us all evolve as human beings."
Tags: Faculty Theatre and Dance
Related Articles
---