News

|

Articles

|

A tale of grit and grace with Auburn University Theatre and Dance's production of A Doll's House
A tale of grit and grace with Auburn University Theatre and Dance's production of A Doll's House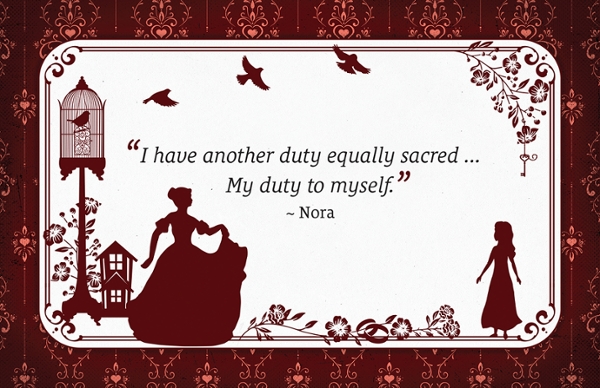 Auburn University Theatre and Dance opens its 2021-22 season with Henrick Ibsen's "A Doll's House," on September 30, at 7:30 p.m. on the Telfair Peet Theatre Mainstage. The show is directed by Dr. Matthew (Scott) Phillips.

Something is amiss in the Helmer household. While Nora enjoys the holiday season and anticipates husband Torvald's impending promotion, an increasing sense of unease and upheaval threatens her middle-class tranquility. Ibsen's classic play resonates as loudly today as it did upon its premiere in 1879. Come peer inside this doll's house to witness what happens when someone decides to upend the narrative and take control of their own story.

Marking the return to in-person performance in the Telfair B. Peet Theatre, "A Doll's House" opens Auburn Theatre and Dance's 108th production season. Although the play premiered in Norway almost 150 years ago, Ibsen's tale reverberates widely for modern audiences clawing beneath the veneer of domestic tranquility to reveal what lies beneath. Nora's story speaks to contemporary audiences in bold and unexpected ways, hence why the play remains one of the most produced and taught plays of the early modern period.

The artistic team for "A Doll's House" includes director Scott Phillips, costume designer Tracy Oleinick, scenic and lighting designer Fereshteh Rostampour, student sound designer Bailey Fenn, and assistant student director Brantley Waller. The cast includes Nisi Collins, Bella Hardin, Mauricio Montanez, Katie Pappas, Dex Pilcher, Avonlea Rose, and Jackson Wells.

The run time for "A Doll's House" is approximately two and half hours with an intermission.

In accordance with Auburn University's current policies regarding Covid-19, all audience members will be required to wear face coverings when inside the theatre.

Buy Tickets
Tickets for the production of "A Doll's House" are available now. Reserve early to get your desired seats.  Auburn faculty, staff and students receive special promotions to all performances at the Telfair Peet Theatre, all you have to do is login at https://theatretickets.auburn.edu to unlock your benefits!
We also have season subscriptions still available for our 2021-2022 season.

Talkback Tuesday
To engage in discussion around the performance or learn more about the production, make plans to attend "Talkback Tuesday" after the show for a conversation with the director and company members.

Showtimes:
● Thursday, Sept. 30th 7:30 p.m.
● Friday, Oct. 1st 7:30 p.m.
● Saturday, Oct. 2nd 2:30 p.m. Matinee
● Saturday, Oct. 2nd 7:30 p.m.
● Sunday, Oct. 3rd 2:30 p.m. Matinee
● Tuesday, Oct. 5th 7:30 p.m. *
● Wednesday, Oct. 6th 7:30 p.m.

*Talkback Tuesday

Ticket Prices:
• General: $16
• Senior Citizen: $12
• Faculty and Staff: $12
• AU student with ID: Free
• Non-Auburn University Student: $12


Box Office Hours:
• Monday–Friday: 8:00 a.m.–4:45 p.m.
• On Saturday evening performances: 6 p.m.–8 p.m.
• For matinee performances: 1 p.m.–3 p.m.

Or call the box office: 334-844-4154


A Doll's House (Hampton, trans.) is presented by arrangement with Concord Theatricals on behalf of Samuel French, Inc. 
Related Articles
---