Journalism & Journalism - Sports Production
"To love what you do and feel that it matters — how could anything be more fun?"
Katharine Graham, former publisher and owner of The Washington Post
Undergraduate Program in Journalism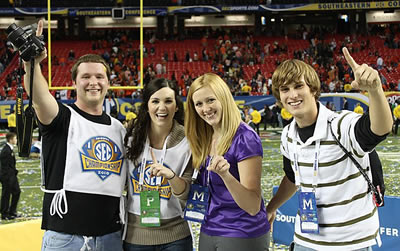 The Journalism Program at Auburn University prepares students to tell stories through digital and traditional platforms because today's news consumers want their content via print, television, the Web, on a tablet, smart phone or other digital device. Our majors are prepared to work in a variety of media outlets because our graduates find employment at television stations, newspapers, magazines, online news sites, radio networks and a host of other communication companies. Students who want to work as reporters, anchors, editors or producers should major in journalism. We will prepare you for a career in digital, television or print news. What we often hear from those who hire our graduates is that they prefer Auburn journalism majors because our students are able to hit the ground running on Day 1.
Core Journalism Values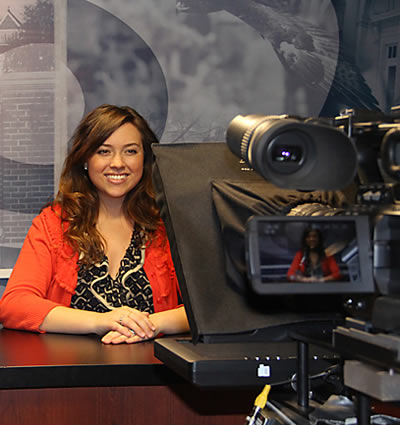 Each journalism major develops a thorough foundation in how to research and report news and features for newspapers, TV, magazines and online publications. Each becomes well versed in the importance of grammar, spelling, word usage and Associated Press style. Our students know that great journalism begins with a tireless search for the truth. They know the important role the media play in our democracy and that accuracy equals credibility. Our nationally accredited program holds fast to the most enduring principles of journalism as we have a strong commitment to the traditional tenets of journalistic excellence.
Digital Storytelling
The tools journalists use to tell their stories are always changing. Journalism graduates are expected to stay up to date on the latest software, digital technology, social network sites, microblogging platforms and Web design. Our majors begin that training in the classroom by using social networks to research and report stories, for source identification, crowd-sourcing, story promotion and story curation. Students become multi-platform content creators who can produce and edit broadcast and audio stories, Web videos, design newspaper and magazine pages and create websites. Our majors get additional hands-on practical experience through working at the student newspaper, television station, radio station, magazine or yearbook.
Journalism Curriculum
Journalism majors must complete basic skills courses in newswriting, reporting, media law and a required internship. Majors are required to take specialized reporting courses, which can include broadcast and digital news reporting, sports reporting, multimedia journalism or magazine and feature writing. Majors also take required journalism production courses, which can include courses such as broadcast and digital news production, photojournalism or multimedia journalism. Students choose between our senior-level advanced reporting, advanced sports reporting or advanced magazine and feature writing for their capstone journalism course.
All of our skills-based courses are limited to 20 students to ensure that our majors receive one-on-one instruction and feedback from their professors.
Areas of Emphasis
Students may choose an area of emphasis to further specialize their journalism training. Students will earn a bachelor's degree in journalism and can select a specialization in the area of their choosing.
The areas of emphasis are:
For more information
Dr. Justin Blankenship
Associate Director of Journalism
105 Tichenor Hall
Auburn University, AL 36849
(334) 844-2727
jzb0124@auburn.edu
Last Updated: September 14, 2020