Bachelor of Science in Aviation Management
The Aviation Management degree focuses on the business knowledge needed for success in the airline and aviation industries, emphasizing general management and comprehensive understanding of all aspects of aviation operations. The degree contains an embedded general business minor and 12 hours of free electives to tailor the degree to career aspirations. The degree leads to careers in the private and public sector with airlines, aircraft manufacturers, airports and other segments of the aviation industry.
Aviation Management Degree Curriculum Model (AU Bulletin)
Aviation Management Minor
The aviation management minor provides students in other majors an overview of the aviation industry. The program allows students of any major the opportunity to broaden their horizons in the field of aviation and transportation. Students can tailor their minor coursework to fit their interests and may begin taking courses in the minor as early as their freshman year if they meet the course prerequisites.
Aviation Management Minor Curriculum Model (AU Bulletin)
---
Mission Statement
The mission of the Aviation Management program is to develop highly desired aviation professionals and thought leaders who will serve as a positive force in aviation and the world.
Program Education Goals
 Our goal is to:
Develop aviation professionals with exceptional knowledge, skills and values. Graduates will be highly educated, technically proficient, safety-oriented and business-minded.
Develop aviation professionals that advance global aviation. Graduates will have a global perspective and embrace diverse cultures and ideas. Graduates will recognize historical trends, current issues and emerging opportunities.
Develop aviation professionals that aspire to lead. Graduates will champion integrity, cultivate professional and personal growth opportunities, subscribe to a philosophy of lifelong learning, and lead by serving others.
Aviation Management B.S. Degree Student Learning Outcomes
Students graduating from the Aviation Management B.S. program will:
Conduct aviation operations in a professional, safe and efficient manner.
Describe historical trends, current issues and emerging opportunities in aviation.
Apply effective oral and written communication skills to function effectively in the aviation environment.
Articulate the value of integrity, lifelong learning and building diverse teams in serving and leading others.
Apply knowledge of business principles.
Admissions, Standards and Requirements
Eligibility for admissions to the Aviation Management program is determined by the Auburn University Admissions Office on the basis of the candidate's test scores and previous academic record.
Transfer Students
Transfer students (external and internal) may enter the Aviation Management program during any semester. Students must meet with the Aviation Management advisor prior to transferring. 
Orientation for Incoming Students
Camp War Eagle is Auburn's two-day orientation program for all incoming freshmen. On the second day of Camp War Eagle, you will attend a group advising session with School of Aviation staff to plan your fall semester schedule and sign up for classes. 
All transfer students are required to attend SOS – Successfully Orienting Students, Auburn's one-day orientation program for incoming transfer students. SOS emphasizes university services, meeting with academic advisors, small group discussions on college student life led by upper-class student leaders and registration for classes.
Student Life
During their freshman and sophomore years, students take introductory-level aviation courses and university core curriculum courses that promote the development of analytical and critical thinking skills, communication skills and mathematical skills in preparation for the degree coursework and the 21st century workforce. Students should get involved with a student organization such as Women in Aviation, the War Eagle Flying Team or Striped Wings Student Ambassadors to begin connecting with other students, alumni and industry professionals.
As juniors, students start the major coursework for the degree and should consider running for an officer position in a student organization to develop their leadership skills in the aviation environment. Students should consider internships for the upcoming summer as the experience and professional networks they build will provide a professional edge moving into the senior year.
During the senior year, students complete their coursework and begin the job interview process. Graduate school is an option for those wishing to continue their education.
Accreditation
The Aviation Management degree is accredited by Aviation Accreditation Board International (AABI), the organization responsible for academic accreditation of aviation and aerospace educational programs.
Comprehensive Assessment Plan
A comprehensive assessment plan is written and implemented by School of Aviation faculty and staff to meet requirements set forth by the Aviation Accreditation Board International (AABI) and Auburn University. Download the Aviation Programs Comprehensive Assessment Plan. 
Contact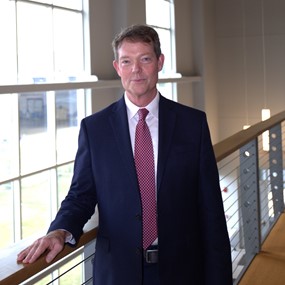 James Birdsong
Assistant Professor
Chair, Aviation Management Program
jgb0013@auburn.edu