JULIA BRITT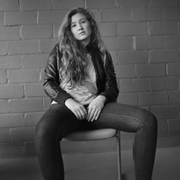 SENIOR, PSYCHOLOGY MAJOR AND STUDIO ART MINOR, DEPARTMENT OF PHOTOGRAPHY, COLLEGE OF LIBERAL ARTS
JACKSON:
This work is part of a larger collection submitted in ARTS 3230. The collection is a direct commentary on the self- conceptualization of gender. This piece is included in Part 1, which visually challenges the notion of femininity. Visually, the candid pose and commanding nature is important to the significance of the piece. Britt took inspiration from Diane Arbus and looked at the concepts of grit, violation, and informal construction.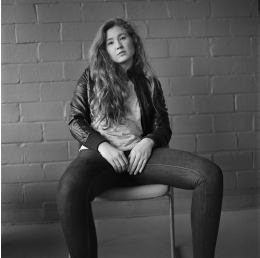 Jackson
An opposition to the traditional view of gender
Ilford HP5 Plus
10" x 10"
2017
METALLIC TEARS:
This work is part of a collection submitted in ARTS 2210. The collection is an exploration into modern recreations of prominent paintings, and this piece is an interpretation of Freya's Tears by Klimt. This piece also explores double exposure and the absence of color in modernizing Klimt's work. The composition and elements of this piece allow for some time period interpretation but ultimately conveys a clearly contemporary setting. Britt drew inspiration from the formal elements of film photography, emotion, and tone.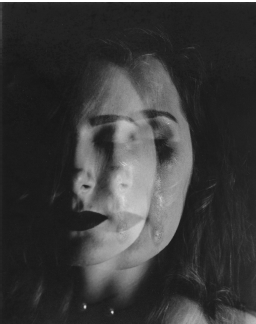 Metallic Tears
A modern interpretation of Freya's Tears
Ilford HP5 Plus
19" x15"
2016
UMANITA:
Umanita is a tableau submitted in ARTS 3220 and is a stand-alone piece. It references humanity's overall destruction of nature along with the eventual destruction of itself. The color is imperative to the meaning and undertones of the work, and the artificial setting is indicative of the opposition of nature. Britt drew inspiration from rigid composition, static shape, and texture.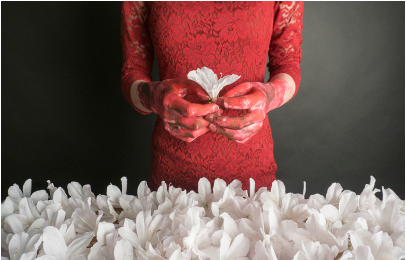 Umanita
The tainted influence of humanity
Canon 60D Digital Photo
9" x14"
2017
THE COLOR OF LIGHT:
This piece was submitted in ARTS 4240 as a part of a larger body of work. The collection focuses on the formal and contextual associations between photographs and the significance that develops out of those relationships. The collection also explores the forms of visual diptychs, haikus, and constellations. This work explores the quality of light and the color of film, and it focuses on capturing a feeling, whether known or unknown. Britt drew inspiration from Rinko Kawauchi's work and the idea of simplicity.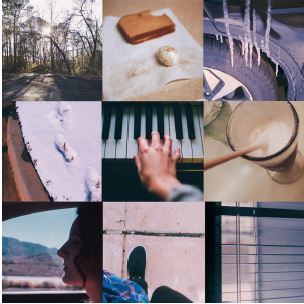 The Color of Light
Capturing light and the essence of simplicity
Fujifilm Superia
10" x 10"
2018
Last Updated: July 24, 2018