JOSEPH WHEELER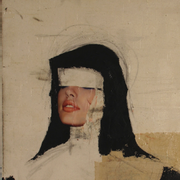 SENIOR, BFA PAINTING, DEPARTMENT OF ART AND ART HISTOY, COLLEGE OF LIBERAL ARTS
ST. DOLORES:
The story of Dolores Hart is an interesting juxtaposition of the vanity of Hollywood and the modesty of the religious life. Surrounding the pristinely doctored image of a makeup advertisement from a world of appearances and looks as a commodity is a new persona formed by lowly materials such as chalk, waste paper, and dirt while also questioning whether past lives can be forgotten or only repressed.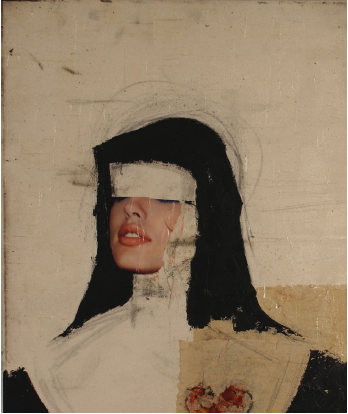 Art
Painting
Mixed media on canvas
26"X22"
2016
WARDROBE:
Reproducing personal feelings of fear and paranoia from dark enclosed spaces, the wardrobe contains, along with average clothing items, a small hidden camera. The camera transmits a live feed to a nearby monitor from within the wardrobe. As viewers who do not share the irrational fear inspect the mundane piece of furniture and move on to the monitor, they see themselves standing in front of the screen from the perspective of someone or something inside the wardrobe, both sharing and justifying the fears that others may experience.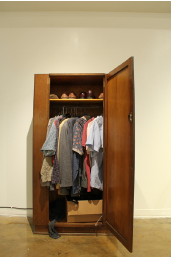 Art
Wardrobe with video feed form inside
2017
SPECIMEN:
Meant to resemble a specimen case containing a cross section of earth, personal objects and relics of the past as well as fragmented figurative pieces are meant to represents elements of personal happiness, shame, and self. By discarding or attempting to bury one of these elements, pieces of the others must join it as they all interlink and we are only a culmination of the three. Through introspection I have come to acknowledge the formative shame and happiness as well as true self I have lost in order to redefine one of the three by lack of self-acceptance.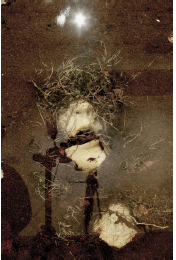 Art
Wood, dirt, stoneware, found objcets
45 3/4" x 24 5/8" x 11 1/2"
2017
DEER PLATE:
Experimenting with the viscosity and stacking of glazes as well as application of wax resistance, I found through a series of glaze testing on different ceramic forms that when layered certain glazes have the capability of partially swallowing imagery painted on with other glazes resulting in an electricity-like form of mark- making not possible through normal glazing or drawing.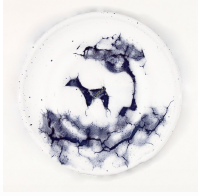 Art
Stoneware
10"x10"
2015
Last Updated: July 24, 2018