DAWN MICHAELSON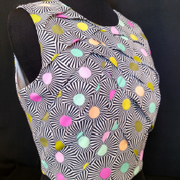 GRADUATE, DEPARTMENT OF CONSUMER AND DESIGN SCIENCES, COLLEGE OF HUMAN SCIENCES
WOMEN'S ATHLETIC COMPRESSION APPAREL:
This compression ensemble is a collaborative effort between biomechanics and functional apparel design to reduce inefficiencies in performance among women athletes. Research has shown postural changes occur during sports and causes performance inefficiencies. To mitigate this, the prototype used the human musculoskeletal system as inspiration along with careful analysis of insertions and origins of posterior muscles. Other considerations include performance fit, comfort, and heat dissipation. Three stretch performance fabrics were chosen to provide varying degrees of compression, wicking, and comfort. Initial infrared tests and wear trials presented postural-cueing to the athlete, improved fit, and comfort while wearing the prototype. Additionally, a bust support system was incorporated so women athletes would not have to wear sports bras under the compression top and help alleviate heat and improved bust comfort.
COLABORATOR:
Sarah Gascon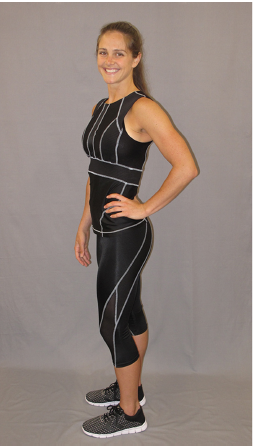 Apparel Design
Women's Athletic Compression Apparel
60" x 14" x 9"
2017
KALEIDOSCOPIC:
Dawn's creative endeavors revolve around fabric manipulation with advanced patternmaking techniques to push her boundaries with apparel design. Her designs focus on innovative ways to design apparel with these advanced methods while creating wearable yet unique designs that spark conversations about fashion. While her creative side focuses on fabric manipulation, her research is on functional and sustainable apparel design. For over ten years now, Dawn's creative apparel designs have been featured in regional, national, and international shows.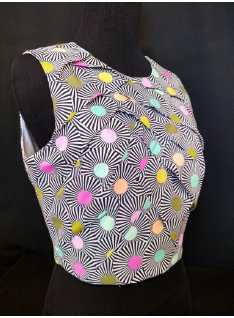 Apparel Design
Freeform Origami Designed Shirt
60" x 14" x 9"
2018
Last Updated: July 24, 2018