CONNER TOMASELLO, PRESTON SMITH, EILIS FINNEGAN, AUBREY HARROLD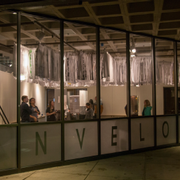 ARCHITECTURE AND INTERIOR ARCHITECTURE; COLLEGE OF ARCHITECTURE, DESIGN, AND CONSTRUCTION
ENVELOPS GALLERY
The pervading motivation behind the ENVELOPS project Gallery was to decontextualize (or re- contextualize) the gallery space, while keeping an appropriate hierarchy between the installation and the artifacts on display. The artifacts are best interacted with intimately, with viewers closely inspecting all sides of the object. Behavior like this is stifled in such a vacuous, non-identifiable atmosphere. By adding a substantial change in ceiling, the visitors immediately recognize they are in a space to truly and closely observe. Each strip of paper holds its own fragment of a studio project in progress, beckoning visitors to piece together the strips through words or images. They then move toward the objects, trying to piece together the ideas within them.
COLLABORATOR:
Kevin Moore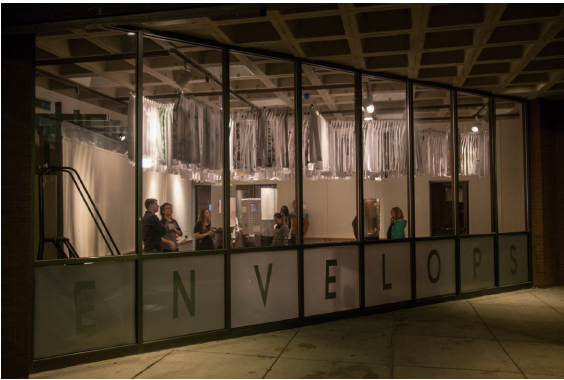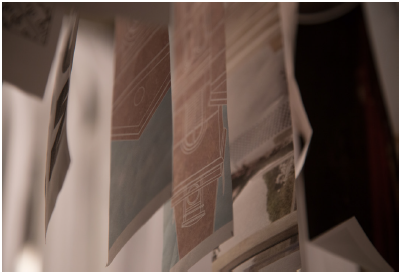 Applied Arts and Design
photographs
2017
Conner Tomasello
Fourth Year—Architecture and Interior Architecture Program
Conner is a fourth-year architecture student and is heavily involved within the school as a member of the student ambassador program for CADC. He is coming off of a busy third year with the beginning of his interior architecture studies as well as a semester abroad at Auburn's Rural Studio. Over the summer he was involved with his first internship at Foster Dale Architects in Chicago, IL.
Aubrey Harold
Fourth Year—Architecture and Interior Architecture Program
Aubrey is a fourth-year architecture student currently acting as Vice President of External Affairs for the Auburn chapter of the American Institute of Architecture Students. In her third year, she began pursuing a secondary degree in Interior Architecture and chaired the 29th Annual Pumpkin Carve. She spent the past semester studying abroad in Scandinavia, and interned this summer at Stacy Norman Architects in Auburn, Alabama.
Eilis Finnegan
Fourth Year—Architecture + Interior Architecture Program
Finnegan, a 4thyear student in the College of Architecture, Design, and Construction from Chicago, recently participated in the new Scandinavia Study Abroad Program at Aarhus University in Denmark and was accepted into the Interior Architecture Program. This past semester, she was awarded first place for her research paper on ENVELOPSand received the book award for Seminars in History and Theory. Outside of studio, she has interned at Wilson Associates in Dallas, Texas working on luxury Chinese hotels for the past two years.
Preston Smith
Fourth Year—Architecture + Interior Architecture Program
Preston is a fourth-year architecture student pursuing a degree in both architecture and interior architecture. He is a recipient of Auburn's Presidential scholarship as well as a member of the Honors College. He has had internships with Hoefer Wysocki Architects and KEM Studio; both in Kansas City, Missouri.
Last Updated: August 02, 2018