LAUREN ALYSSA HOWARD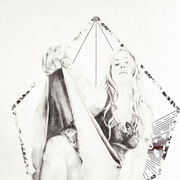 LECTURER, ART AND DESIGN, DEPARTMENT OF CONSUMER AND DESIGN SCIENCES, CHS
IT DAWNED ON ME LIKE THE MORNIN' SUN and JOHNNY KICK A HOLE IN THE SKY:
I am interested in the dichotomies of emotion associated with one's relationship to home. While navigating through a world of intimacy and uncertainty, of satisfaction or regret, I aim to explore these stages of emotion that are directly bound to the environment in which we were raised.
My work stems from a need to understand the impetus for self-deprecative action and indignation, particularly as a female, and how it relates to one's feelings of home. The work is a vehicle by which to express these underlying aggressive feelings that are directly tied to my own feminine self, which is a direct aversion to my traditional upbringing. With a conscious tenderness, I observe and perhaps scrutinize the stereotypes consistent with the Male and Female of the South by reconstructing broken, yet clear memories of growing up in a small Alabama town. I use these remnants of memories as the catalyst for a mostly tender, yet critical, and oftentimes humorous look at ourselves and the place from where we come. By grappling with opposing ideas like discomfort and relief, tensions do emerge. In my work, unlikely interactions between human and animal, religion, and gender combine through subtle gestures and more overt actions in my pursuit of love, loss, and the disorientation of self as I continue to grapple with a contradictory inner emotional dialogue.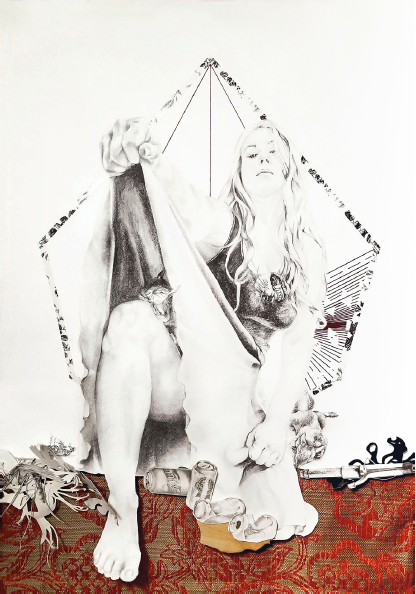 Visual and Fine Arts
It Dawned on Me Like the Mornin' Sun
Graphite on Paper, Embroidery Floss, Cedar Veneer
41" x 29 ½", unframed
2017
"It Dawned on Me Like the Morning' Sun" and "Johnny Kick a Hole in the Sky" are apart of a two-part series. Coupled together, the viewer is confronted with two different perspectives on femininity. Using imagery consistent with a recurring symbolic narrative throughout my work, this small series illustrates a white, low class life complete with Biblical parables. The piece "It Dawned on Me Like the Mornin' Sun" shows a woman cutting her own hair- a reference to the Biblical Samson and Delilah. Through a frenzy of hair, squirrels chaotically rummage through and around her body. A coyote symbolically forges from her chest. The viewer is left to unpack these symbols to recognize the inherent good versus evil/ strength versus weakness/ chaos versus calm within every woman. The piece "It Dawned on Me Like the Mornin' Sun" shows a woman defiantly lifting her skirt to disappointingly reveal a sleeping squirrel. The chaos of the previous work is now subdued and sweet, however the woman is less palatable in her commanding presence and insistence on making eye contact with the viewer. Empty beer cans lay at her feet and a coyote snout hangs around her neck like a trophy or talisman. The viewer again is left to examine the imagery and symbolism and the work is meant to incite feelings of empathy, sympathy, anger, or a circling range of emotions.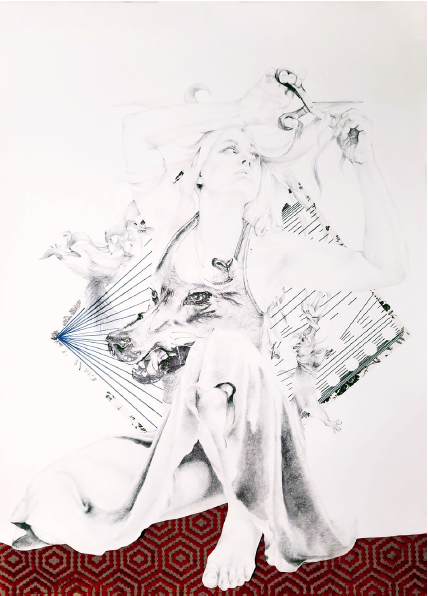 Visual and Fine Arts
Johnny Kick a Hole in the Sky
Graphite on Paper, Embroidery Floss, Cedar Veneer
46"x32", unframed
2017
Last Updated: August 30, 2018