CHRISTINE SCHNITTKA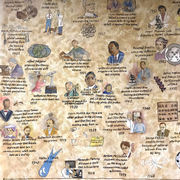 ASSOCIATE PROFESSOR OF SCIENCE EDUCATION, DEPARTMENT OF CURRICULUM AND TEACHING, COLLEGE OF EDUCATION
A STORY ABOUT SCIENCE:
I am a creator and a maker. As an engineer/scientist/teacher/artist, I am trans-disciplinary in all that I do. What comes to my mind is knit, sewn, spun, formed with clay, painted, taught, sung, played on the piano, or written. I look for creative ways to express my ideas, and can't help but indulge myself in the process of "making." Because of this, I also look for ways to engage my students in the creative process. Dozens of them helped with this mural.
This mural segment is part of a larger work that depicts stories about science from 1500 CE to the present times. It took years to learn about and research these scientists and their discoveries, and it took help from many students (especially Jacob Helf, Reese Claybrook, and Shannon Bales). I am currently working on a book to accompany the entire mural so that intriguing stories about each person, each small painting, can be told so that we can know and remember the giants on whose shoulders we stand.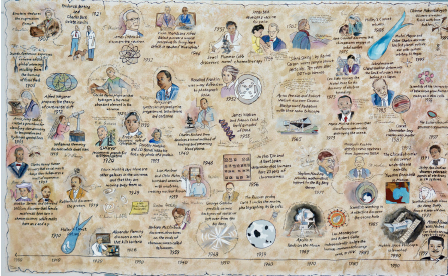 Science Education
Acrylic on Canvas
5''x 8'
2018
Last Updated: July 24, 2018