U.S. Air Force Chief of Staff Gen. CQ Brown Jr. encourages Auburn students to drive change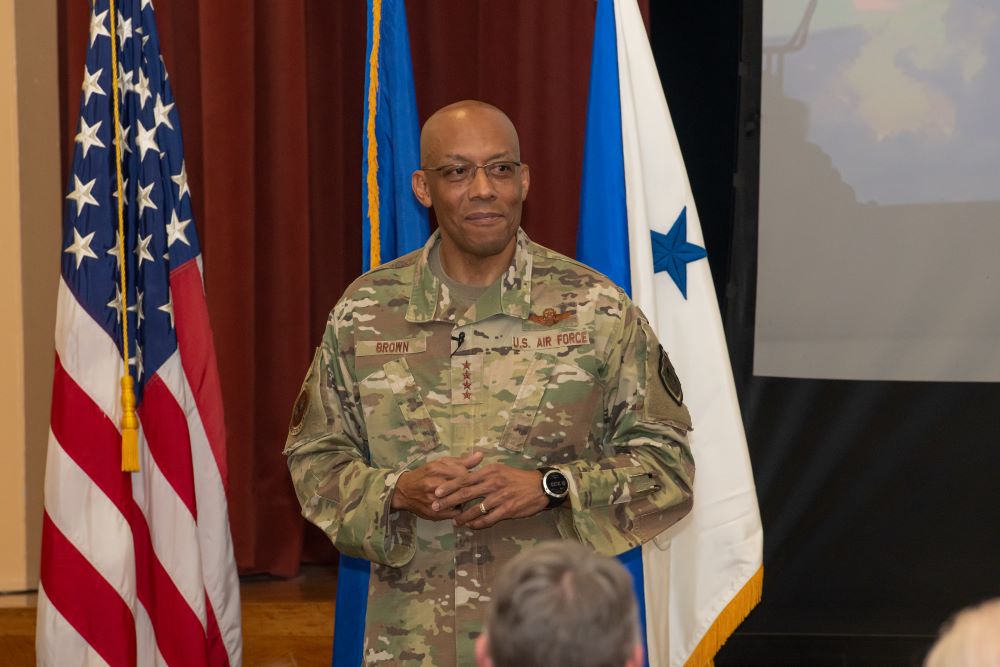 Gen. CQ Brown Jr., Chief of Staff of the U.S. Air Force, visited Auburn University's School of Aviation April 20 to inspire the next generation of change-makers in aviation by advising them on sound leadership.
As Chief of Staff, Brown leads the organization and training of more than half a million active-duty Airmen at home and abroad. He advises the Secretary of Defense, National Security Council and President on military matters.
Brown shared several keys of good leadership with students, including relationship-building, delegation and driving change.
"If we can believe it, we can achieve it," Brown said. "That's the job that I have as the Chief, to set the path, the pattern for the Air Force to move us forward, and for all those who are going to come into our Air Force well after I'm gone, to make sure we're on the right path."
Prior to becoming the Air Force Chief of Staff, Brown commanded the Pacific Air Forces, the U.S. Air Force Weapons School, a fighter squadron, two fighter wings and U.S. Air Forces Central Command. His command pilot experience includes more than 3,000 flying hours, including 130 combat hours.
Brown warned students that change is hard, and leadership comes with adversity. He advised them to be able to lead themselves before they lead others, protect their credibility, know the power of their words and enact change before it is necessary.
"If you wait to change and you have a crisis, you're too late," Brown said. "As the Chief of Staff for the Air Force, what I've been focused on is driving change. What I tell our Airmen: if you feel comfortable while we're driving change, we're not changing. You've got to get comfortable being uncomfortable, because I'd rather be uncomfortable today than lose."
For his outstanding service across nearly four decades, Brown has earned medals and decorations in distinguished service, national defense service, global war on terrorism service, aerial achievement, combat readiness, Korea defense, nuclear deterrence operations and more from U.S. and international organizations.
From a Texas Tech University scholarship student to the most senior uniformed member of the U.S. Air Force, Brown's biggest inspiration is the Tuskegee Airmen, the first Black Airmen to serve and fly in the U.S. military during World War II who helped lead the desegregation of the U.S. Armed Forces. Brown said it's important to share stories of inspiration across generations.
"Every single one of us has something that inspires us or why we do what we do," Brown said. "I really believe young people are inspired to be what they see. If we don't ever have a chance to share those stories and talk about what inspires us…that's important."
---
---
Brown addressed School of Aviation students and university leadership, Auburn Mayor Ron Anders Jr. and representatives from the Auburn Aviation Industry Advisory Board. Lt. Gen. (Ret.) Ronald L. Burgess, executive vice president of Auburn University and former director of the U.S. Defense Intelligence Agency, introduced Brown to a full house in the Foy Hall auditorium.
"You ought to listen to what he says, because this is the measure of a senior leader in my mind," Burgess said. "That is the ability to be candid in your introspection of yourself and the organization to which you belong."
Aspiring pilots and aviation managers from Auburn University, Alabama State University, Tuskegee University and Troy University attended the event, along with student veterans from across a variety of majors.
Selah Fields, a professional flight senior and director of the Striped Wings aviation ambassadors, said hearing from such a high-caliber aviator and seeing his shared passion for aviation will improve leadership skills across the program.
"We all have a passion for flying, and that's represented by Gen. Brown, so having someone with that authority, that experience and that wisdom come and speak to us really means a lot to me and all the students at the School of Aviation," Fields said. "I think as pilots, we all have leadership that is instilled within us, and so going forward, the leadership that he's displayed and talked about today is something I will definitely take with me."
The School of Aviation in the College of Liberal Arts offers programs in aviation management and professional flight. Each program focuses on business acumen, leadership, global awareness, technological expertise and a commitment to advancing the field of aviation.
College of Liberal Arts Dean Jason Hicks said the talk will help students in the School of Aviation visualize their own successful futures and continue to reach new heights.
"Gen. Brown's visit was a real opportunity for these students to learn from someone who's in an amazing leadership position," Hicks said. "It's really inspirational, hearing in person about how to deal with adversity, how to motivate yourself and others and how to learn from failure. Seeing and hearing in person how someone goes through the ranks and has the attitude and aspirations to keep them driving forward was a great message for everyone."
Find more information about the Auburn University School of Aviation.
Tags: Aviation
Related Articles
---