War Eagle Women place second, fourth among collegiate teams at 2022 Air Race Classic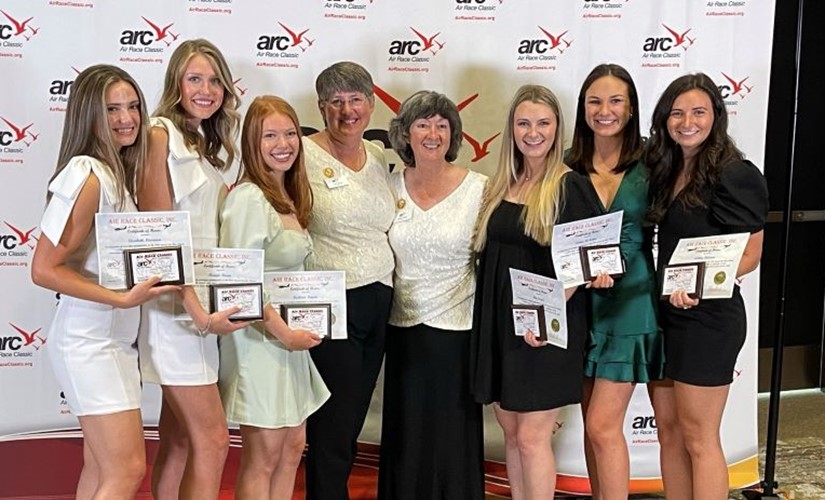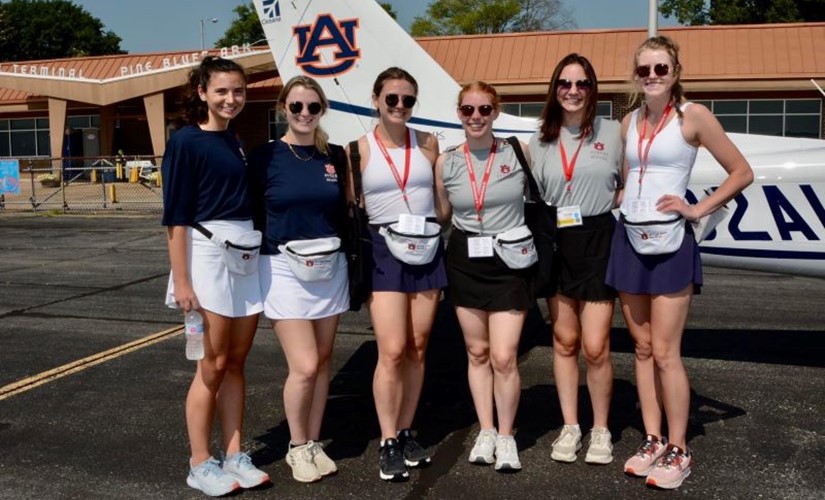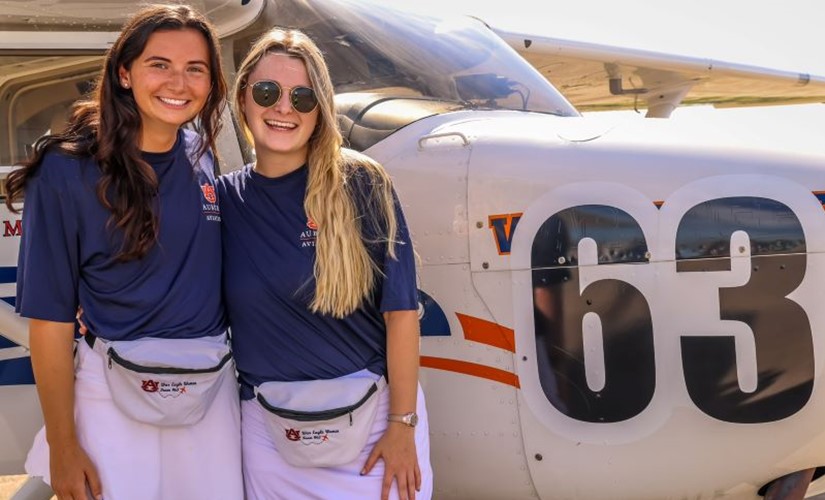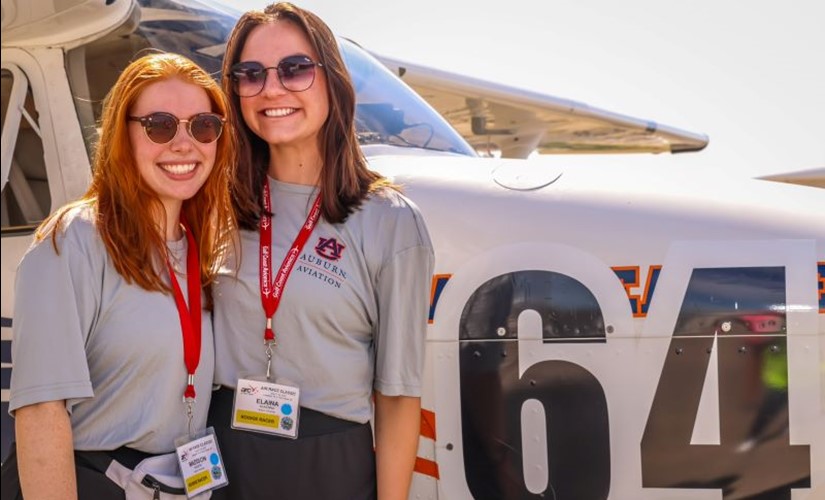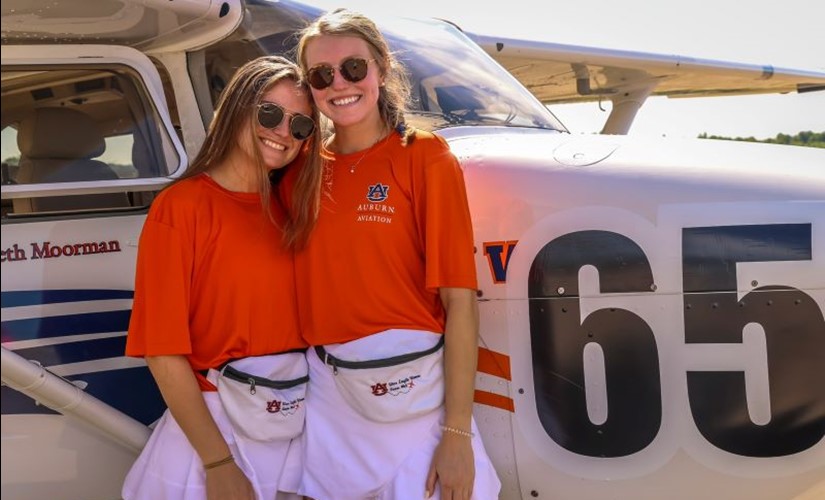 }
Team photos courtesy of Air Race Classic.
The Auburn School of Aviation brought home top collegiate prizes from the 2022 Air Race Classic this June, placing second and fourth in the annual cross-country race.
The 45th annual Air Race Classic was a 2,500-mile, cross-country race comprised of 41 women-led teams. The four-day race started in Lakeland, Florida, and ended in Terre Haute, Indiana.
Of the 12 collegiate teams in the 2022 race, two of Auburn Aviation's War Eagle Women-led teams placed in the top five–teams 65 and 63 placed second and fourth, respectively.
"The Air Race Classic was an amazing opportunity that encouraged growth in decision-making, communication and perseverance when it came to flying for long periods of time," said professional flight senior and Team 65 pilot Maggie Hearn. "My favorite thing about the air race was getting to know my teammates on a deeper level and making connections with other women in the industry who I will know for the rest of my career."
Auburn's 2022 Air Race Classic teams were comprised of students and recent graduates of the professional flight program. Each team placed a pilot and co-pilot in the flight deck of a Cessna Skyhawk to compete in the cross-country race.
Elizabeth Moorman is a 2021 professional flight graduate and flight instructor at Auburn University. She participated in the Air Race Classic this year as the co-pilot for Team 65.
"After competing in the race, I now see it as a phenomenal opportunity to better understand myself as a pilot, improve my crew resource management skills, partake in a unique experience and create lifelong bonds with other racers," Moorman said. "This year's race presented us with extreme highs and lows, allowing all three Auburn teams to celebrate what went well, laugh about what didn't go well and become closer than ever. This year's race showed us exactly how much we can handle, as well as our strengths."
Professional flight senior and Team 63 pilot Ashley Baldwin said the Air Race Classic allowed her to apply what she's learned during flight training to the test in a competitive, cross-country environment.
"ARC is a unique opportunity to meet female pilots from around the country and share the experience of flying across the country," Baldwin said. "The ARC is helping me prepare for a career by teaching me more about flying in different areas of the country with different weather patterns, terrain and airspace and introducing me to strong women in the field."
Meg Cooper, a 2021 professional flight alumna and Team 63 co-pilot, said the Air Race Classic helped her grow, both as a pilot and a person ready to take on new challenges.
"The Air Race revolves around women supporting women," Cooper said. "The entire race focuses and thrives from the companionship that the teammates, racers, volunteers and everyone involved creates. It wouldn't be possible without it, and it wouldn't be nearly as fun either! Through this race, I learned more about myself as a pilot than I ever have, and that is all thanks to the incredible women who shared their stories and experiences."
In addition to top collegiate category awards, the War Eagle Women ranked among the top five in fastest "legs" of the 2,500-mile race. Team 65 placed second in legs two and nine, from Moultrie, Georgia, to Muscle Shoals, Alabama, and from Tullahoma, Tennessee, to the finish line in Terre Haute, Indiana; and placed fourth in legs six and eight, from Ada, Oklahoma, to Lawrence, Kansas, and from Mt. Vernon, Illinois, to Tullahoma, Tennessee.
Team 63 also placed third in leg six. Alumnae Madison Nugent and Elaina McKenna also competed in the multi-state competition as Team 64.
"The Air Race Classic is more than a race. It represents the legacy of excellence of women in aviation," said Air Race Classic advisor Daphne Walker. "Our War Eagle Women competed with the knowledge, skills and decision-making expected of professional aviators, and their scores reflected that expertise. The Air Race Classic gives our students and young alumnae the opportunity to hone their skills across the country and display, nationally, the hard work that led them to this point as well as their dedication to the aviation field."
For more information about the School of Aviation at Auburn University, visit here.
Tags: Aviation
Related Articles
---