On the trail of Boo Radley: Harper Lee's iconic book 'To Kill A Mockingbird' lives on in rural Alabama through production of springtime play
Auburn professors emeritus praise play's production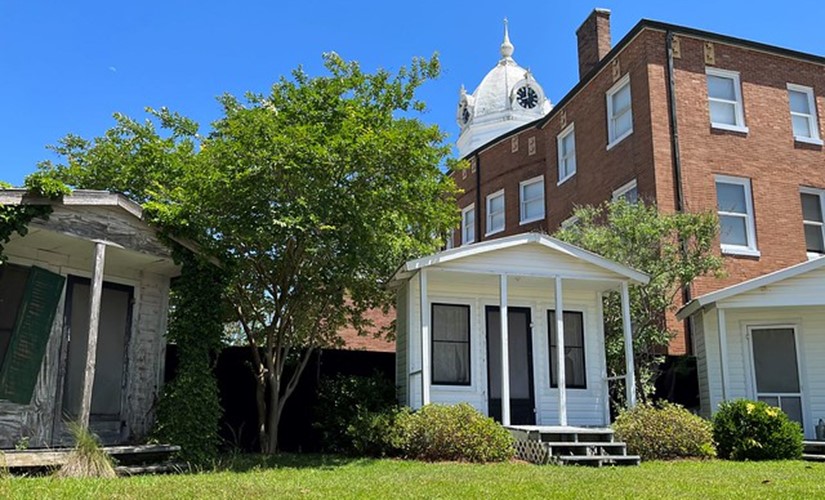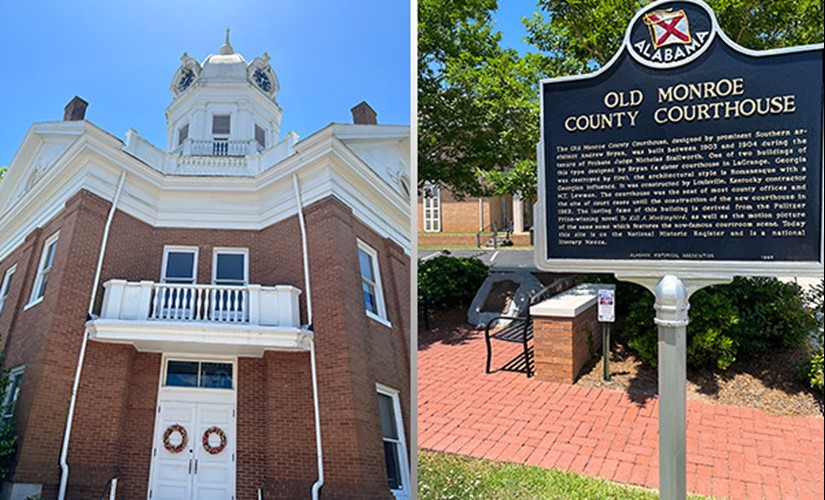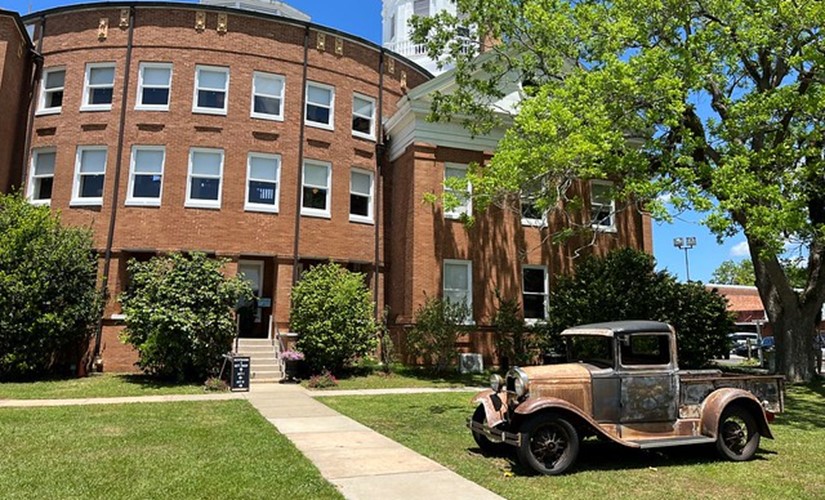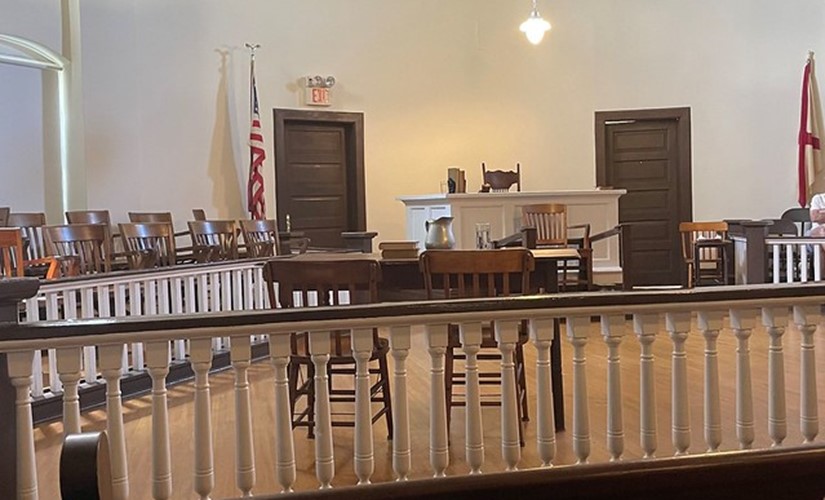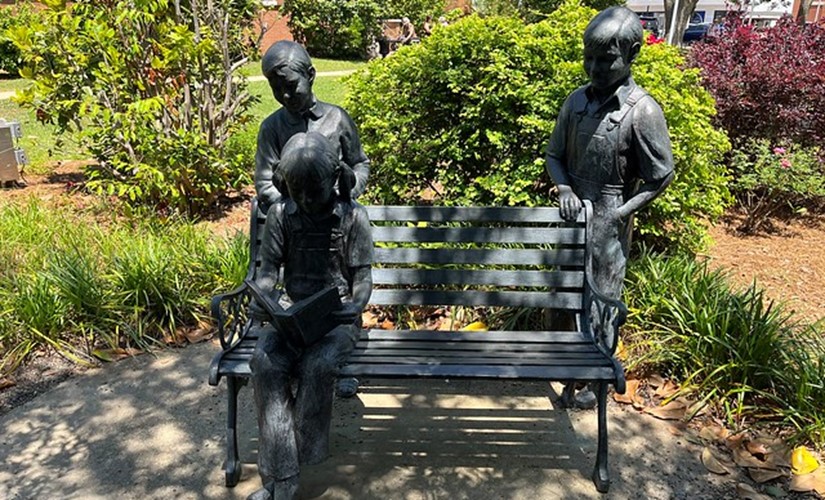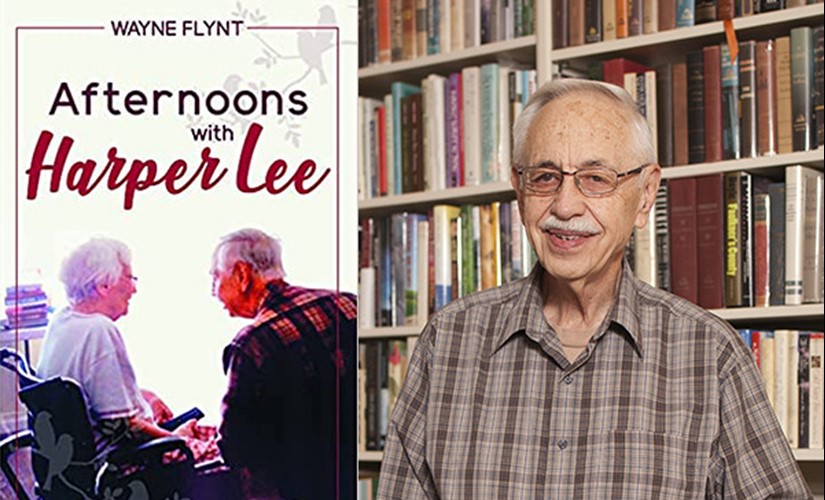 }
At the end of a stretch of twisting, turning country roads in rural central Alabama lies a square much like ones that can be found in countless other small American towns.
Except it's not just any other square. It's the square where legendary Alabama scribe Nelle Harper Lee spent childhood summers and became inspired to write her iconic Pulitzer Prize-winning book "To Kill A Mockingbird." It's the epicenter of the Southern literature world and now serves as a time capsule to the days of long ago, when Scout Finch watched her duty-driven father, Atticus, fight for truth and the rights of all.
Old Monroe County Courthouse that serves as the square's nucleus first opened in 1904, 22 years before Lee was born and nearly six decades before the adventures of Scout, Jem, Dill and Boo Radley became woven into the fabric of American literature. It still towers above the countryside, now doubling as a museum and backdrop for productions of the "To Kill A Mockingbird" play that have become a sign of springtime in Lee's home of Monroeville, Alabama.
Those productions—which this year run through May 21—have become a mainstay in Monroeville the last three decades and have been praised by Auburn University professors for bringing Lee's story to thousands of visitors from far and wide and carrying on the legacy of the treasured award-winning novel. Presented by The Mockingbird Company's troupe The Mockingbird Players, this spring season's installments are being directed by Monroeville native Carly Jo Martens, who once played Scout. Most of the play's performers are part-time actors, and the majority have ties to the town of roughly 5,800.
Act I of the stage production takes place outside the courthouse in the Otha Lee Biggs Amphitheater, with the audience then moving into the courtroom for the culminating second act. For each performance, 12 white men aged 18 and above—in line with the laws of 1935 Maycomb, Alabama—are asked to "serve" on the jury during Act II as Scout, Jem and Dill look on and comment from the second-floor balcony.
The play receives rave reviews each year, and tickets have become a hot commodity. Auburn English Professor Emeritus Bert Hitchcock, who regularly included Lee's book on the reading list for his graduate Southern literature class, was enthralled by the performance when he made a trip to Monroeville a few years ago.
"It's as good as anything I've seen on stage," said Hitchcock, a longtime educator whose Auburn legacy continues through the Hitchcock Graduate Award. "It's amazing what they've been able to preserve there and that the novel has had such staying power. The cast was superb, and my hat's off to them."
Auburn's Wayne Flynt, a professor emeritus from the Department of History and a longtime friend of Lee, is pleased to see the book live on through the play and serve as a boon for the town.
"It is absolutely central to the identity of Monroeville," said Flynt, a two-time Pulitzer Prize nominee and author of 15 books. "Their self-identity and self-conception is about their writers and their preeminent writer, Harper Lee."
Flynt's second book about Lee, titled "Afternoons with Harper Lee," will be released on Sept. 27 and is available for pre-order on Amazon.com. It chronicles the 12-year friendship Flynt shared with Lee and his late wife, Dartie, and serves as a follow-up to his 2017 book "Mockingbird Songs: My Friendship with Harper Lee" that was published by HarperCollins.
"I'm not interested in summarizing everyone's fantasies about Harper Lee, I'm interested in letting Harper Lee tell you, in her own words, who she is and telling her story," Flynt said of the forthcoming book. "The degree to which a historian can get out of the way of the story they're telling makes for the best history. What I try to do is get myself out of the way of the stories and just let people see through the lens of what she's saying and conclude whatever they want to conclude about her. My task is to just let her be Harper Lee."
Flynt, who performed Lee's eulogy after the writer passed away in 2016, said Lee never watched the play on any stage. He, however, regularly brought Auburn students to Monroeville to experience it and still often visits the town.
Flynt was highly complimentary about the production.
"On Broadway, it's a show. In Monroeville, it's an experience," said Flynt, a renowned Southern history scholar and educator for more than 40 years. "Without question, it's transformative to watch it in that context in Monroeville. You can watch it on Broadway and not have half of the experience of seeing it in Monroeville with an amateur cast of characters."
Flynt agrees the play's more than three-decade run serves as another illustration of the power of Lee's legendary novel, which this past December was voted the "Best Book of the Past 125 Years" in a New York Times reader poll.
"I love the play, and to me, it maintains the ethical and moral implications of the book," said Flynt, the winner of numerous teaching and writing awards and former editor of the Encyclopedia of Alabama. "The most obvious and important one is, 'Don't judge a person until you've walked around in his shoes.'"
For another week this month and then again next spring, Scout, Jem and Dill will be back to their old antics for the play's 32nd year—the 2023 season will run from April 10-May 20—and Atticus Finch will serve as his children's North Star and humanity's moral compass as he does his best to uphold the law in Maycomb. Hundreds of folks will flock to tiny Monroeville to see the production and immerse themselves in one of the South's most celebrated tales as Nelle Harper Lee's legacy lives on as one of the most transcendent figures in the history of literature.
Tags: History Arts and Culture
Related Articles
---