Auburn University Department of Theatre & Dance to present 'Edges,' the second musical of the 2022-2023 season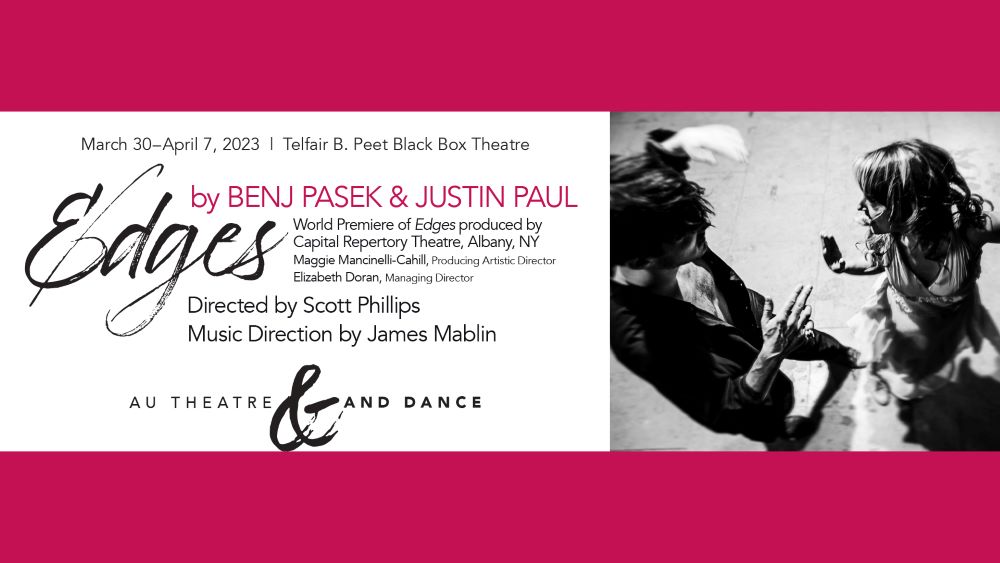 Auburn University Theatre and Dance continues its 2022-23 season "& Dance" with "Edges," a musical by Benj Pasek and Justin Paul, opening March 30 at 7:30 p.m. in the Telfair Peet Theatre Black Box. The show is directed by Scott Phillips, with music direction by James Mablin.
Written by famed composers/lyricists Benj Pasek and Justin Paul ("Dear Evan Hansen," "The Greatest Showman," "La La Land") when they were 19-year-old undergraduates studying musical theatre at the University of Michigan, "Edges" explores young people on the edge of adulthood. Each song in this engaging song-cycle explores universal concerns of love, luck, longing and loss and asks the enduring question: what happens next?
"'Edges' is not a book musical with traditional dialogue; it's a cycle, a series of songs cohering around a theme instead of being connected by a story or spoken narrative," said Director Scott Phillips. "But if you're a fan of 'Dear Evan Hansen' (Tony Award for Best Score and Grammy for Best Musical Theatre Album in 2018), you will probably recognize the show's thematic elements: youthful angst, social anxiety and emerging adulthood. This is very much a musical experience for our times, and we hope you will join us to share in the incredible work of the entire production team."
The artistic team for "Edges" includes director Scott Phillips; music director James Mablin; student lighting and scenic designer Katie Wolfe; costume designer, guest artist and Auburn theatre graduate Emma Fox '21; student sound designer Annabell Mallard; choreographer Jeri Dickey; vocal director Elizabeth Benson; and student dramaturgs Annabell Mallard, Dallas McGrady and Daisha Flint. The management team includes student stage manager Abigail Bowling and assistant stage manager Megan Starling. The cast includes Nikki Ahlf, Jonny Dickey, Bethany Novotny, Sydney Pereira and Alex Pharo.
The run time for "Edges" is approximately one hour and 10 minutes with no intermission.
Buy Tickets
Tickets for the production of "Edges" are available now! Reserve early to get your desired seats! Auburn faculty/staff and students receive special promotions to all performances at the Telfair Peet Theatre. Log in at the Department of Theatre and Dance's ticketing page to unlock your benefits!
For more information, go to the Department of Theatre and Dance's ticketing page.
Talkback
To engage in discussion around the performance or learn more about the production, make plans to attend "Talkback Thursday" on Thursday, April 6, after the show for a conversation with the director and company members.
Showtimes:
 Thursday, March 30, 7:30 p.m.
 Friday, March 31, 7:30 p.m.
 Saturday, April 1, 7:30 p.m.
 Sunday, April 2, 2:30 p.m. (Matinee)
 Wednesday, April 5, 7:30 p.m.
 Thursday, April 6, 7:30 p.m. *
 Friday, April 7, 7:30 p.m.
*Talkback Thursday
Ticket Prices:
•    General: $16
•    Senior Citizen: $12
•    Faculty and Staff: $12
•    AU student with ID: Free
•    Non-Auburn University Student: $12
Find more information online at the Department of Theatre and Dance's ticketing page.
Box Office Hours:
•    Monday–Friday: 8:00 a.m.–4:45 p.m.
•    On Saturday evening performances: 6 p.m.–8 p.m.
•    For matinee performances: 1 p.m.–3 p.m.
Or call the box office: 334-844-4154
Related Articles
---