Student Research Spotlight - Sydney Waitz-Kudla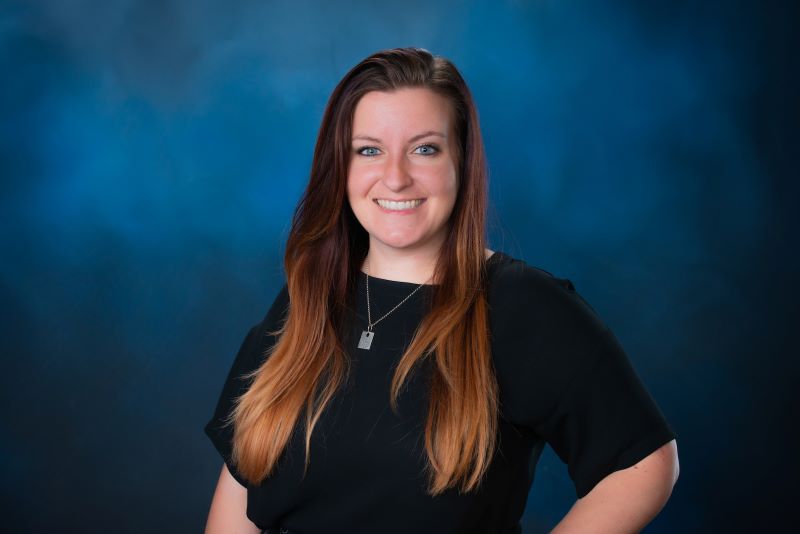 Sydney Waitz-Kudla won first place in the poster category—University-Wide Graduate Student Winners in Human Sciences, Social Sciences, Creative Arts, Nursing and Humanities—during the 2022 Auburn Research: Student Symposium.
Hometown: St. Petersburg, Florida
Degree and major: Doctorate in Clinical Psychology (She recently completed her master's thesis defense.)
College: Liberal Arts
Department: Psychological Sciences
Class year: Third year of doctoral program
Faculty mentor: Tracy Witte
Veterinarians' Perceptions of Mental Health Issues and Pentobarbital Storage as a Suicide Prevention Strategy
What are you researching?
I research possible suicide prevention strategies for veterinarians. This study was a focus-group study discussing what veterinarians think could help prevent suicide and improve mental health within their profession.
How could the results benefit individuals, agencies or companies?
This study lays the foundation for continuing research investigating the best suicide prevention strategies for veterinarians. The ultimate goal is to improve mental health within the veterinary profession and prevent suicide, and this study is a good first step.
Tell us why you enjoy research.
I love research, and specifically suicide intervention research, because it allows me to figure out the best way to improve mental health and prevent suicide in at-risk populations.
What advice would you give to other students considering doing a research project?
Find a professor who is doing the research you want to do and set up a meeting to talk about their research, whether or not they need a research assistant and to see if they would be willing to work on a research project with you. Some majors allow for honors theses as an undergraduate, which can be really helpful for learning whether you would like to continue in research after college. Conducting research as an undergraduate is also helpful for learning research methods and how to analyze data.
Tell us about any hobbies or activities you enjoy.
When I'm not busy with graduate school, I like to ride horses, crochet and play video games.
If you or someone you know is contemplating suicide, please contact the National Suicide Prevention Lifeline at 1-800-273-TALK (8255).
Visit the 2022 Student Research Spotlight homepage.
Tags: Psychological Sciences
Related Articles
---