Psychology graduate Dorothy Dreelin selected as student marshal for Auburn University's summer 2022 commencement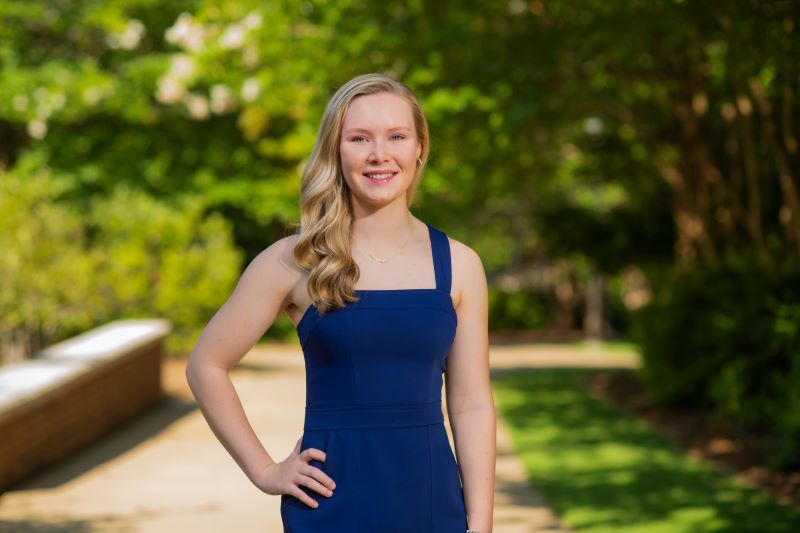 Dorothy Dreelin, a Columbus, Georgia, native and graduating senior in psychology, has been selected to lead the College of Liberal Arts class of 2022 in this summer's commencement ceremonies Friday and Saturday.
"I have loved being an Auburn student and will always love Auburn University," Dreelin said. "In addition to the incredible learning and research experiences I've had, I've made lifelong friends and had some of the most memorable times of my life. Auburn is a special school that offers amazing opportunities to those who seek them out."
At Auburn, Dreelin rode horses competitively on the Auburn Eventing Team when it won the Intercollegiate Eventing National Championship in 2019 and served as vice president of the Psi Chi International Honor Society. Through her membership with Delta Gamma, she assisted the sorority's twice-annual Service for Sight events to raise money and awareness for the visually impaired community. 
Dreelin also worked as a lab coordinator and research assistant in two of Auburn's psychology labs: the Biobehavioral Research on Addiction and Internalizing Syndromes, or BRAINS, Lab and the Research and Interventions for Stress-related Conditions, or RISC, Lab.
Her research interests include stress-related conditions such as PTSD and the relationship between stress, anxiety and substance abuse.
"My mother was a clinical psychologist, and learning from her was my first introduction to psychology," Dreelin said. "She taught me the power of psychology, and I was lucky to have a mother who was so educated about the importance of mental health. I was always fascinated with her ability to empower others through her work as a psychologist, and it made me want to develop the same skill set."
In 2022, Dreelin's project "Anxiety sensitivity moderates the influence of emotion regulation on alcohol use coping motives" won the College of Liberal Arts Best Undergraduate Poster Presentation award at the Auburn Research Student Symposium. During her time at Auburn, she also was awarded grant funding from the university for her projects "Threat reactivity and daily PTSD symptomology" and "Neurobehavioral sensitivity to negative reinforcement in suicide."
"My favorite thing about the program at Auburn has been the amazing research opportunities I was involved in," Dreelin said. "I thoroughly enjoyed working in a lab every day, being a part of new and interesting studies and getting the chance to present my research to faculty and peers. The faculty and mentors I've had the chance to work with have taught me to love psychology research, and I will be building my career on the foundation they laid for me."
After graduation, Dreelin will work as a research coordinator in Auburn's Department of Psychological Sciences while she applies for clinical psychology doctoral programs. She aspires to practice as a licensed clinical psychologist while conducting original research to improve patient treatment and outcomes.
"The College of Liberal Arts provides a strong foundation for graduates to be successful," said Dean Jason Hicks. "Dorothy Dreelin exemplifies how the academic, research and extracurricular opportunities in our college can easily be tailored to one's career aspirations. We are eager to celebrate her achievements, and the ways in which all our graduates have defined their own paths at Auburn, at this summer's commencement."
Auburn's summer commencement ceremonies will begin Friday, Aug. 5, in Neville Arena with a keynote address by acclaimed veterinarian and business owner Jay Price, the conferral of degrees and recognition of academic honors. College of Liberal Arts graduates will walk in the Saturday, Aug. 6, ceremony at 2:45 p.m. in Neville Arena.
For more information, visit auburn.edu/commencement.
Tags: Psychological Sciences
Related Articles
---