Student Spotlight: CLA Graduation Marshal, Amelia Grace Hill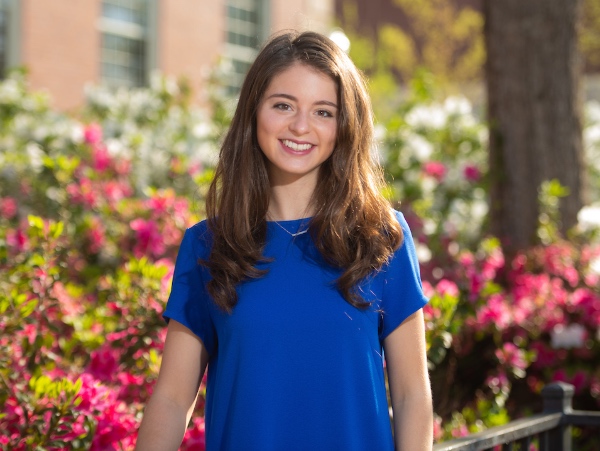 Meet Amelia Grace Hill, who is originally from Hoover, Ala., and will be leading the spring 2021 graduation as marshal for the College of Liberal Arts. Hill, a dedicated member of the Auburn University Marching Band, will be graduating with dual majors in Spanish and interdisciplinary studies. 
Learn more about Hill and her experiences at Auburn, as well as her plans for the future, in our interview below. 
Would you please tell us about yourself? 
I am from Hoover, Alabama, and though I grew up in the midst of the Auburn-Alabama rivalry, I didn't consider attending either school until I came on my sister's college tour of Auburn. Ultimately, the selling point was the Auburn University Marching Band. Though my high school advisors may not have recommended choosing my college based on my favorite extracurricular activity, it was the perfect decision for me!
How did you decide on Spanish as your major? 
I had always wanted to study abroad and had enjoyed my Spanish classes in high school, so majoring in the language was an easy choice. Deciding on interdisciplinary studies as my second major took a little longer but was a good decision given my various interests.
What has your Auburn experience been like?
Some of the highlights of my Auburn experience have included playing clarinet in the Auburn University Marching Band and studying abroad in Alcalá de Henares, Spain. I have also enjoyed working as a Peer Tutor at Study Partners and as an undergraduate research assistant for the Language, Attention, and Memory Lab. Auburn has so much to offer, so my advice to new students would be to make the most of their college experience by getting involved with a variety of activities.
On your application for graduation marshal, you state that you'd like to teach English abroad after you graduate and that you ultimately plan to open a foreign language center (and receive your MA and PHD in between). Do you think your CLA education has helped prepare you for those plans?
The College of Liberal Arts has prepared me to reach these goals as I was able to take an interdisciplinary approach to my studies, learning how to make connections among my classes and view my education as a cohesive whole. This perspective was especially beneficial for me because my career goal of opening a language center combines all of my areas of study, and because I plan to study Hispanic linguistics, an interdisciplinary field, in graduate school. The CLA professors have also been tremendously supportive. I would not be on the path I am today without their guidance.

What is your favorite Auburn tradition?
I may be biased, but the AUMB's pregame show is my favorite Auburn tradition. Jogging into Jordan-Hare's electric atmosphere is an unparalleled experience, and I love how the fans are so invested in this moment.

What do you like to do in your free time? (assuming you have any!)
I enjoy spending time with my friends, obsessing over Baby Yoda, and eating my way around Auburn. One of my food goals is to eat at every restaurant downtown—there are just a few I haven't visited yet!
What will you miss most about Auburn?
I will miss the Auburn Family: it is incredible! While I will miss being surrounded by it every day, I know the personal and professional relationships I have formed will continue to bless me throughout my life. It's because of the people that "I believe in Auburn and love it."
Tags: Students Interdisciplinary Programs World Languages Literatures and Cultures
Related Articles
---