PR senior Natalie Smith spends summer in Nantucket after class assignment connects her with author Elin Hilderbrand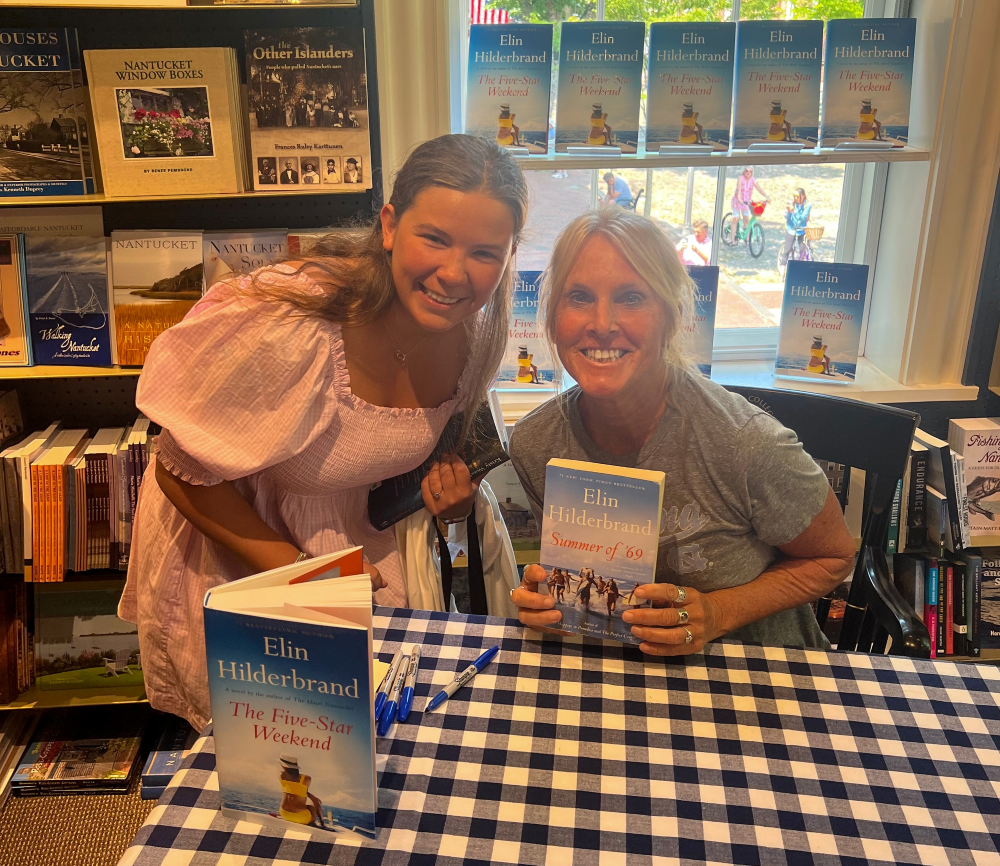 Graduating senior Natalie Smith lived out a dream internship this summer on Nantucket and met the author who inspired her love for the idyllic island through an Auburn University writing assignment.
In Associate Professor of Journalism Nan Fairley's feature writing course, students chose their top three "dream jobs" and must find someone who does that job, interview them and write a feature story. Part of the assignment is to encourage students to reach out to sources, no matter how well-known they are.
Smith chose "Nantucket novelist" as a potential dream job, inspired by author Elin Hilderbrand. Smith grew up in Birmingham and was drawn to Nantucket because of Hilderbrand's writing.
"When I would read, it would just take me out of whatever stress I was going through in Auburn and it would take me straight to Nantucket," Smith said. "Nantucket had this whimsical, dreamy feel to it, and I knew I needed to experience that in person."
Hilderbrand is a bestselling romance author whose novels are set in Nantucket. During their interview, Smith said Hilderbrand gave her real advice on how to become an author, the difficulties she faced in her career and the incredible experiences she's had.
Smith appreciated that Hilderbrand treated their conversation as more than just a class assignment.
"Everything falls into place how it's supposed to, but I definitely would not believe that I would be where I am right now without that assignment," Smith said. "The conversation itself definitely sparked more interest in my writing. She talked about how she felt like nobody thought that her writing was good, and now she's a famous author. I think that's put things in perspective for me. I felt like I got a taste of what she was talking about. And so, when she was talking to me, I was like, oh well, I am more capable to do this."
This summer, Smith works as a house manager and marketing intern with Blue Flag Partners, which manages hotels on the island, to satisfy her College of Liberal Arts internship requirement. On her trip to Nantucket in May, a friend from Auburn connected her with the company. When she took the position, all she knew was that she had an internship and a place to sleep on Nantucket.
Despite sacrificing her last summer in Auburn and the risk she took to move across the country, Smith said Nantucket far exceeded her expectations.
"You're always finding new things and new places, even though it's a tiny island," Smith said. "I've already made so many friends here and I work with a bunch of people who are not from here. That's been even more eye-opening, to learn about different people's cultures. I would not have that opportunity anywhere else unless I had stepped out of my comfort zone."
Smith said giving up her last summer in Auburn was a hard decision, but the support of her family and Auburn faculty encouraged her to embrace the opportunity.
After her internship ends and she graduates in August, Smith will pursue marketing and public relations positions in Nashville. Thanks to what she's learned at Auburn and at her dream internship, Smith feels prepared to take the next step.
"PR really made me confident in my abilities in school. I finally found something that was for me, and the thing that it's taught me the most is there are no limits to what you're capable of," Smith said. "I've realized Auburn has overprepared me to be in an actual business situation or an actual job situation more than I thought. That was something I really didn't see until I was put in this situation."
Fairley has assigned the dream job assignment for more than 10 years. Past students connected with executives at Disney World and Coca-Cola, famous photographers, politicians and more. Fairley said Smith's story will inspire future students.
"We were all excited that she was able to connect with such a successful novelist," Fairley said. "I think she was both surprised and proud that she was able to interview her and write a great profile story as well. I am proud that she followed up on the connections and had a wonderful summer experience because of it. She won't be the last one to do so because of this assignment, but I'll definitely tell future students about her experience as I encourage them to 'dream big.'"
Find more information about the School of Communication & Journalism in the College of Liberal Arts. Read Smith's feature about Elin Hilderbrand.
Related Articles
---